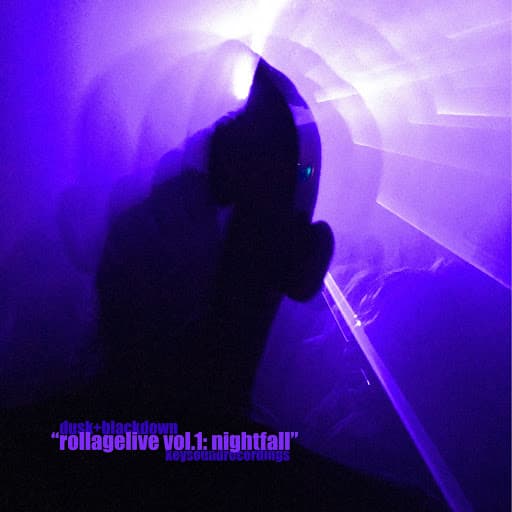 ALBUM REVIEW: Dusk + Blackdown – Rollagelive Vol. 1: Nightfall (2020)
Far more than just a victory lap, Eleanor Bickers explores the duo's latest offering…
Established in 2005, Keysound Recordings embarked on a mission to simulate London's urban surroundings and community into a bespoke aural collage, to evolve the existing staple sound of dubstep and UK bass. The brains behind the label, Dusk (Dan Frampton) + Blackdown (Martin Clark) release 'Rollagelive Vol 1: Nightfall, a 21-track album tributing fifteen years in the making of the London based imprint. The project features a collaboration from Ebb, as well as remixes of Otik, DJ Sinclair, and Terror Danjah.
An excerpt from Clark's blog blackdownsoundboy in June 2005 explains the conceptual link between the label's purpose and its production repertoire, whereby the music is a looped sonic keystone underpinning the whole track and building on "a constant sound that suggests an environment, a space, a culture, a city". Rollagelive… is not only a milestone in Keysound's musical and cultural developments, it is a contemporary experimentation of dubstep rewritten in 130bpm, a sound which Dusk + Blackdown, along with Beneath, have reshaped to influence younger emerging artists. This 130 innovation paints Rollagelive… as an open-ended project hinting at the inquisitive nature of Dusk + Blackdown's work, as well as Keysound's laboratorial style of sonic potential. You almost hope that it instead arose from the midst of a jamming session, where Ebb rolled through randomly for a spliff and a packet of McCoys and strolled out not realising he had contributed towards an experimental bass jamming anthology. The result is a continuous suspension of a low frequency ambush met with spatial synth stabs, snares, and hi-hats that represent an eerie soundscape of London's urban culture.
The opening two tracks, "the hunger" and "keysound session anthem" by Blackdown, exposes a kind of fragility and sense of nostalgia, incorporating ominous rave synth lines with rumbling dub frequencies and tampered lazer jolts, portraying some of the earliest influences of UK bass music. This is a total flip to the liquid and ethereal pulses heard in their 2012 album Dasaflex which marked a turning point in the label's hybrid excursion. It's the stripped back, almost vulnerable introduction to Rollagelive… that sets an educational precedent, and forms the foundations for the progressive and experimental layers the label has spent a decade and a half building.
Once you reach Blackdown's remix of DJ Sinclair's "ricky", the album dives into nose-scrunching rhythms, allowing the listener to get lost in the music, but still stays attentive to the balanced layers of threatening vocal samples, swirling dub, and erratic claps. This is quickly switched to an alleviated state of softer chord playing in Blackdown's remix of Otik's "top ten" cleansing your palate for the intrusive flanging synth rings and reversed syncopated percussion of 'the information', before diving into the dark gully rhythms of "juicy patty" and "wdym?! (nutty mix)".
The mix finishes with "this journey", evoking end-of-the-night vibes with nodding double-time bass prods, dampened to continue the album's ode to bass innovation. The track is juxtaposed with a cheesy female vocal sample, which almost creates a sense that the duo have taken their listeners for a ride with a simple piss-take right at the close, which does seem to disturb Keysound's distinctive and innovative style.
By looking backwards to move forwards, it's hard to deny that the intricate layers, mixtape flow, bass-slapping dub and head down rhymes of Dusk + Blackdown's mastermind project is a firm take on futuristic UK Bass. There's no doubt Rollagelive Vol 1: Nightfall is a solid tribute to fifteen years of Keysound Recordings.
---
Author
Eleanor Bickers is an electronic music enthusiast and writer based in London. Her interests involve exploring the techno landscape from contemporary hybridisations to 90s subcultures. In her spare time she often finds herself DJing, raving, and imagining alternate realities. You can find her on Instagram: @lnr_dj
---
Back to home.