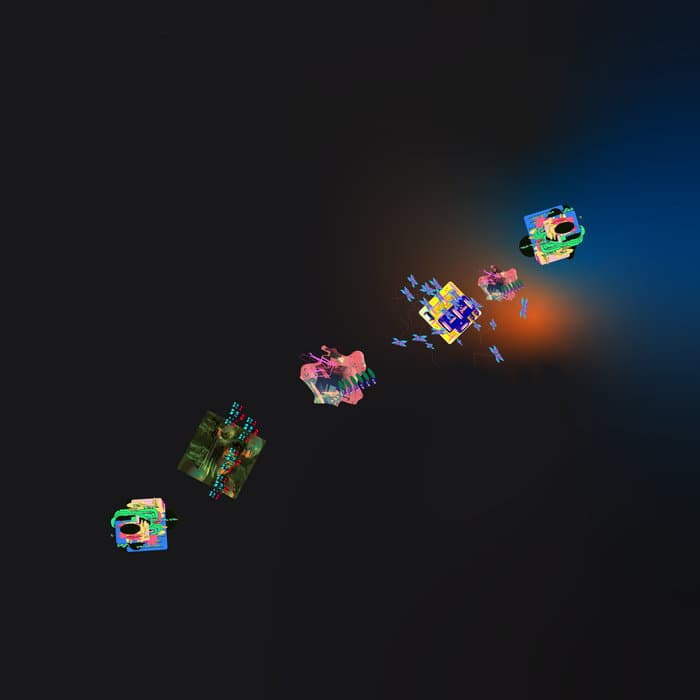 ALBUM REVIEW: GEORGIA – State Effect (Accel) (2021)
Eleanor Bickers pieces together the rhythmic wreckage of LA / New York based multidisciplinary duo GEORGIA on their latest trip for OOH-sounds.
State Effect (Accel) is the latest release by LA / New York musicians GEORGIA, via the north Italian independent imprint OOH-sounds. Initially I am blinded by a technicolour sleeve, a kind of biotechnological window that previews the magnitude of their multimedia presence, pointing towards Brian Close and Justin Tripp's full-time creative agency under the same guise. This in itself is a bit like a reverse psychology of what it means to be punk rock in the digital age, where so many people strive to disconnect their musical path from their day job, GEORGIA simply do the opposite and nail the execution. They can facilitate creative briefs for Vice and Dunkin' Donuts as well as release oddball music projects on DiY labels like OOH-sounds without the fusion becoming a jarring reality. This fusion is thematic to their new release State Effect (Accel), working with vocalists DJ MARYLOU and Gabi Asfour of visionary New York fashion collective threeASFOUR, a former client of GEORGIA's.
Story Scene and Perch View share compositional commonalities, presenting State Effect (Accel) in multifaceted context. Its components are introduced in different perspectives of time and space, like a parallel universe you have the pleasure of experiencing altered versions of the same story, a broken telephone of sonic science. Hints of disharmonic jazz and symphonic malformation sneak into cillit bang chords and clumsy drum and bass slurs knotted together with patch cables. I almost hoped each track would blend seamlessly into the next, as to avoid the disruptive silence of one track ending and a new one beginning to create a distorted déjà vu that becomes undetectable. But that's not what GEORGIA set out to achieve, describing State Effect (Accel) as "phased", only experiencing pieces of it at one time, outlined in their digital linear notes. That's the funny thing about linear notes, a reviewers dream or nightmare depending on who is holding the pen as the written context merges two languages modifying the interpretation of sound. In the case of OOH-sounds, their releases maintain consistency when pairing a dual explanation of media, who describe State Effect (Accel) as "lovely bubbly HTML" underpinned by logical reasoning.
The album's continuation is like a fusion restaurant of sound, transporting the listener through a buffet of multinational and periodic audible bites, halting continental drift in the process but flowing freely over a canvas of diligent programming. This is even analogous to GEORGIA's duo name, detached from traceable surfing, an answerless name to allow for adaptation. You can sense remnants of hardcore, dub, dembow, trap, jazz, dancehall, electroacoustic and more which trip in and out of the entire sequence, long enough to trigger bemused consideration but short enough to maintain a fluctuating journey through leftfield hyperpop. You could call State Effect (Accel) a rhythmic historian winding between non-linear time. There's nothing that makes any track definitive in its style but it would be careless to just label it as experimental. It's hard to pin down exactly what State Effect (Accel) is and its inconclusiveness compliments the underlying compos mentis of its DNA.
Favourite track: Mere Exposure Effect (Custom Aligned)
You can preview State Effect (Accel) below and purchase the full album on bandcamp.
Author
Eleanor Bickers is an electronic music enthusiast and writer based in London. She runs the Biodegradable Soundsystem series on Threads Radio, exploring the symbiosis of written, verbal, and sonic communication. In her spare time she often finds herself DJing, raving, and imagining alternate realities. You can find her on Instagram: @lnr_dj
---
Back to home.