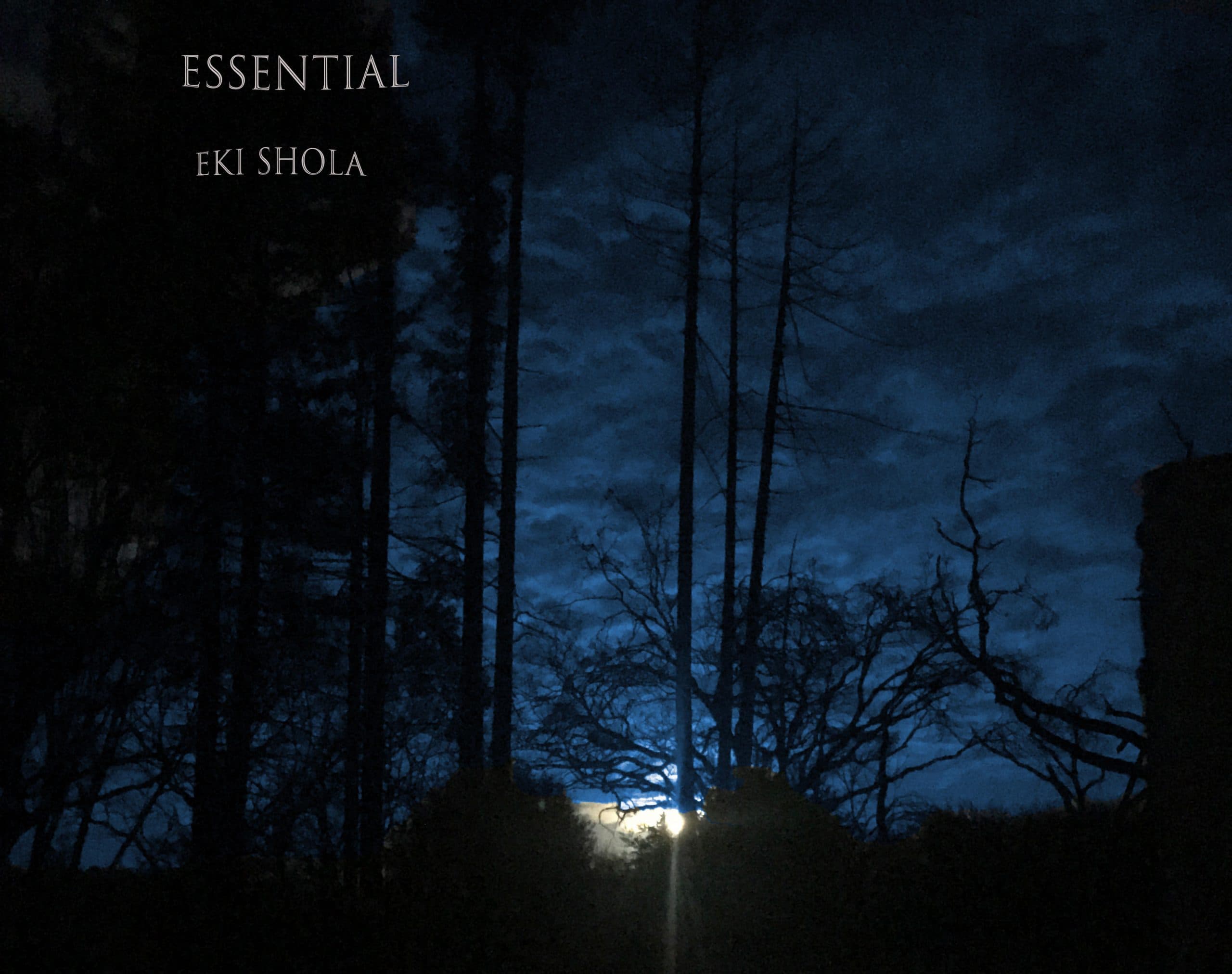 ALBUM REVIEW (+ Interview): Eki Shola – Essential (2020)
Following the release of her new album Essential, the singer and multi-instrumentalist decrypts the project for Sidney Franklyn.
The myth of the 'tortured artist' is a trope so familiar to our collective consciousness that it has already received its rightful reckoning several times over. Give the phrase a quick search online and you'll be flooded with critical op-eds pinning its origin on capitalism's endemic hostility to the arts or our tendency to romanticise – rather than aim to understand – those suffering from poor mental health. What the current pandemic has forced into our conversation however, is to question a different cliché pervading the artistic process that has not yet undergone the same scrutiny: does art really flourish in times of crisis?
On Essential, the third and final instalment of her 'Pieces' album trilogy, Eki Shola certainly makes the case. Narrowly escaping the Sonoma County wildfires that claimed her home in October 2017, the California-based British musician was already no stranger to making art in the face of adversity as she set out to write her latest effort, something she has only become more familiar with in recent months. Her two albums from last year, Possible and Drift, were both written directly in the fallout left by the flames; "the fire unlocked something in me" reads the liner notes to the former, "when everything's gone, you have nothing left to lose".
Turning the screw even further, Essential places us relentlessly in the present moment. As lead single "Change the System" begins, Shola draws us into the thick domestic monotony brought upon by lockdown: "Coronavirus with self-isolation proclaimed a must / Makes the hours meld together from morn to noon to dusk". Drift had seen her combat her emotional displacement at losing her home by cocooning herself in the warm familiarity of continuous, rhythmic grooves, but here that same familiarity warps into oppressive claustrophobia; the accompanying music video is all fish eye lenses and close ups that come just a little too close.
Refusing to buckle to the onset of panic, Shola instead embraces and repurposes it as fuel to express her outrage at her adoptive country's inept government, a mindset she encourages her listener to share in: "Catastrophe opens up possibility / Transmute fear into conscious disruptability". Her enforced isolation is reclaimed as a "perfect storm for creating" – a bold assertion were it not for the sheer volume of material offered up on Essential. Following two albums in 2019 with a project which clocks in at over 80 minutes is impressive enough, before you realise that as well as performing all the instruments on record, Shola produced, mixed, and mastered every single one of the album's nineteen tracks. Essential is many things, but lacking creativity is not one of them.
A nondescript title like "Change the System" might have been considered a play at revolution rather than the real thing, had it not been penned by such an insightful songwriter. A trained physician herself, Shola knows better than most the unacceptable working conditions currently placed on American medical professionals, and rails at the absurdity of a lack of PPE and hospital wage cuts during a global health crisis. Her vocal delivery shifts from swaying harmonies to barbed spoken word: "Healthcare for all should be a mandated addition" goes the rallying cry amidst appeals for mass unionisation. This isn't a vague attempt at progressive posturing; this is a manifesto.
Not everywhere on Essential are the calls for collective action so neatly put, however. The stream of consciousness diatribe that anchors "Ignorance Veil" does leave us with some evocative imagery in its final lines ("Raping Mother Earth of her diamonds and pearls / Who knows for how long this crying, bleeding, heated up earth will continue to twirl?") though its clumsier moments do run the risk of navel-gazing. An admission of guilt at not being able to be vegan for environmental reasons ("Hate to admit I love meat, was too tough to commit for life") is confusing followed in the next verse by the rhetorical question "Sorting out the recyclables / What else am I supposed to do?"; elsewhere the impact of a direct demand for "an action plan from unbiased scientists / Working in accordance with empathetic and ethical leaders / Open to journalists" is dampened by an underwhelming simile for overpopulation: "We're like a bad case of a spreading infected pimple".
The times when Shola's lyricism cuts deepest often arrive in places where she trusts the listener to fill in the gaps. In the back half of the next track, "Blippity Glip", without warning the song swaps out its downtempo hi-hat triplets for an addictive synth earworm that sounds borrowed from minimal techno. All the while, Shola repeats an abstract refrain "Space is empty / Is always full" which leaves an unidentifiable melancholia more moving than any simile, a trick repeated on album highlight "Trapped" where in between wordless backing vocals we're left alone to wrestle with the uncomfortable question "Why does it seem like struggle is the default?".
When she chooses to abandon words entirely, here too Shola's compositions shine. Despite being the longest of the bunch, the arrangements on "Roots" are delicate enough that the song never tires, and opener "Quiet" might be similarly sparse but nevertheless boasts the album's most memorable melody.
In truth, the question of art flourishing in times of crisis and the myth of the tortured artist were never completely separate (after all, one quite clearly helps enable the other). But if good art really does arise from societies under duress, Shola proves it isn't through suffering for suffering's sake. On Essential, pain isn't an exhibition, it's an equaliser; we're encouraged not to gawp at Shola's inner turmoil but to empathise with it, understand it, and act upon it. "A crisis", she writes, "as excruciating as it may be to endure, allows an intricate view into the breakdown of structure, systems, and life the way we know it". Perhaps good art can be inspired by hardship. But what makes it great isn't found by wallowing in despair; it lies in our determination to envision better times.
~~~
Sidney Franklyn: Essential is the third instalment of your 'Pieces' trilogy, following your two releases from last year, Possible and Drift. The album is, in your words, "about newness and discovery … about moving forward with authenticity, love, risk, grief, and gratitude into a new world". Could you speak a little to the significance of the title?
Eki Shola: Essential represents a shift from being cocooned to emergence. Emergence with a sense of vitality and confidence in the world. While writing this album, I was experiencing a transition of no longer wanting to be in a safe cozy space but wanting to explore the unknown. I was ready to branch out physically and emotionally, and lyrics started to flow which was new to me because up until now, most of my works have been instrumental. Essential really means that the reflections I felt compelled to share were essential to my own healing and essential that they be put out into the world for others to hear, with the hope that it will stimulate new thoughts and inspire.
SF: I love Essential's cover art; the way the sun glints through the treeline leaves me wondering whether I should feel relief for the returning to daylight or uneasy for the coming darkness. I can see how the artworks for Drift [gentle waves breaking onto shore] and Possible [the final puzzle piece hovering beside its empty slot] are more literal, but I was wondering how you decided on Essential's artwork? Does it have anything to do with the instrumental song "Blue Light", or is that track title a reference to Black Lives Matter advocacy you mentioned in your album's press release (with 'blue lights' being the blue flashing lights of police cars)?
ES: Since losing everything in the October 2017 wildfires, I've really come to appreciate making do with what I have. A few months ago, iPhone in hand, I went back to our property where our house stood, and took the photo of the moon through the trees. I stood to the right of where our house once stood and realised that with the structure and most of the trees gone, gorgeous new views had materialised. So from loss you actually have gained a new perspective.
I wish it were that deep, but truthfully, I wrote that song late one night inspired and mesmerised by the blue light on my printer machine. I wrote the beginning and final songs ["Quiet" and "Pause"] in reference to Black Lives Matter as a way to provide, if you will, permission and encouragement to take time to sit and be present. The cadence of the song "Pause", actually forces you to do that, and I found that for me, it helped to centre me and break the overwhelming sense of despair and anxiety I was experiencing.
SF: What does an "Ignorance Veil" mean to you, and how important was it to informing your overall writing process?
ES: 'Ignorance' just means not knowing. Once you lift the curtain, you can see. "Ignorance Veil" represented some of the inner conflict I've had in wanting to do good for Mother Earth but battling with my own inadequacies and hypocrisies. For every action done – even if we think it's positive – there'll be a reaction, and so to at least be aware of this, we can open our eyes and better evaluate the situation. My writing process became more aligned and attuned to what was going on around me in the world, and this was a change from some of the other songs that I wrote which were more internally driven.
SF: Did the tracklist unfurl organically? Or was there always a clear plan of how the album's structure was going to turn out? Was "Quiet" always going to be the opener, and "Pause" the closer?
ES: It was organic. I haven't pre-planned my four albums, I just create from what I'm feeling in that moment. "Quiet" and "Pause" (as I mentioned above) were added in last, as I felt compelled to bring in the emotions of BLM and the pandemic shutdown. It just felt right to open and close with meditative pieces to somewhat close the circle and hopefully leave the listener with a sense of peace.
SF: I noticed that unlike your previous two records, as well as performing all the instruments you chose to master the record yourself as well. Was this to have greater creative control over the project? Did you have any artists in mind that you were emulating in doing this?
ES: Yes. It didn't make sense to hand over my baby to someone else to finish. The whole time I was mixing the album, I knew what it should sound and feel like sonically and there wouldn't be a way for me to convey that in words to an engineer, so I did it myself as super scary as it felt in the beginning! I know there's so much more to learn, but you just have to start somewhere and dive in.
I wasn't really channeling a particular artist, however, Bonobo is one of my favorite artists. I've played many of his songs repeatedly, and each time I hear something new. I like that subtle element of surprise. It's an impressive level of detail, in regard to arrangement and mixing and inspires and validates for me that with creativity, there is no right or wrong. His musical essence has been influential for me because I find his music to be so emotive, and I appreciate that.
SF: And now the trilogy is complete, what do you think waits for you next?
ES: Actually, the trilogy isn't really complete. I just couldn't fit all of the songs onto a CD! There's sort of an Essential Part 2 that I'm mixing right now, but my head is spinning with other ideas and so I may have to just create album five and six simultaneously.
~~~
After barely escaping the 2017 Sonoma County California wildfires, writing music became a healing necessity for Eki Shola, a musician and physician originally from London. In 2018 she wrote and produced a trilogy of albums (Possible, Drift, and Essential) following her 2016 debut album, Final Beginning, inspired by the passing of her mother. Possible symbolises a moment characterised by hope and a determination to not give up after losing so much; Drift represents the subsequent period of wanting to be cocooned within a movement that was comforting and healing.
Opening and closing with a rhythmic meditation, Essential evolved beyond its original intent to embrace newness and self-discovery through the power of voice. The album envelops you in instrumentals, spoken word, and lyrics that share hope and inspiration inspired by periods of contemplation among movements of climate change, the coronavirus pandemic, and Black Lives Matter advocacy. Partial proceeds to be donated to the Freedom Community Clinic serving underserved people of colour who live in the Bay Area.
Self-released on the 8th of August, Essential is available to stream and purchase on Bandcamp here.
---
Author
Sidney Franklyn is a freelance writer, specialising in the influence of contemporary politics on internet music culture. As well as being Threads' Head of Editorial and a member of the Production Team, Sidney is a Music News Writer at MXDWN UK. If you would like to contribute to the Threads blog, you can contact him via the email address [email protected].
---
Back to home.