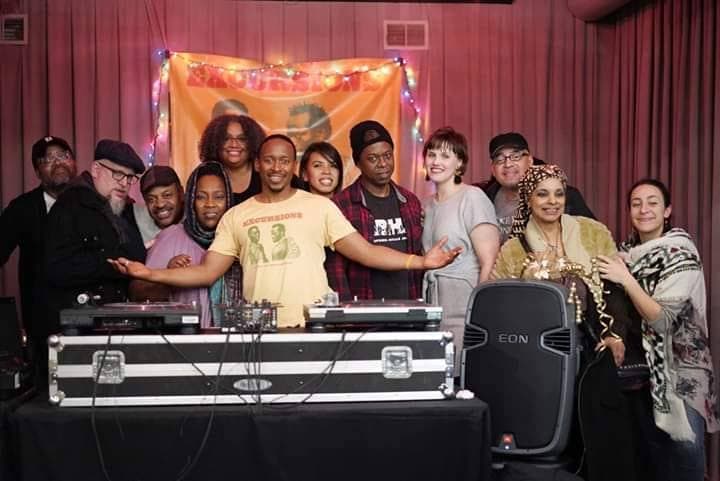 An interview with Cordell Johnson
Cordell Johnson was in the guest mix for the March edition of the Noetic Show on Threads*Aubervilliers, which you can hear below. No3sis got to interview him as a companion piece to the show.
March 6, 2019, 7pm in Paris. A windy night, drinking a beer in a café near the Gobelins metro station. I'm about to Facebook call Cordell Johnson, a veteran DJ from Chicago – he's been DJing since 1981, and just did the guest mix for my latest show. I thought I would see him in winter clothes, with snow falling outside the window of his studio… just like I saw him last November, in Danny's Tavern (1951 W Dickens Ave, W Dickens Avenue), a little bar in Chicago where he is used to mix tracks with very complementary musical aesthetics, as he mentions himself in his blog: « a journey through the diverse sounds of 'house music' and it's offshoots; tech, Latin, afro, broken beat, jazz, funk and nu-soul »
The camera turns on : Cordell appears in a yellow shirt, in a bright apartment. You can guess the sun is shining outside. Cordell happened to be in Rio during this interview, as he went there for a gig, and, obviously, to enjoy the sun and dig some local records too.
No3sis : Can you tell us more about your mix for my show? Did you have a specific intention?
Cordell Johnson : Yes, I specifically wanted to select new songs, with the aim to focus on a younger audience. It's a selection of unreleased tracks, with Detroit, Chicago House influences, and a little bit from New York.
Do you have any release coming soon?
Yes, I have a remix coming out from Dj UCHIKAWA (R2 records).
What was your process when working on this remix?
Well, I'm not a producer. This remix results from a collaborative work with a friend of mine who helped me making the musical ideas I wanted to integrate in this remix real. The release will be pressed on vinyl.
How do you dig your sounds?
I like to leave some space for randomness. It can be with a friends' suggestion, for sure, but most often it's coming from a track I hear that surprises me, and then I'm looking for it. For more specific requests, I can go to a vinyl store.
Perfect transition for my following question: do you have vinyl stores that you would like to recommend for our Threads friends who will come to Chicago?
Well, I can advise you to go to three good ones, that I usually go to :
– Gramaphone records (second hand and new records)
– 606 Records (both second hand and new records)
– Dusty Groove records (Second hand records)
Last time I saw you, you were mixing in a party whose artistic direction you entirely manage : can you tell us more about your « Excursions »?
Excursions are parties which intend to promote underground House and Techno music. I was fed up with parties where music quality was not the promoter's priority. When you go to the Excursions, you're here for dancing, having a good time, with a good soundsystem, and DJs with a sincere approach.
These Excursions moved outside of Chicago. Parties were done in Detroit, New York, Illinois, Japan, and recently at Panorama Bar in Berlin.
The idea is to push new music in parties where the conformity (at least in Chicago) is to play well-known house music classics.
For those who are interested, you can follow our activity and upcoming gigs on our blog here.
You mentioned a party at Panorama Bar, can you tell us more?
Well, it was last September (2018), I played a 2 hour set at 6am. I started with quite a dirty song with this vocal, and people started getting crazy. I really enjoyed the diversity of the public, coming from everywhere in the world, in a very singular ambiance. They gave me really good vibes and that was an excellent experience.
Did you record this mix?
Unfortunately the mix was not recorded, sorry guys. But I've prepared a unique mix for Threads!
Do you earn enough money with DJing or do you have a day job?
Actually, my project with the Excursions is to be able to afford this liberty, but I still have to work for television when I'm not mixing.
Thanks Cordell for your time. What is the last message you want do deliver to the Threads Community?
Thanks No3sis for having me, I would love to play in Paris / Europe soon. If you have some contacts that are interested in having me, please contact me.
Enjoy the mix. You just (virtually) went to the Excursions.
---
Back to home.