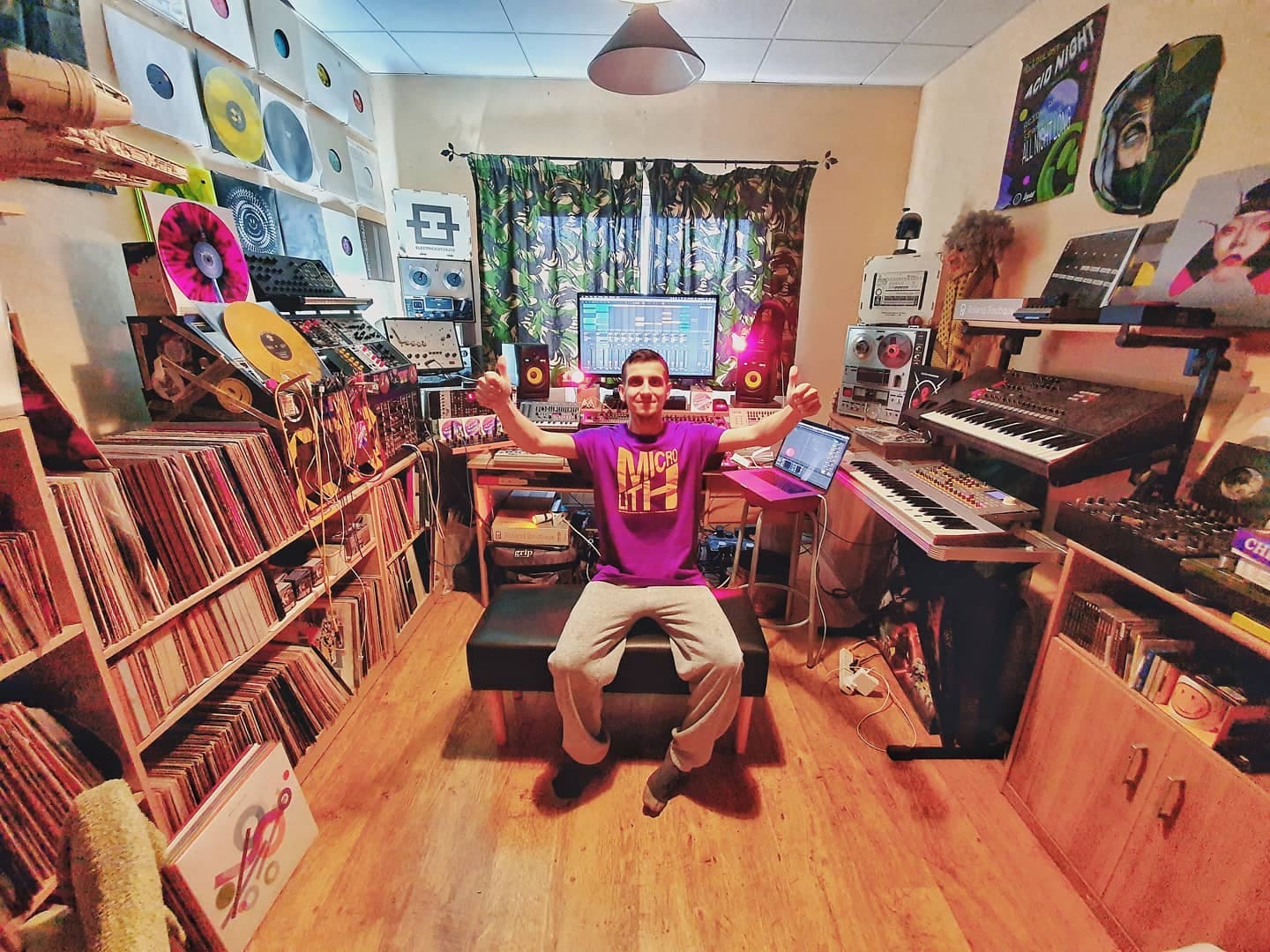 Balkan Vinyl TAKEOVER: Interview with Acidulant
Catch Acidulant's hour-long mix for the Balkan Vinyl TAKEOVER this Saturday at 7pm, exclusively on Threads.
Who are you, and where are you from?
Hello there 🙂. My name is Neil Hales and I come from the tiny island of Malta. I make electronic music under the names Acidulant & Collateral Intelligence, and I'm one half of RAIM—a collaboration with long time friend Sound Synthesis. I am also the co-Founder of Electronic Music Malta.
What's your connection with Balkan / I Love Acid?
My relationship with Balkan and I Love Acid stretches for quite a long time.

The first real connection was made when me and my uncle booked AGT Rave Cru back in 2010. From that time onwards, me or my friends booked AGT / Posthuman to play in Malta almost every year. Apart from obviously having a very big connection through music, in time this relationship evolved into one big acid family.

As an artist, my main connection is with Balkan Vinyl where I have several releases under Acidulant and also a release under RAIM. Being it Balkan or I Love Acid, as an artist I feel that releasing music on such record labels is the pinnacle of every acid house/techno head out there.
What tracks have you played / vibe have you gone for / gear have you used for this mix / live jam?
For this mix I went full-on 303% party mode. I know everyone at the I Love Acid HQ lives for good raves so i dedicated this hour of music to them—I'm actually dying to see their faces again.

This mix also has a few unreleased tracks that are forthcoming on my new vinyl label, which includes a track by Posthuman. As a highlight in this mix I included my favourite track on the I Love Acid label… a track by Global Goon named Caramel Door. For me this is a true definition of a modern day acid house classic. Since I don't own a pair of CDJ's and my turntables are in for repair, apart from mixing full tracks on Ableton, I also hooked up the Roland TR-8 for some extra drumming fun and the Behringer Krave for some sound effects and noises. 
What is a positive story or something good that has happened to you during the pandemic?
The most important and most significant positive thing that came out of this pandemic is that I actually spent much more time at home with my family. I still live my parents and although we live under the same roof, their schedule and mine usually don't always allow us to spend a long time together. I'm not going to mention the fact that I did more music staying inside because pandemic or not, I am always producing new tracks every week haha.
What do you have coming up?
Currently I have only one gig coming up. In Malta restrictions are being eased on the 16th August, and I'm planning my first club night for the 20th August—I cannot explain how excited I am to return back to a club after an absence of more than 1 year.

Apart from this… there's quite a lot in the pipeline, especially with all the records being delayed from late last year. There are singles on Balkan and R&S, a split EP with one of my favourite acid producers coming up on Acid Avengers. There are also a few other releases to be released on other labels over the course of this year. Apart from these, I'm finally also starting my own vinyl label LAZER Records, there is already a series of releases lined up and the first release will feature tracks from Hardfloor, Mark Archer, Mutex, Elisa Bee and myself. Can't wait to actually get going with the label, it's super rewarding to be able to hunt for music and new artists and then showcase them.
What's been your favourite piece of music in the last year?
My favourite track from the last year was Timescape by Shadow Acid, released in Exalt Records. It's pure class, can't wait to actually close off one of my club nights with this track. I'm a massive Luke Vibert fan so of course I will also say that Luke Vibert's releases this past year were also among my top favourites.
Anything else?
Acid will never die ❤
---
Back to home.