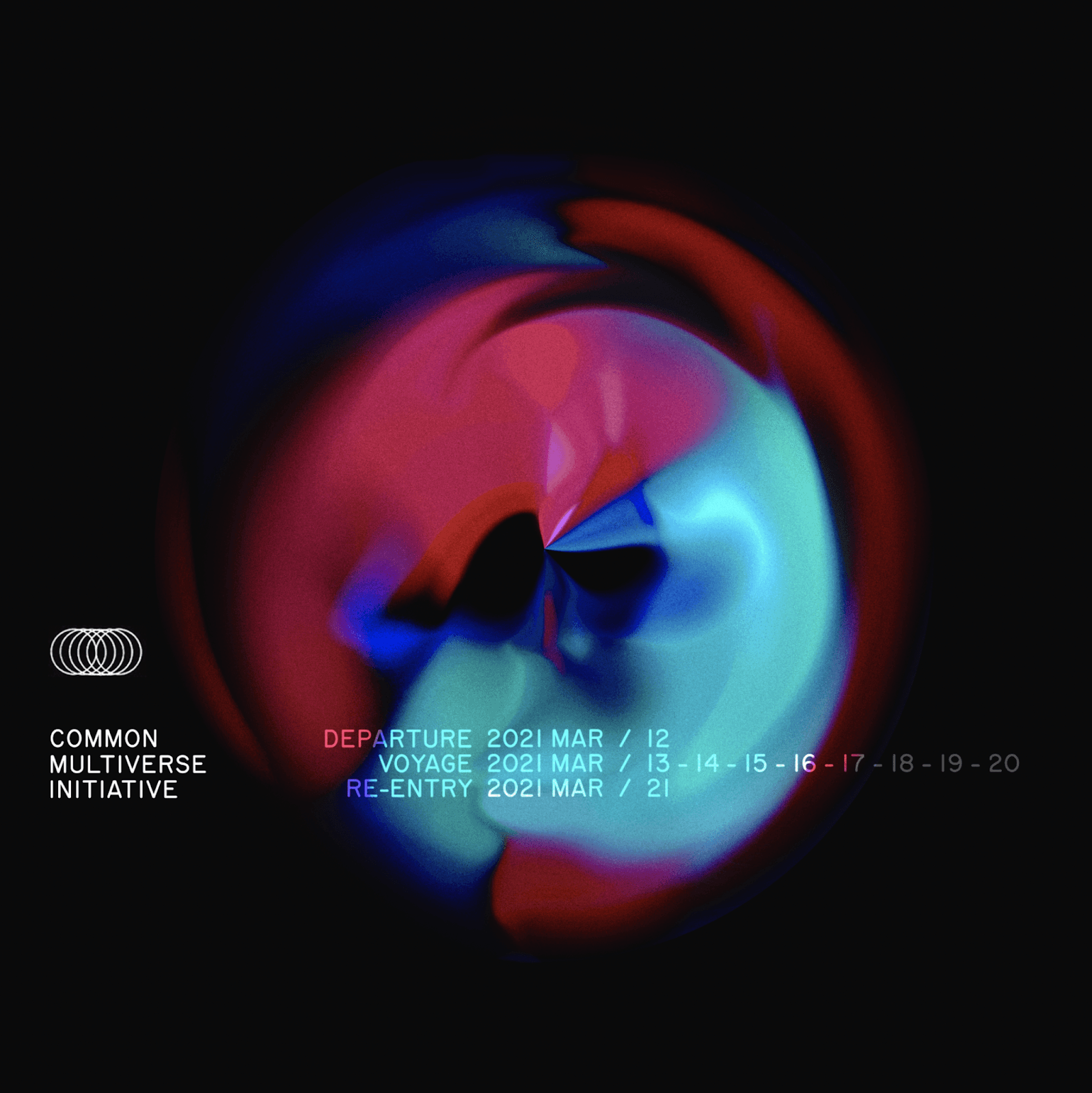 COMMON Multiverse Initiative: Opening and Closing Weekend Highlights
"Music is driven by community." We are delighted to announce a new curatorial and media partnership between ourselves and innovative online community space, Currents.fm; as part of COMMON, their forthcoming decentralised festival voyaging from 13-20th March. We'll be curating a 2-day takeover over the nights of 19-20th March, broadcasting special one-off shows in the lead-up and hosting interesting editorial features, to warm up for the creative marathon.
We're kicking off the editorial collaboration today with this Picks piece by their team member James Gui, delving into some of the festival's forthcoming treats.
—
COMMON is free to attend and guests are encouraged to tip or subscribe to performers or collectives they discover through the festival on Currents.fm or send donations that become an artist-distributed chain of support. Guests can explore COMMON by moving from room to room, talking to other listeners, artists and collectives in the public chatrooms, as well as starting video-chats and private chatrooms. As an open digital space, the project is intended to create broad support structures for the global music community; a set of tools through which any member of the music community can create their own digital space.
Check it all out at https://a.currents.fm/common.
The COMMON Multiverse Initiative, featuring over 60 collectives and 500 artists, takes off March 12 and lasts until March 21. With such a large pool of talent from the global underground, we wanted to highlight some of our top picks from the festival. Below are 12 planets (that is, lineups) and performances that you won't want to miss!
COMMON Room – Solo Performances March 12-21
The COMMON Room will be home to over 40 solo performances from our open call and community members. Highlights include Anthony Child (a.k.a. Surgeon) performing an exclusive ambient set on Friday, March 12, deep house mainstay Osunlade bringing the soul on Saturday, March 13, noise rock group DAVID BORING transmitting cathartic, industrial sounds on Saturday, March 20, and experimental vocalist Otay:onii uttering visceral incantations on Sunday, March 21.
Darker Than Wax – Saturday, March 12
Singaporean electronic music label Darker Than Wax will kick off the festival with a tight lineup of renowned acts Clafrica, Marco Weibel, Funk Bastard, Kaye, and Daryl Knows. From raw house cuts and jubilant disco to acid-washed techno and soulful funk, expect to groove heavily during the opening Saturday at the Darker Than Wax planet.
female:pressure – Friday-Saturday, March 12-13; Sunday, March 21
Providing acts during the opening and closing weekend, female:pressure returns to COMMON once again with a gargantuan lineup. Sounds from Chrysis, Jackie Queens, Kleine Pia x Pululosz, Jamaica Suk, Marylou, Catenation, Fadescha, irisS, and numerous others will grace the COMMON Multiverse. Check out their full lineup here.
Infinite Machine – Saturday, March 13
Mexico City-based record label Infinite Machine will present a globe-spanning lineup of established and up-and-coming artists, from the breakcore stompers of Swan Meat to the ambient footwork of Laughing Ears. Other artists to watch here are Bungalovv, Benfika, Softmatter, Koi, Fausto Mercier, and Bonebrokk.
Footwork Jungle – Saturday, March 13
Since its inception almost a decade ago, FOOTWORK JUNGLE's far-reaching tendrils have united fans of fast-paced club music around the world. Returning to COMMON for another iteration, they've curated a comprehensive lineup of international tastemakers, from Chicago legends RP Boo and DJ Manny to UK, Russian, and Indian trailblazers. Their lineup features HomeSick, Anna Morgan, Deft, Bell Curve, A/K/A Sounds, Rachel Green, Hyroglifics, Oceantied , SUCIA!, PlayPlay, A.Fruit, Bored Lord, OAKK, Bastiengoat, and Tim Parker. This globetrotting get-together of audio innovators is underpinned by the visuals of new media artists Cool Boy 36, DaniBee, ssssskkkkkddddd, Swaggacats, and Uii Savage.

Revolve – Sunday, March 14
Rounding out the opening weekend of COMMON, Portuguese record label Revolve's planet features Dirty Beaches mastermind Alex Zhang Hungtai along with Débora Silva, Dust Devices, Farwarmth, Jonathan Uliel Saldanha, Mette Rasmussen, Ricardo Martins, Tó Trips, DJ Lynce, and DJ Otsoa.
HouseHeads – Friday-Saturday, March 19-20
Groove at the planet curated by Kenyan house music and dance collective HouseHeads on Friday and Saturday, March 19-21 and catch some of the underground afro-house DJ's tearing up the dance floors south of the Sahara. DJ B-Town, N Kai, DJ Miss Ray, DJ Shock Africa, Coco Em, Imran Mwangi, DJ MT, Sir. Loin, Afula, Kadawa, and Cecil will all be spinning dance-ready tunes at Planet HouseHeads.
PLANET ZOLEAN + LIVE.LESE.LOVE.LAND + FEVER AM – Saturday, March 20
This constellation of scenes across space and time will appear on Saturday, March 20 for COMMON's closing weekend. Hot Mass' Boo Lean (Lauren Goshinski) and Un/Tuck's Sister Zo are presenting AV sets, live, and behind the scenes performances from Arca & Carlos Saéz, Jordana LeSense (fka 1.8.7), Nikki Nair, and emerging producers from the Midwest including Harpist, Singer, and film-making femme queen Ahya Simone. Seattle's Sharlese Metcalf and livwutang's planet will be awash in a swirly mix of energies from Honcho's Clark Price, DJ Having Sex, and the Bay Area's Wonja, Experimental Housewife, Infinite Jess, and others. Berlin label FEVER AM by Mor Elian & Rhyw go to the edge of the solar system and back with sets from the likes of CCL, Paris, Gacha Bakradze, Bonehead and bring us back to Earth with Pittsburgh's Kiernan Laveaux and ADAB.
Editions Mego – Sunday, March 21
World-renowned Austrian record label Editions Mego will be curating a room on Sunday, March 21. Take special note of the world premiere of "nerve ends", an audiovisual collaboration between Electric Indigo (DJ and founder of female:pressure) and Bela Borsodi (photographer) that is as unnerving as it is beautiful. Others to watch from this lineup include Cam Deas & Jung An Tagen, Nik Void, KMRU, and Stephen O'Malley.

We Are The Ones – Sunday, March 21
Consisting of the hardest-hitting acts in the Oakland underground, the collective and mutual aid group We Are the Ones are curating an incredible lineup for their Sunday, March 21 planet. Their #ARMTHEGIRLS 2021 mixtape is a tour de force of underground music, which is also raising money for their mutual aid initiatives in Oakland. With performances and sets from Jasmine Infiniti, ONMOMMAS, Maya Songbird, Freddie, Qing Qi / Putang Clan, Guerilla Pump, Fiera Ferrari, and more, this is one lineup not to be missed.

No Name / Sin Nombre Colectivo – Sunday, March 21
An audiovisual extravaganza hosted by Kallisto D'Amore and featuring over 30 artists queer and wide, No Name / Sin Nombre Colectivo's planet will be a testament to arts in the Americas. Queer and trans artists such as Ah-Mer-ah-su, Miguelitooo, Pista Coletiva, Mexican artists Granie-X, Shining Armour, and Púrpura de Tiro x VAA artists showcase with Isaac Soto, RSNNC, and more will be providing a showcase of live music, drag performances, music videos and even a stencil workshop with Jeremy Novy connecting artists from Brazil, Mexico, and the United States.

Ani Klang x Gentle Riot – Sunday, March 21
Ani Klang and Gentle Riot will be closing out the fest with a potpourri of European techno: Decka, Swarm Intelligence, TRED, DJ Karawai, and Less Distress will be playing dance floor thumpers for the perfect bedroom rave. With visuals from Berlin-based Mister Mishka, this planet is for the techno heads who miss the sweaty euphoria of the club.
RSVP here for the COMMON Multiverse Initiative, blasting off from March 12 to 21.
---
Back to home.