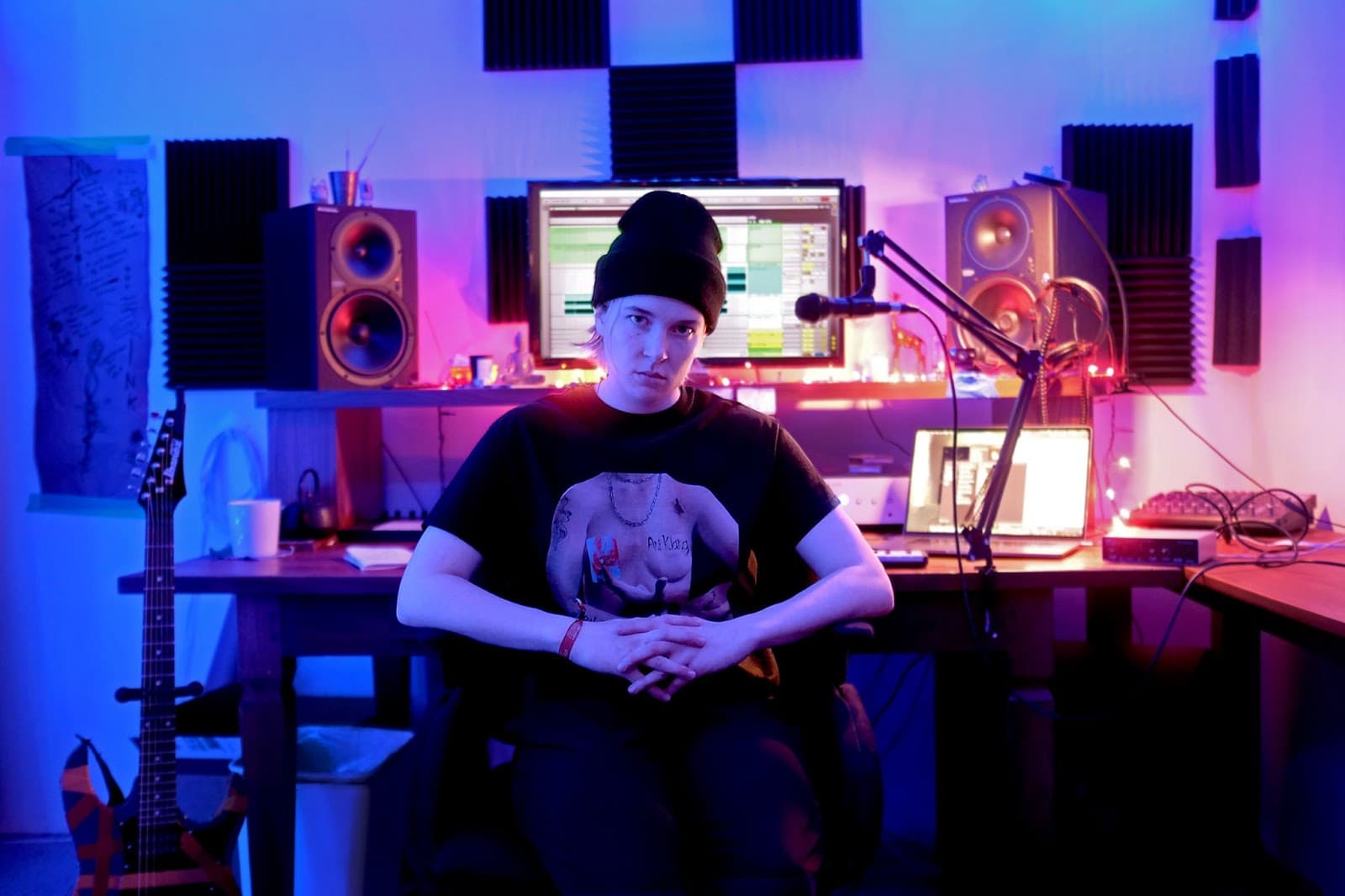 COMMON Preview: Ani Klang Talks Partying Virtually During COVID
With her curated lineup and performance at COMMON with the Gentle Riot crew happening Sunday, March 21, James Gui caught up with Ani Klang to discuss her thoughts on our new normal. RSVP for COMMON MULTIVERSE INITIATIVE here.
James Gui: With the pandemic closing in-person events, we've seen the rise of virtual spaces like Club Matryoshka's Minecraft club, DJ streams on Twitch, Discord parties, Zoom raves, and even VR stuff in Mozilla Hubs and Second Life. How has this shift from physical to online space changed the experience for you, as a DJ?
Ani Klang: The shift has been an odd one, but an important one nonetheless. Once COVID-19 struck and forced DJs like me into a digital performance space, my bookings dropped significantly.
I was okay with this at first because I wasn't really interested in DJing in virtual spaces. I thought it wouldn't be the same experience. The technological learning curve to configure a virtual DJ set seemed too steep for the effort. And once you throw a LIVE DJ stream into the mix, it seemed far too cumbersome and risky to get invested in.
I was also intimidated by the array of platforms and "business models" available to DJs (Facebook, Twitch, Zoom, the question of throwing a multiple-day 'festival' or a one-off stream, charging for tickets and RSVPs or running a donation-based stream, etc). For me, it took a while to get my mind around the idea that this would be a somewhat permanent shift and a train I needed to board if I didn't want to get left behind. 
Despite the numerous hurdles to overcome, the shift in performance spaces has presented many benefits I hadn't previously considered. Even though a DJ can't see a physical audience reaction while recording a set, watching a broadcasted set and reading the real-time reactions in the chat is very cool and reaffirming. 
There's a heightened connection now between performer and participant. The participant can directly ask the DJ for the Track ID or ask for their Soundcloud, Paypal/Venmo, or Instagram to offer immediate support. The spike in followers after a virtual rave is almost as valuable as getting paid! 🙂 
JG: From the DJ's perspective, how does the delayed gratification and reduced responsiveness of the audience of a pre-recorded set feel for you?
AK: It's definitely a weird feeling to DJ a club-ready set in an empty space with nothing watching except a camera and maybe a cat. Without the instant gratification of an audience roaring with enthusiasm or that rush of adrenaline at the conclusion of a set, it feels very strange and a little anticlimactic. While the preparation process feels very similar to that of a live gig (preparing a track list, putting on a cool outfit, telling all your friends about the upcoming event) the actual process of recording a DJ set is a completely different experience. 
The lack of audience response makes the track selection process especially tricky because, unlike at a real-life event, a DJ can't modify the track selection based on real-time audience feedback. Consequently, we're forced to play a bit of a guessing game, and if we mess up, it's much harder to cover it up with a vinyl spin back or a quick joke on the microphone blaming the sound guy. With the audience listening intently at home, they hear everything. 
There are, however, a few benefits I've found to recording video DJ sets at home. For the anxious DJ (like myself), there is a significant reduction of nerves and fears of ruining the party by botching a transition. There are also SUBSTANTIALLY less interruptions while recording at home. I cannot count the number of times a transition has been interrupted by some drunken asshole tapping me on the shoulder and requesting a song I've never heard, or a group of girls asking to throw their jackets and bags behind the booth, etc. The at-home DJ set allows space for an extremely heightened state of concentration not otherwise possible at many venues where patrons can easily access (and annoy) the DJ. I've also been delighted at the ease of networking in the chatroom once a set is broadcast. DJs can now relax at their gigs and see what it's like to watch themselves play from a partygoers perspective. 
JG: For me, I actually got into dance music during the pandemic, so I haven't actually had the real club experience yet. But these virtual communities have been keeping me connected in such an isolated time. Drinking & dancing by myself in my room has become almost a biweekly ritual for me. It's been nice, but also strange; for you, what are the oddities, benefits, and problems with at-home raving?
AK: First of all, welcome to the club music community! Isn't it fun!? I'm a fan of solo raving too (though yes, it is quite peculiar at times). 
To address a few of the oddities first – if you're not a loner like me, it probably does feel quite uncomfortable to do all the actions of partying without a giant squad of participants partaking in the fun with you. The practice of consuming liberating substances and making spontaneous best friends on the dance floor is a staple of nightlife culture, and one that cannot be replicated virtually. While I have had some quite legendary nights to myself dancing with a glass of whiskey in my studio, programing my fairy lights to flash like a strobe, I do miss the joys of extinguishing sobriety in the company of others. 
Differences in time zones are another issue, along with the problem of finding a rave to match your mood at the exact moment you want to hear some music. There are a multitude of platforms and services designed to play exactly what a user wants to hear, so it's challenging to opt for a DJ-curated live stream for several hours (especially if it's a lineup of hardcore / gabber DJs playing at 10am PST). 
There's also the issue of the sound system. Unless a virtual partygoer has a $150K HiFi system in their living room, most users are not equipped with the same enormous surround sound setups with booming sub woofers most high-end clubs boast. Sure, a decent pair of headphones could suffice, but is that really the same experience? The limited frequency response and locational accuracy of many at-home listening devices (like bluetooth speakers and laptop speakers) unfortunately deliver an underwhelming and unfulfilling listening experience that is, consequently, a disservice to the integrity of the artist's performance. 
One benefit I've quite enjoyed, however, is the sense of intimacy an at-home rave provides. It's refreshing to get a personal invitation to an esteemed DJ's living room or home studio to watch them perform their craft in the space they feel most comfortable, without all the flashing lights and mega-fans shoving you out of the way in the front row. To actually see a DJ's face up close while they're 'in the zone' is nothing short of magical. 
JG: What have been your favorite online events, either to perform at or attend?
AK: Sooo many streams are popping up on my feed daily, it's a little hard to keep track! But the few I especially enjoyed attending have come from people like Addison Groove (he put on a festival called "Barrelfest" a while back which was really fun), CTM x Club Matryoshka which you mentioned earlier, I also just played an all-womxn lineup for a virtual festival based in Belgium called 'Burenhinder' which was very cool. . . AND this other guy who works with Mad Decent called 'Lonely God' has some hilarious Ableton Live streams too. 
I've also just started a new type of stream on my Twitch (twitch.tv/ani_klang) that I don't think anyone else is doing right now. It's called the 'First Track I Ever Made' Roast. The premise is I ask some of my favorite producers to send the first track they ever made to my email (submissions are open to the public too of course), and then I play them out for a live audience of 30 or so people, and we all laugh and make fun of how much we used to suck at music production. It's hilarious but also a great way to support each other and feel reassurance that your favorite producer once too created muddy, under-compressed pieces of sonic garbage. 
[The Roast takes place the first Thursday of every month. To submit: send your earliest track to [email protected] with the word 'ROAST' in the subject line and I'll add you to the queue!]
JG: Do you think there's a future in these virtual spaces after the pandemic? Or will they collapse once we're back out there?
AK: We will likely see a significant dip in the amount of virtual raves occurring once real clubs open again, and that will be a bit sad for those of us who are now thriving in online settings. I do think, however, that virtual raves will continue to occupy a piece of the club culture pie, albeit a smaller one. The cyber raves that do occur post-COVID will likely be focused on one of two areas – showcasing advancements in technology, or showcasing new and previously inaccessible talents. 
The real potential in streaming lies in the unlimited possibilities of virtual spaces, including advancements in AI and real-time reactive graphics, more sophisticated collaborations between video games like Fortnite and Minecraft with major artists' performances, heightened social interactions between partygoers with more realistic avatars, and the extreme propulsions in VR and wearable headsets to experience virtual performances. 
There's also a massive opportunity for lesser-known artists to join the club music scene with significantly fewer setbacks and obstacles once might encounter trying to break into the IRL scene. For a beginner DJ, a virtual rave could be a great launching platform – there's far less pressure performing in front a camera instead of a giant audience, it's a much more cost-effective way to throw party with friends without having to pay fees for a venue, bar, and door/security, AND it essentially allows hundreds of listeners to attend from all over the world without a maximum capacity limit. 
COVID-19 was certainly an unanticipated, astronomical disaster, however, it did spark an unparalleled spike in demand for virtual content and generated endless possibilities for cyber creators. We are lucky enough to witness a second internet revolution of hyper connectivity and real-time entertainment. The most exciting part? The possibilities are only just emerging.
~~~
---
Back to home.