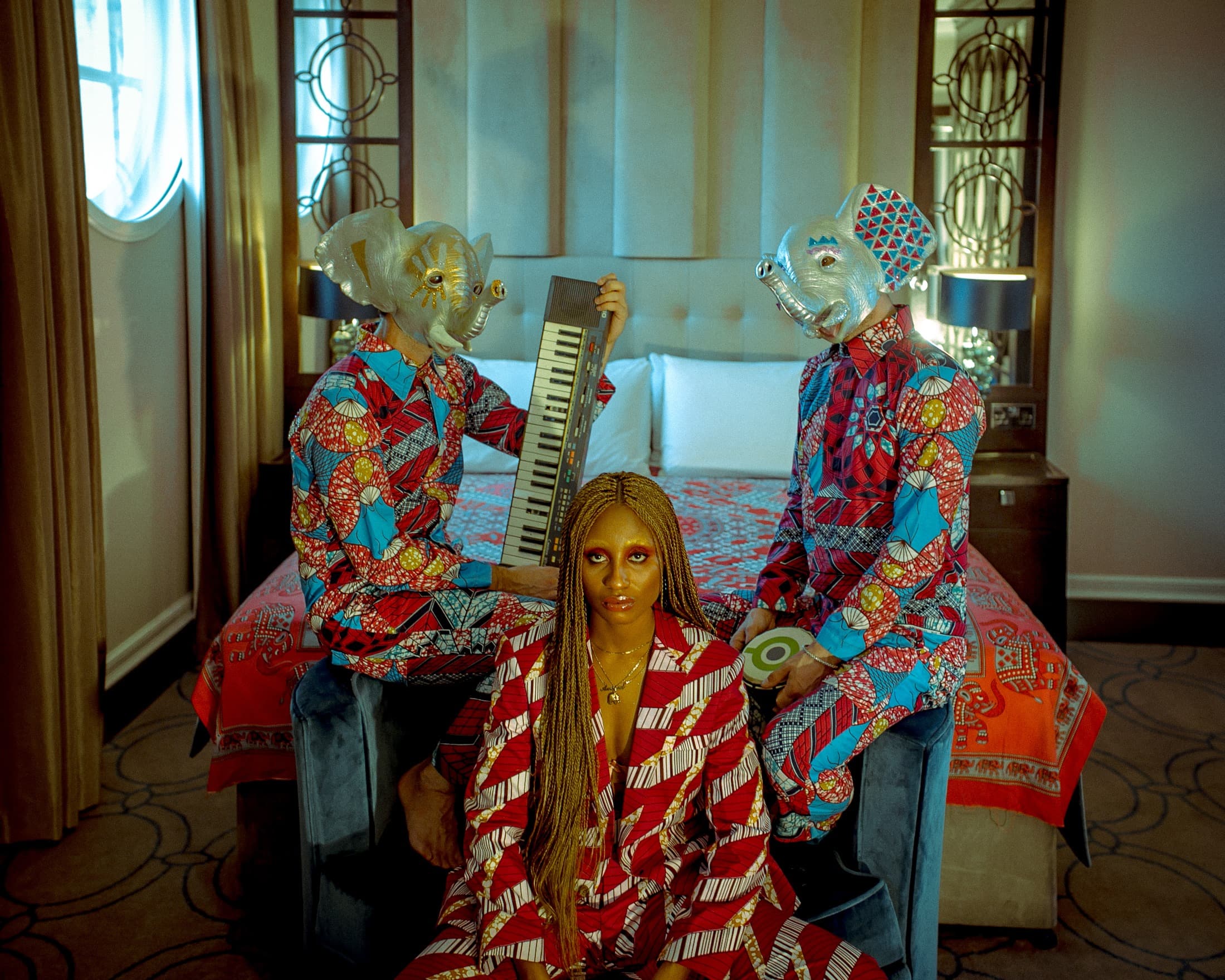 Elephant Disco Wants You to "Get Righteous"
Yasmine Akim discovers the fuel to the nu-disco trio's fire, as they unveil the new music video for their debut single.
Released on May 27th this year, "Get Righteous" is the debut single from Elephant Disco. Written and recorded in one take, the song is a poignant transcendence of the times we are in – for feeling, for healing. In the words of ENIYE (the singer whose sublime voice carries the track), "'Get Righteous' was a conversation to self, to be real to you, to keep pushing, forgive your shortcomings, love yourself and always remember, Rome wasn't built in a day, trust the process and flow in awareness of all life's fleeting moments".
The band also consists of indie legends Ben Hirst and Peter Cattermoul. Regarding how they got together initially, Hirst recalls: "I was his sound engineer when he was in Pete and the Pirates, and sometimes now for Teleman. We became very great friends way back when. I met and partied with Eniye in St Vincent and when she came to London, we became proper friends".
We are living through surreal times with this pandemic, as well as a powerful moment concerning the international Black Lives Matter Movement. We are truly living in an age of transformation; it is important for us to remember to let loose, dance, sing, cry and purge and most of all: to celebrate unity. I spoke to all of the members from the group about this track in particular, the ethos behind their creativity, as well as their plans for the future. You can watch their music video below:
~~~
Yasmine Akim: How do you feel this track is relevant right now?
ENIYE: I talk about how the process of growth doesn't happen overnight, you don't become the person you long to be by sitting down and waiting for it to happen. It's hard work and I guess I didn't want to do the work, so I'm being snappy with myself. I think it will always be relevant and especially during this time of global shift in consciousness, we all need to be willing to unlearn and decolonise, engage, be intentional but also patient with ourselves and others. I think the real focus needs to be on our own personal growth so we can better contribute to the big pot of helping the shift drive real tangible change. There's too much focus on what everyone else is doing or saying and so it becomes performative as everyone is afraid to make mistakes, not do enough or seem like they don't care. It's a long ride – what's the rush?
YA: What was the creative process behind the song?
Peter Cattermoul: It just came together quite naturally, I don't think there was a plan beforehand, we were in the flow of things and it just came along. The video kind of happened the same way; we wanted to make something beautiful and opportunities came our way, like the venue and the people who helped out making he masks and stuff.
ENIYE: I was crashing at the pea pad one night and woke up around 3am when I heard it, I was like 'get me on the fucking mic now'. I just loved the feel of the beat so much and had to ride it smooth, one take! Loved the process so much we were all buzzing. The video as Pete said came together quite naturally. I had still been living in Nigeria when we started talking about the video, so I got some custom pieces made with the Nigerian Wax print. Our aesthetic has always been colourful and vibrant like the music so we had to get that on moving image.
YA: Could you tell us about the director of the "Get Righteous" video and their vision? How did you meet?
Ben Hirst: So interestingly, the director wants to remain anonymous. I can say he did an awesome job and that he looks like a wizard you wouldn't mess with. I can tell you about Sarita Piotrowski who is the choreographer/dancer and was absolutely awesome for us. It wasn't easy wearing that mask. She killed it. For me the video is about spiritual enlightenment and being free to embrace the Elephant Disco as it turns clumsy into graceful. Interesting fact: In the video, Eniye is performing exactly where Ronnie Kray's jail cell was in the old Hackney Police Station. It's now a very nice hotel bar in Old Street.
YA: How long have you been collaborating as a group? And what drew you together?
ENIYE: I met Ben in Bequia through one of my best friends Cherry Byron, and Pete on a holiday to London where I went on tour with both of them. Ben was sound engineer to the band Pete was playing in at the time. When I moved to London a few years later we tried making some music while I was still at fashion school but magic didn't really happen till late 2014. I was living in a squat with my best friends making music, and just desperate to create music for soaring. I think what happened is we formed a friendship where we would just hang out, and that really cultivated our unique collaboration. Pete and Ben are both so talented, they have an incredible ear for music and when we get together, we always have so much fun but also focused on creating beautiful vybz.
BH: It's been over eight years of collaboration. I've known Pete forever. I was his sound engineer when he was in Pete and the Pirates, and sometimes now for Teleman. We became very great friends way back when. I met and partied with Eniye in St Vincent and when she came to London, we became proper friends. Sometime later, Pete and I were doing a gig one night. We instantly knew we wanted to work with Eniye when she hijacked the mic! She improvised something and it blew us away. I knew she could sing but WOW!!! Her live prowess and vocal timbre were solar plexus-quivering.
PC: Ben and I have known each other for many years and I've always been attracted to his wild optimism. Eniye has a clear vision and determination to succeed, and her voice is so expressive with a beautiful tone. I've really enjoyed playing shows with them, I hope we can do more in future.
YA: What are your views on the music industry and certain brands playing tribute to the Black Lives Matter movement (pros and cons)?
ENIYE: Pros is visibility. Conversation is always good and a catalyst to progress. Only con I can think of now is that it's not sincere and it's seen as a trend with no real action taking place. The only way real change can happen is more Black people being in positions of power and influence in the industry, not just the people making the music.
YA: What real changes would you like to see in your industries when it comes to equality?
ENIYE: More DIVERSITY all the way through in every area.
PC: More representation for BIPOC, women and trans people in positions of authority, as teachers and institutions. More BIPOC owned businesses. More scholarships for marginalised people to get into music tech/producing/starting record labels/publishing/video production/artist management. More grants for BIPOC from funding bodies to pursue their artistic visions.
BH: Less exploitation, more egalitarianism. More women, more socially challenged people being given opportunities and encouragement to embrace music tech. Empathy and imagination baby, that's how you share the world.
YA: What is your message?
ENIYE: Respect others in this space we all share: Earth. Simples. Stop having a one-dimensional view of people. Do your own work to socialise yourself, use your own discretion. These old rules of ownership and gatekeeping need to be destroyed, no one owns anything, it's a gift for all to share, this Earth, when we are all gone we return to it, so we own nothing, we are just a part of it. Respect and mind your damn business.
PC: We have a lot of work to do, but we only need to take the next right action. Stay present.
BH: "Love is the Law and the Law is for All." Chris Mc Muck. RIP.
YA: What do you have in store for us in the future!? Will you be working remotely on new material?
BC: We are indeed working remotely on new and old material. Bouncing the music back n' forth, ones and zeros wingin' their way from Crich to London to St Vincent, back n' forth. We have a plethora of mega-tunes. Our aim is to use our brand new "Rogue Freqs" imprint to release a track or two every month. Next is "Fortune", a magical folk song from Eniye over deft soca beats – the video for this one is so coooooool.
~~~
"Get Righteous" can be found on all major streaming platforms and is available for purchase through Bandcamp.
You can support the band by liking their Facebook page here.
Or follow them on Instagram here.
---
Author
Yasmine Akim is a photojournalist and an arts writer based in London. She studied a BA (Hons) in Fine Art Photography at The London College of Communication. Social photography has always been a way for her to understand how to transcend negative boundaries through agency.
Yasmine has exhibited her work at Autograph ABP as a part of 'The Missing Chapter Collective', The Horse Hospital & Ditto Press with her Feminist photo zine Vagina Dentata. Additionally, Yasmine was previously a content developer for Shades of Noir (UAL), and was a previous member of the radical feminist collective, HYSTERIA, her work has been published by The Independent, Afropunk, The Guardian, VICE, and DAZED Digital.
You can find her on Twitter: @yasmine_akim
And follow her on Instagram: @yasmine_akim
---
Back to home.