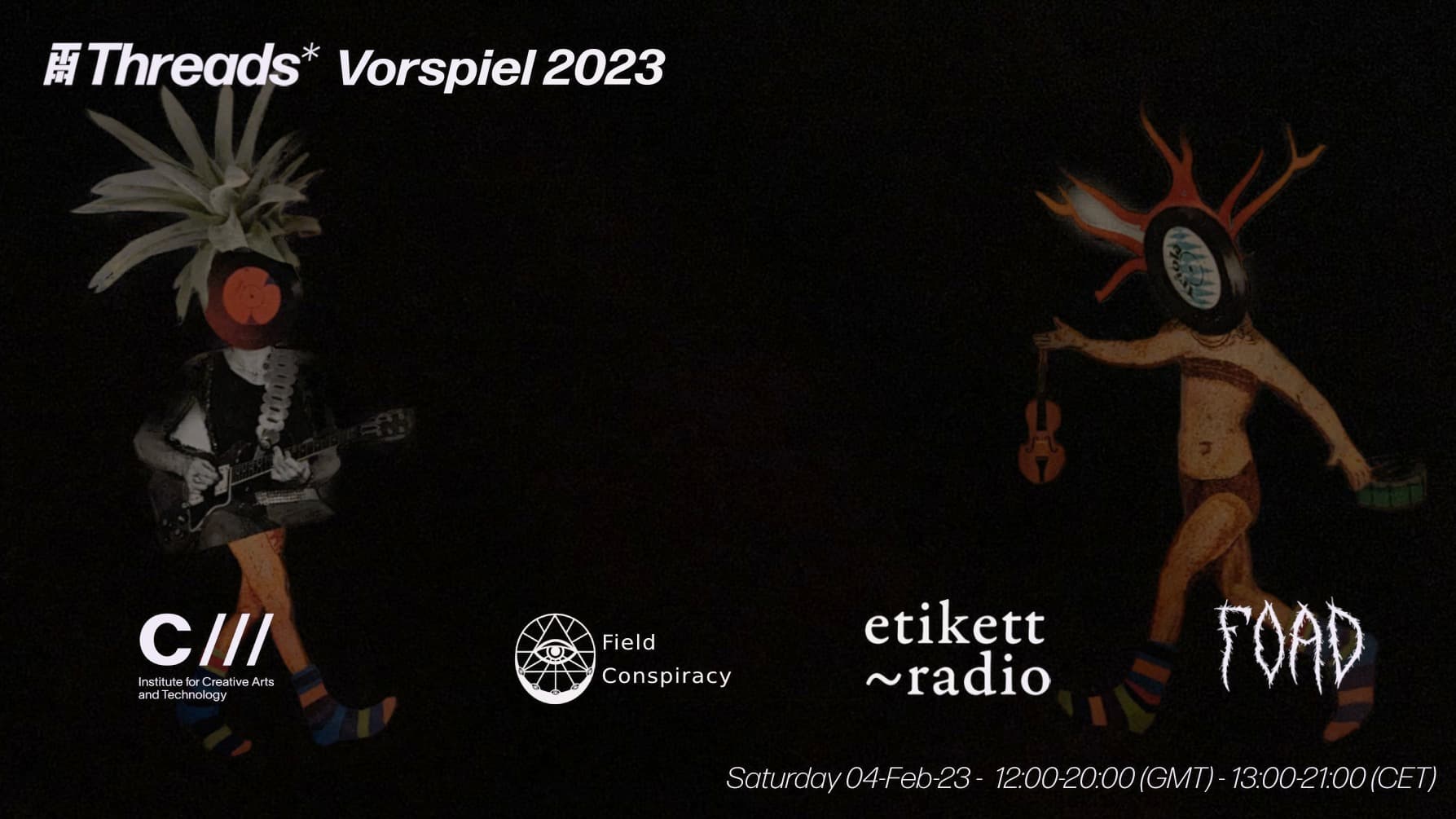 Field Conspiracy x FOAD w/ Catalyst Berlin: THREADS & Etikett Takeover
We're warmly inviting you to another full day takeover of THREADS Radio by Etikett Radio at Catalyst Berlin, this time with live performances open to the public at Berlin's Funkhaus. It's a day of electronic and acoustic performances and explorative journeys, through every soundscape imaginable.
The monthly streams at Catalyst Berlin's Etikett radio are powered by Field Conspiracy (a Berlin-based record label) and FOAD (a mix series and a genreless music platform).
Last year, the special stream in terms of CTM Vorspiel was limited to pre-records due to the covid restrictions, but we're excited to announce that 2023's takeover will be live and direct from Funkhaus, and open to the public as part of the official Vorspiel 2023 programme. The collaboration will present twelve live performances on the afternoon of February 4th, with audio streamed via THREADS and video through Etikett radio's Twitch stream. It will also be recorded for post-event publishing thanks to the student-led Etikett Radio team.
The multi-genre lineup consists of artists from all platforms involved in the collaboration, with the aim to connect diverse local music communities and present them to a global audience of listeners and viewers. The live performances will range from ambient, experimental electronic music and singer/songwriter artists to modular synth live shows, experimental pop and funk bands, beats and breaks as well as noise acid techno.
Come by to Funkhaus on Saturday 4th February to experience an array of inspiring new talent and established artists or tune in online via THREADS and Etikett radio.
LINE-UP
13:00 – Merlina
13:40 – C-Refund
14:20 – …o (Thought Bubble)
15:00 – FridaY
15:40 – Adam Winchester
16:20 – Malina Malina
17:00 – LUCKY4U & GOLDMUND
17:40 – Freya Algiz & Emptiness in Silence
18:20 – Fisk
19:00 – Monknash
19:40 – Feel .MA
20:20 – Strange_B0und
About the Artists
..o (Thought Bubble)
..o is Ashley Maturice x Hari Krishna (H A R ! & Mathematrix) from India. They are currently roommates and students at the Catalyst Institute for Creative Arts and Technology, Berlin. Whilst Ashley is studying Electronic Music Production and Performance, Hari is a student of Creative Audio Production and Sound Engineering. Hari was also one of the collaborators of the first edition of The Gig Sessions of Kamakhya Records (Nov 25-29, 2021) at Paat Halodhiya Farm.
Links:
https://www.instagram.com/anemptythoughtbubble/
www.soundcloud.com/athoughtbubble
Adam Winchester
Adam Winchester is best known for producing experimental, deconstructed club music under his own name and in his collaborative work with Kamikaze Space Programme as Dot Product, and alongside Dubstep alai Appleblim as Wrecked Lightship. He is known for his unconventional approach to sound generation and audio manipulation, drawing on unusual sound sources and clandestine techniques to create his diverse sound palette. Winchester cut his teeth as Wedge in the mid 00's, being one of the front runners of Dubstep's first wave in the legendary city known for its Bassbin and Reggae heritage. Since then his music has taken a more experimental approach, drawing on electromagnetic coil pickups, contact microphones, hacked instruments, no input mixing boards, and modular syntheses, to yield musicality out of that which was not previously detectable by human senses. Off kilter rhythms, undulating drones, noise, and an underpinning sub bass combine in Winchester's unique take on Futurism, Dub, and Electroacoustic music.
Adam Winchester – Trailing Remnants LP was released in November 2022 on Osiris Music in October, Dot Product plan to release their 3rd LP in early 2023 and Wrecked Lightship – Oceans & Seas LP is forthcoming on Midnight Shift recordings later in the year.
https://www.instagram.com/adam_wedge_winchester/
https://bandcamp.com/tag/adam-winchester
https://www.instagram.com/wrecked_lightship/
https://deadbison.bandcamp.com/album/drowned-aquarium
https://www.instagram.com/dot_product_sound/
FOAD w/ Adam Winchester & FridaY from FOAD on Vimeo.
C-Refund [live] "Upon the Psychic Correspondence of Digital Flesh" [Inanna's Descent]
Yin is re-turning us to embrace our porousivity ~ multi-filament psychic architectures mediate a relational Open and Close through 5th divide towards digital-other.
This live ceremony previews two spoken mediations from Sarah's digital-research praxis into energetic algorithm; "Upon The Psychic Correspondence of Digital Flesh"; forthcoming as sound-praxis on; Inanna's Descent.
Open The Body and Take a Psychic Bath in Digital Waters.
Let's journey, The fluid is warm, friend!
Sarah Martinus is an independent researcher, multi-disciplinary artist and Shamanic Practitioner. She develops systemic, liberation-focused attention re-routing praxis' bridging [Core] Shamanic Practition with Psychoanalytic Shadow Work and potentialities of a post-digital, 'imaginal sight'. Inanna's Descent is a forthcoming sound-imprint, in recognition of revolutionary Spirit and Earth Medicine in Sound.
https://www.instagram.com/consumerrefund/
Feel .MA
Feel .MA is an Italian DJ, synth technician and music producer from a lost little village in the mountains to the north of Italy. After many years of self-teaching with his console and getting good responses from crowds in the first venues he played, he started to focus on producing and working with synthesizers, electronic composing, and delving into synthesis. With an eclectic taste and an overall love for well-made music (everything from rock to hardcore), his own sound ranges between Disco, Electro, House and Dark sounds combined with effects, mixing his skills as a DJ as well as producer in order to create a thrilling atmosphere. He is a magician when it comes to his choice of sounds and brings life to his sets through his creative use of live effect processing and lively percussion.
This particular set he will perform will keep you on your toes from start to finish, will make you feel hypnotised by the beat and move your feet, showcasing his mix of dark sounds with punchy basslines, attention grabbing transitions and polyrhythmic drum patterns.
https://www.instagram.com/feel.ma_bln/
Fisk
"Experimental Club Music" is one title given to the music performed live by FISK, though she prefers not to put a label on their compositions. Fisk's live sets consist of samples, beats and recorded sounds, captured on a trusty Zoom recorder and distorted beyond recognition. Her sound is eclectic, experimental but eminently danceable.
Fisk started her musical journey as a DJ, playing house and techno in underground parties in Oslo and Stockholm. Upon moving to Berlin, she opened her mind to new ways of recording and playing music. Fisk is a co-founder and resident of Green Room Berlin. Intimate parties for the darker, more percussive side of electronic music with a distinct UK influence. She seeks to explore the realms of club music with sound installations, as well as DJ and live sets that are eclectic and experimental, but eminently danceable. You will be guided through a range of experimental club music and deconstructed beats, with influences from the UK and around the world.
Aside from DJing and producing, Fisk is heavily involved in creative projects. She's involved in Berlin's Geoff Stern Art Gallery, has organised concerts at Funkhaus and produced and played on live streams within Berlin's underground experimental scene, most recently in co-founding and curating Keine Zeit concert series. These events combine music with performances by visual artists and dancers. Her atmospheric sound design has also caught the eye of film producers, and they have soundtracked documentaries, radio shows and short films.
https://www.instagram.com/fisksounds/
Freya Algiz & Emptiness in Silence (Field Conspiracy)
Freya Algiz is an electronic musician whose sound exploration is inspired by experimentation with techno, ambient, and IDM. Her productions and creative approaches explore sound as the connection of our inner worlds to our reality as we perceive it. In the performance for CTM Vorspiel 2023, she is partnering up with Emptiness in Silence to reform beats and break patterns of conformist expectations in electronic music.
Anna Mechlinska, aka Emptiness in Silence, knows how to surprise the audience with a wide range of genres and unexpected metamorphoses. She modifies her setup by pushing the limits of samples and effects to add avantgarde freshness to existing sounds. Together with Freya, she will submerge into a journey of wonky soundscapes and improvised play of noise, reverberation and experimental effects.
www.soundcloud.com/freya_algiz
www.facebook.com/freyaalgizofficial
www.instagram.com/emptinessinsilence
www.soundcloud.com/emptinessinsilence

photo by Karolina Ketmanova
FridaY
FridaY is a Berlin-based artist, DJ and radio host. Her musical influences range from UK bass to post punk and experimental electronic music. She is a co-founder of a genreless mix series and music platform FOAD ran together with de.index. On THREADS radio, FridaY regularly hosts live streams representing FOAD and other artists in collaboration with Catalyst Music, Etikett Radio and Field Conspiracy and has a show called Kranespotting. Since 2016, she's been co-organizing Meetup Berlin, Berlin-based community events for womxn and FLINTA electronic music artists and DJs.
In her DJ sets, she mostly combines all things breaks and bass from 2step and garage to jungle and hybrid percussive electronics. In her own production, FridaY leaves the energy of the club for contemplative soundscapes and melancholic compositions.
https://www.instagram.com/friday_musik/
https://www.instagram.com/foadldnberlin/
LUCKY4U w/ GOLDMUND
The performance will be characterised by dance floor noise-oriented sounds, delivered by two TD-3 acid Synthesizers and a TR-8 clashing with pre-recorded loops in Ableton, forming a cinematic dance experience with the intention to redefine sound. Lucky is a Swiss DJ and producer influenced by the London underground scene, portraying dark and endless emotions through noise-based, overdriven and distorted sounds. Goldmund is a German / Australian artist whose influences stem from the Sydney Rave and Club scene. Currently studying and residing in Berlin, he delivers rather playful and climatic emotions, driven through a diverse sound selection often finding itself in a classical music realm.
Together, they will be delivering a set balanced through light and darkness.
https://www.instagram.com/luckylec_/
https://www.instagram.com/goldmund.tmh/
https://www.instagram.com/subliminal_versatility/
Malina Malina
Malina Malina can be described as a subversive lo-fi pop trio. On their musical canvas, ambient
electronics, field recordings, noise and improvisation are intertwined with what is typical for pop
music, deconstructing the genre at its core. Their performances maintain a balance between
melodic, frantic, soothing and unforeseen; all soaked in a dense cinematic ambience.
Most of the time, Malina thinks everything can be explained structurally, in an evidence-based
manner. Still, there is a wild /dark part of her existence that defies her everyday rationality—that's
called Malina as well.
https://www.instagram.com/malinamalina.music/
Merlina
Merlina Parot is an ibicencan artist raised in Ibiza and currently based in Berlin. With a talent for
languages, she has written songs in German, English and Spanish. Merlina released her debut
EP, 'Metamorphosis', on Youtube in October 2022. As a singer/songwriter, she is inspired by her
life and those around her. Besides music, she has worked on several theater productions and
short films around Germany.
https://www.instagram.com/merlina_parot/
https://www.youtube.com/channel/UCEKrr7PGYRac8OMtWzXlgqg
Monknash
Monknash voices an obsidian mindset channeled through search for meaning and justice carried by persistent darkness that stops in light of musical freedom and experimentality. Iti, aka Monknash, is part of a global changemakers community and a creative producer at In Place Of War developing a radical music education programme called #HACKmusic which aims to support creativity in communities beset by violence and political oppression.
https://www.instagram.com/itiest/
https://www.facebook.com/itiest/
https://soundcloud.com/monknash/
Strange_B0und
Strange_B0und, a live set player straight out to the depths of south east London, now residing in the east side of Berlin coming back to field conspiracy and experimenting with minimal and industrial sounds within the genre of techno.
https://www.instagram.com/strange_b0und/
About Catalyst Berlin:
Catalyst is a creative arts and technology learning institute based at the extraordinary Funkhaus in Berlin. Our courses span electronic music production and performance, audio and music production, sound engineering, film production, filmmaking, visual effects and acting. They range from 4 week summer courses for beginners through to bachelor and master degree level courses validated by our UK university partner.
https://www.facebook.com/CatalystMusicBerlin/
About Field Conspiracy:
Field Conspiracy is a co-operative label and a musical social experiment where like-minded musicians have come together to realize a vision of a self-sustainable artist collective that nurtures community and creativity. It is creating a playground of creative space for musicians, where the inspiration and courage to be free in a community are leading the life we want to live – so that we can live the life we want to lead.
https://www.fieldconspiracy.com/
https://www.facebook.com/FieldConspiracy
https://www.instagram.com/fieldconspiracy/
https://fieldconspiracy.bandcamp.com/album/conspirations-i
About FOAD:
FOAD is a music platform founded in 2021 by FridaY (Berlin) and de.index (UK). We do a genreless mix series presenting global talent and a radio show on THREADS and Etikett radio, inviting artists to talk about their musical journey, and organise parties in Berlin.
https://www.instagram.com/foadldnberlin/
---
Back to home.