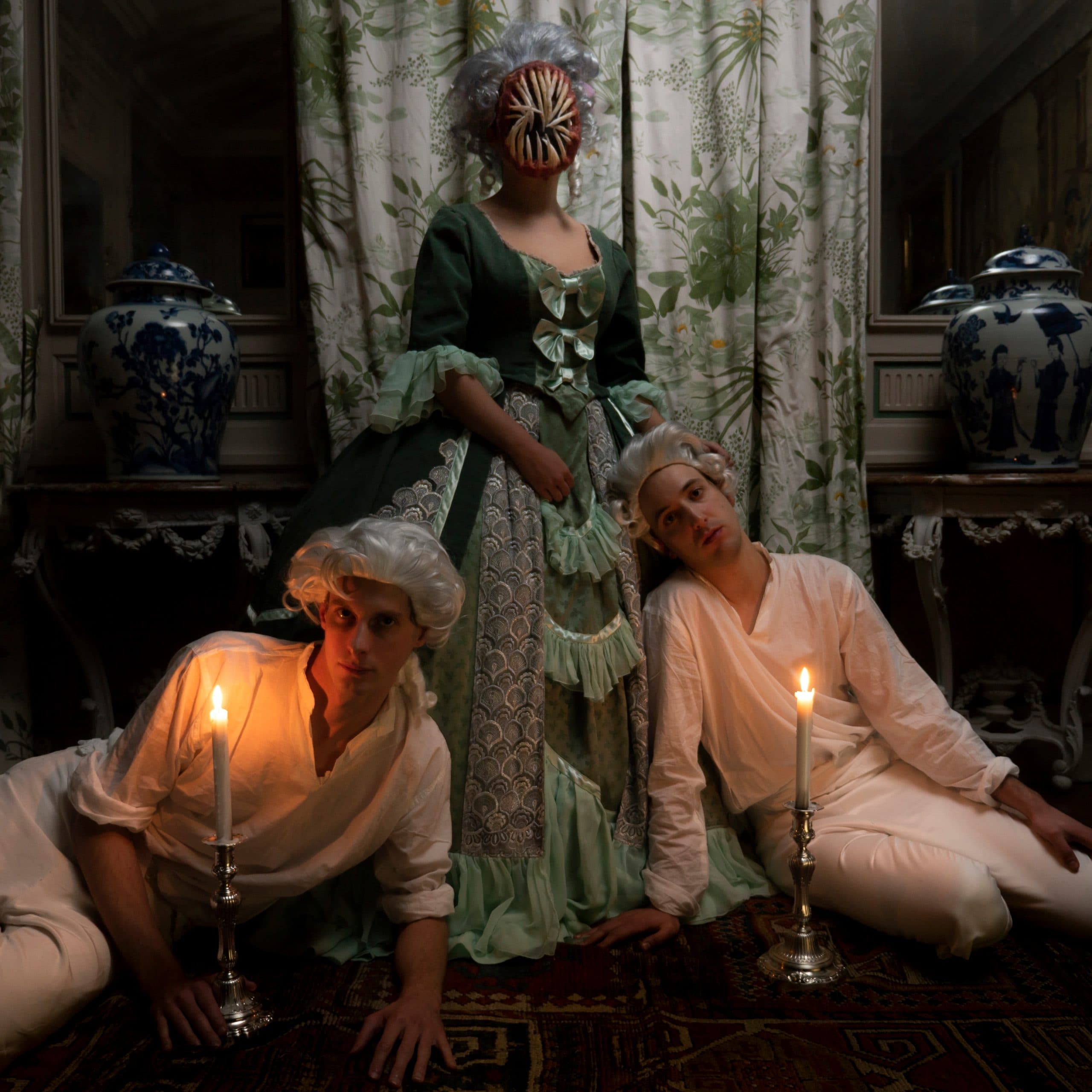 Greetings from Daisy Mortem, cyber-goth ambassadors from Le Planète Sauvage…
Following the release of their debut album in January, Alejandra Cabrera Abasolo trades transmissions with the French new-rave outfit.
To understand the sans-aesthetic duo Daisy Mortem, one must take a trip back to their origins. Vampiro and Cindy started making music at a really early age after listening to Marilyn Manson's Antichrist Superstar. From then on, music became their obsession.
"That's how everything started", they write to me, "we started doing shows with older bands, organised our own gigs… we had a crazy and totally strange adolescence". Vampiro and Cindy mixed and experimented with different genres, and in 2018 they created the queer cyber and rave outfit Daisy Mortem, releasing their first album, Faits Divers, earlier this year.
The duo got into the goth scene aged 12 and 15 respectively and were the only ones in their French town doing goth and industrial-style music. The first iteration of the group got booked for some goth nights and started to make their name in the scene: "Our music evolved as we got older. We listened to more electronic and discovered different types of parties", say Daisy Mortem, "We brought our weird hybrid shit to rave parties".
Vampiro and Cindy were experimenting with all sorts of instruments and sounds, from drums and keyboards, ranging from trance to hardtek, and describe the rave scene as open-minded, encouraging them to break convention. "We were always searching for extreme and intense emotions. This lead us to go from scene to scene in search of new sensations".
Daisy Mortem takes pride in their reproach of genre-specific music. They oscillate between different formulas and define themselves as being "too weird" for any particular scene. "We only care about playing a good show and having crazy people dancing like demons", they tell me. "We think this 'genre' label doesn't make any sense nowadays".
From this genre-less concept, Faits Divers (French for 'various things') came to life.
The duo describe 'faits divers' as a section in French newspapers with short stories of varied themes, like a person being eaten by his own dog or a series of unsolved murders – "This hybrid inspired the way the album was written".
Daisy Mortem has found their unique sound and gave it refuge in Catnapp's label Napp Records, which will hopefully bring more releases.
All Photography by Charlotte Pouyaud
---
Author:
Alejandra Cabrera Abasolo is a freelance journalist and contributing writer for Threads Radio.
She has written for publications such as Mixmag and Vice and is currently studying Journalism at City, University of London.
Alejandra has a passion for music and photography, which are the main topics of her work.
You can access her recent work at: www.alejandracabrera.com
And contact her at:
Twitter: @alupicabr
Instagram: @alupicabrera

---
Back to home.