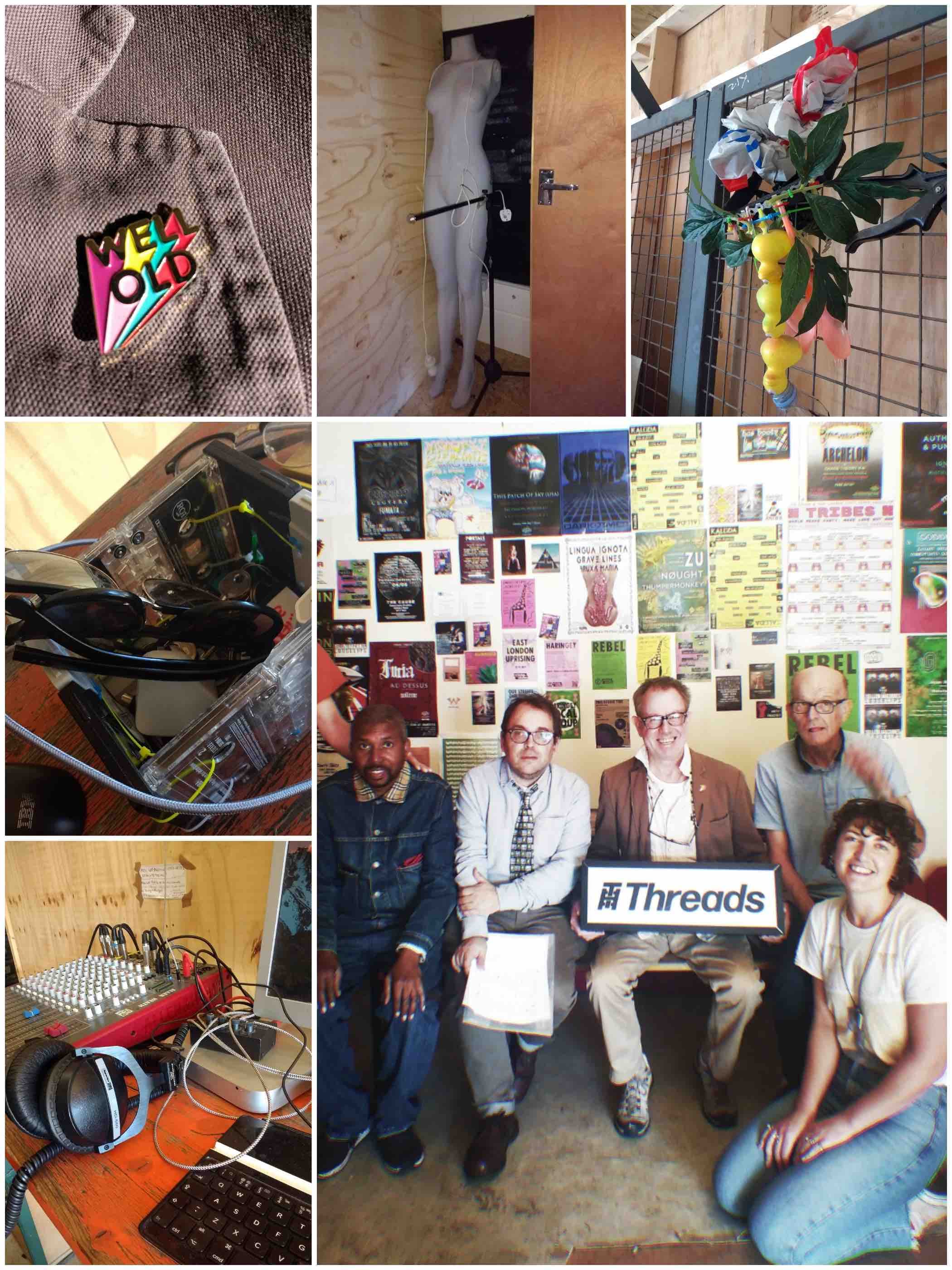 Headway East London (September Show Rewind)
It was never meant to be like this. This blog post was meant to tell you what's been happening at Headway East London in the past month, and what's likely to be in our next Threads show. 
But that all changed on the day of recording when presenter Firoza called in sick. Likewise, one of the show's guests was unwell and unable to get to the studio. In an act of desperation, I was asked to stand in as anchor. It seemed such a stupid idea that I agreed straight away, an act of folly I tried to turn into a positive by reminding myself over and over that it's important to live in the moment.
We needed to act quickly, so a replacement guest was hastily plucked from the day room at Headway HQ in Timber Wharf, Kingsland Road, where members gather to take part in that day's activities. The script for the show was scrapped and the running order quickly rewritten. So go easy on me if you think the show is a duffer. It was my first time and I didn't have a clue what to do. Living in the moment? You bet.
In the cab on the way to the studio, I spoke to guest David, a Friday Member at Headway East London, about the two poems he'd written and agreed to read. I also spoke to the newly-conjured guest Chris about a piece of prose hed written about how his life after brain injury might be likened to the eruption of a volcano that threatened to overwhelm a small Mexican village.
Throughout the whole cab journey north through London on our way to the Threads studio in Tottenham Hale, DJ K-line named the many bars and clubs he has performed in.
On arrival I felt mildly excited, relaxed and determined to enjoy myself living in the moment. Producer Rosy and assistant Bryn (both Headway staffers) were a picture of calm, so I casually snapped a few photos for my diary
Then came noon and it was straight in: "Hello, welcome, the theme of today's show is writing and storytelling", blah, blah, blah, and we kicked off with a reading from stand-in guest Chris.
I know Chris well and knew I could rely on him to talk openly about his brain injury, about his art in the Headway studio, Submit to Love, and about his writing. Earlier he'd very quickly copied from memory a prose poem he'd written called 'Magma & Lava'.
When Chis finished his reading, we talked about the main subject of his work – HIMSELF – and about volcanoes. We spoke also about portraits of each other we have both completed recently as part of a 'Comrades in Art' idea Chris is developing. This is my picture of Chris, so we spoke briefly about how I often include handwritten words on my artworks (here's a bit more of me explaining this).
Next up was David reading two of his poems. The first was a serious comment on some of the hurdles of living with brain injury; the second, 'Fire Douser', was a neat slo-mo re-modelling of the Prodigy song 'Firestarter'.
'It's Brain Injury, But Only As All Of Us Know It…'
It does happen to all of us – to some extent, every week…
Little knocks to head, body, other places – it's never unique.
But being hit by things; falling off things; nasty seizures, heart attacks…
Our recovery is long and tricky, too seldom helped, sometimes attacked…
Would it help if we'd also been homeless, or could cry poor mental health…?
It's all grasping at straws, still unable to gain us any wealth…
But will these day centres allow us to pull things together…?
Giving us stuff to pursue, might focus all our endeavours…
It would be great, helping to get ourselves back…
But was brain injury the only way we're now being attacked…?
'Fire-Douser'
It's a fire-douser… Majestic becoming mousier…
WOAH-OH
It's an in-skull shake-up…
Really shaking who-knows-what…
WOAH-OH
It's a disconnector…
Part-shutdowns in your sectors…
WOAH-OH
It's falls, instead of rises…
Separation from the prizes…
It's been a brain injury…
Causing a shutdown, or fury…
WOAH-OH
And it's a mountain…
For anything on which we were counting…
When David was done, I confessed that poetry wasn't really my thing because I just don't understand anything other than the simplest piece of birthday-card verse. Poetry has a secret code I've never been able to crack.
The next guest was a tricky one. It was meant to be me, being interviewed by regular presenter Firoza about why am writing this monthly blog to partner each show. But since Firoza was still in her sick bed, I interviewed myself – or, more accurately, I described my own brain injury, how I arrived at Headway six years ago, and what's happened to me since.
To help out, Chris asked a few questions and tried to pin me down on my professional life before my brain injury, but since I see my life after my stroke as being more significant, I simply dodged that.
By now I was getting fevered hand signals from producer Rosy to shut up and move on, and DJ K-Line was loitering in the studio doorway with an armful of vinyl, so I introduced Our Man At The Decks. He stepped up to the desk, had a quick grumble about there being only ONE working deck but then slipped smoothly into his time-honoured groove with Southern Freeez.
Strangely, all the tracks K-Line then played sent me right back to my clubbing days as a young man in Liverpool to the sounds of P-Funk.
On the way back to Headway HQ in the cab DJ K-Line continued to talk music and point out his old north-London hang-outs. I sat back to reflect on the day: I had busted out of my comfort zone, elected to do something a bit mad and found a new soul mate. Living in the moment. You bet.
Later I raced home and pumped up the volume on the first record DJ K-Line ever bought. Hope it works for you, too, and please click in with us next month for more Headway hijinks.
Piece by 'Thursday Billy'
Headway East London is a charity supporting people affected by brain injury. They also make food, art, music & culture at their Hackney Hub. To find out more visit their website, come along to an event or follow them on social media.
Headway's next show is live on Threads this Thursday at 12:00/Midday where members will mainly be talking about migration and displacement ahead of a series of events at the Turner Contemporary in Margate.
Listen live on www.threadsradio.com
---
Back to home.