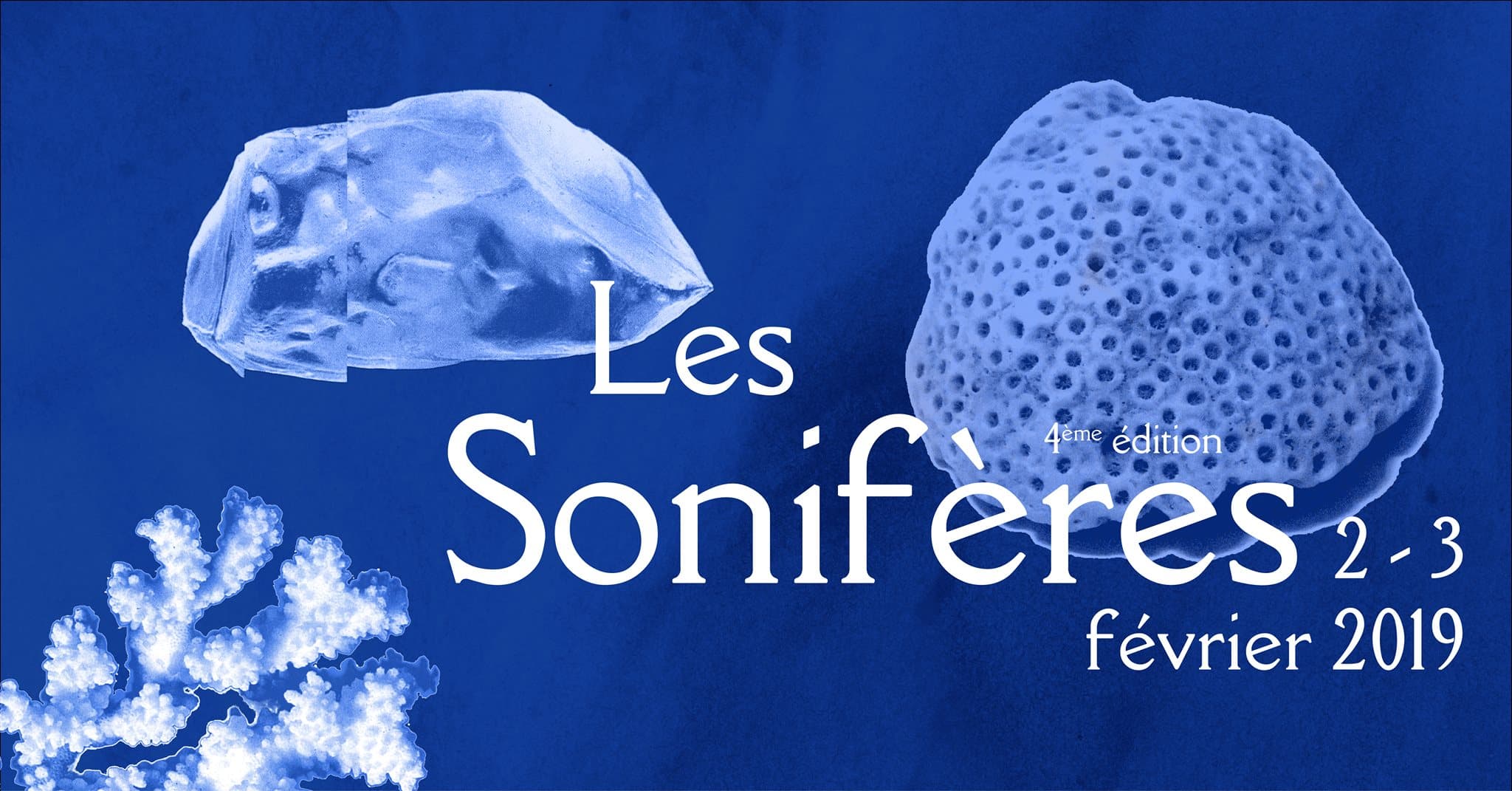 In the neighbourhood * Paris / Festival Les Sonifères
With this new recurring piece, I will aim to focus on events of various types, linked in that they involve key players, artists and activists who help fostering local scenes. To kickstart the Paris variant of this series, it just made sense to pen a few words about the Les Sonifères festival, which took place over the two days of the past weekend. Les Sonifères was launched in late 2017 by the local Sport National collective, a small music organization that has been setting up raves and club events in various spots of the Paris area over the last four years. Sport National has always made its eclecticism clear, connecting techno, post punk, bass music and various fringes of avant-garde music in all its events. Already in its fourth installment, Les Sonifères is spread upon two afternoons and features listening sessions for experimental, ambient and noise acts.
Le Doc (Paris 19)
For this edition, Les Sonifères returned to Le Doc, an artistic squat in the North of Paris which was already home to the second installment. This move allowed festival organizers to take things to a new step: the soundsystem, in particular, was octophonic, with speakers spread all around the room, and listeners encouraged to sit and lie on pillows in the middle. This brought a particular vibe to the whole event, as many artists worked on unique pieces making use of this specific setup. The lineup itself mostly involved local artists, bringing together a roster of ambient and noise producers, contemporary music composers coming from an academic background and A/V artists. Highlights were plenty throughout both days. Saturday afternoon began with Threads* family NO3SIS delivering a stunning opening set. Combining live electronics and saxophone, NO3SIS offered an immersive show, complete with two opera singers joining in at the end and dancer Francesca Diprima, whose performance was captured through a visual device and projected as a luminous pixelated body on the venue's wall. Later on that day, listeners could hear Raphaël Mouterde using porn samples as sound material or MTUA making great use of the system's eight channels, layering waves of dark vaporous noises to provide deep atmospheres.
Clara de Asis
It's hard not to praise the curation for this edition's Saturday. Following a short break, attendees could hear Hourvari breaking boundaries between jazz and acousmatic music, in a live show connecting double bass and electronics. Playing in the middle of the crowd, Clara de Asis delivered an amazing drone performance, melting delicate waves of sounds in a discreet whole that seemed immutable, yet proved swarmed with details every time you paid attention to a specific element. The collaborative performance of electronic duo Fantasia Nel Dessert and visual artist Romain Al'l was another great take on the festival setup, spreading geometric patterns in front and behind of the crowd, while Fantasia Nel Dessert's two members splattered the room with abstract beats and abrasive textures. The day ended with the festival's main two headliners: local hero Frédéric Oberland's live set was perhaps less unusual than previous acts, but excelled in its use of sound textures, in the middleground between ambient, noise music and post-rock, combined with hypnotic use of lights. Infiné's Fraction closed the day with an intense special A/V performance melting abstract graphic patterns with layers of electronic sounds.
Frédéric Oberland
Beyond individual sets, it was the diversity and overall quality of Saturday's line-up that made it so succesful, bringing together acts from different artistic backgrounds and using an immersive setup to have it reach a crowd that was just as diverse. On the whole, Sunday appeared as a more concise affair, highlighting the trippier aspects of these sounds. The whole day was another treat though, with quality performances all afternoon. There was algorithmic music, in the form of Sébastien Roux's opening experimental compositions, lined up next to Alexandre Del Torchio's foggy depiction of other worlds. There was :such: delivering one of the weekend's most enveloping shows, stratifying textures to suggest deserted landscapes, and industrial artist Opaque playing his first ambient set, using a gong to weave his own sound universe.
Duncan Pinhas
Things got more intense as the afternoon verged towards evening. Using a live setup made of synthesizers, effects units and a guitar, Duncan Pinhas provided an hypnotic live set that coupled distorted waves and aerial textures. Armand Lesecq, who played as part of Hourvari on the Saturday and managed the sound setup during the whole festival, followed with a unique system: droning sounds affected a reflecting water pool, whose patterns were filmed and displayed on an entire wall. I sadly had to leave before the end of his performance, as another festival, that I happen to be involved in, was about to start nearby. The whole day until then had already be rewarding, though. That is something you could say of the whole festival: Les Sonifères managed to showcase different artistic processes and ideas, uniting local artists and providing a setup that helped them explore new ideas. It appeared both as a display and a catalyst of creativity, as well as testimony of the vitality of these scenes and sounds in Paris.
---
Back to home.