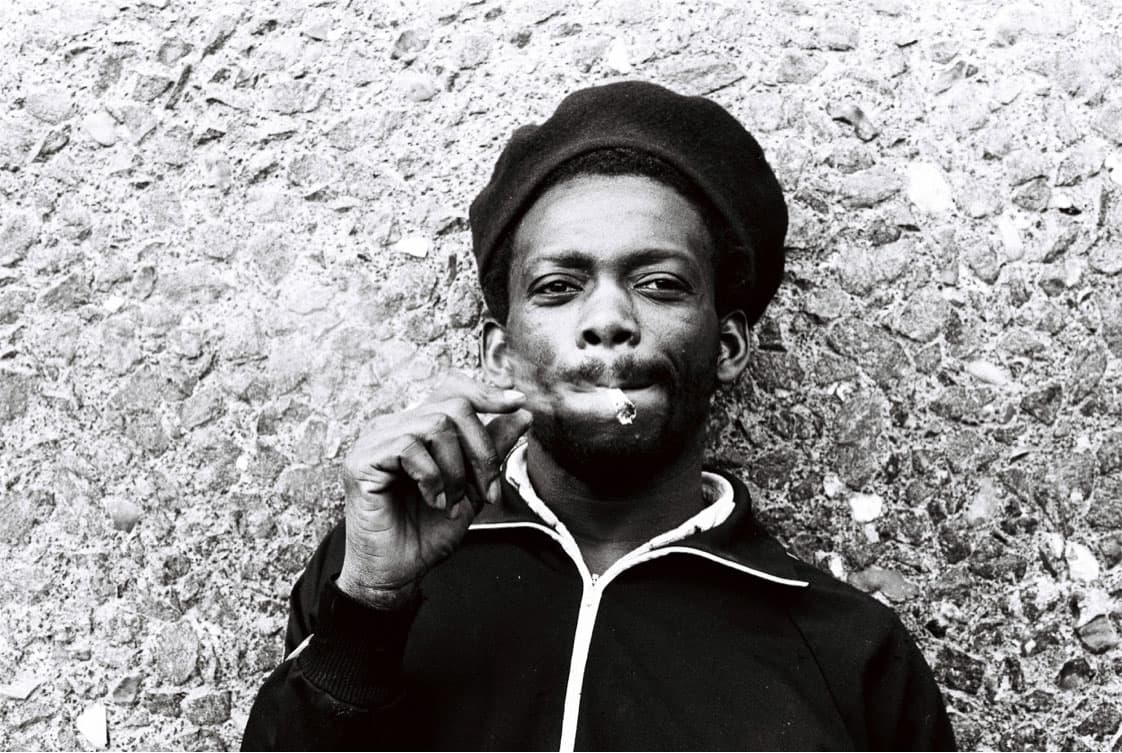 INTERVIEW: African Head Charge
African Head Charge has had an expansive career over four decades. Thankfully for us, they haven't stopped yet. After a twelve year hiatus, founding member Bonjo Iyabinghi Noah, alongside close friend Adrian Sherwood, has returned to On-U Sounds for their latest album – A Trip to Bolgatanga.
This is their best album yet – full of experimental yet accessible songs, with dance floor heaters as well as some more relaxed tunes and the experimental, tribal music we expect from AHC. The sounds and styles haven't stopped evolving over these four decades.
Producer Adrian Sherwood agrees: "It's always a case of getting all the right ingredients sorted for Head Charge, and then having some fun with overdubs and mixing and getting it completely perfect. We always work well together, but I think on this one we have the greatest result."
I chatted to Bonjo about his expansive musical career, his influences, and the latest album…
Tell us a bit about yourself and your music
I never planned to get involved with music – until I came to London. I was playing drums a lot in Jamaica, in the church, on the side of the road. I was never great at much else, couldn't do paperwork or work a normal job, so music and drumming was my life, but I never thought it would be my profession until London.Thankfully I was able to make enough money and a life from this.
What about London made you want to commit to drumming?
Well I moved to a place with my wife and children, and upstairs there was a singer called Eddy Talbot who was singing in a band called Undivided. Downstairs there was a drummer called Rueben who used to drum in a band called In Brackets – playing with different artists as a backing band. Because I was living under a singer and above a drummer, I became friendly with both of them, and started going to their gigs, going backstage, meeting their friends etc. I guess I was a roadie then. They liked me as I was helpful with the equipment, stuff like that.
One day, we went to a studio late at night where we could have a drink and a smoke. There was a guy called Erol who left his congas there, so I went to play them and we had a jam – it all came back to me. A band came in and said "you can really play those", and I explained I had played since I was seven in Rasta camps and spiritual churches with my grandma.
Errol helped me get some second hand drums, and I was then invited to play with bands around London. I did some touring in Ireland. Desmond Dekker even invited me to play with them – Desmond Dekker and the Aces. Later I played with Lee Perry and others, Dillinger. I started working with Creation Rebel, and from there, met Adrian Sherwood – and it escalated to AHC.
How has your music changed throughout the years?
What I'd say is that at the beginning there was a separation between the African drumming I was playing and the drumming that reggae bands wanted, which was a bit frustrating, so I knew I had to get my own thing together to really play the music inside of me. Some people did like what I was doing, like Dekker, but a lot of the reggae bands I played with didn't as it was different to the Jamaican percussion they were used to.
Adrian and I used to spend all night in the recording studio playing – with him in the mixing room and myself on the percussion. We kept playing and kept building until it became something – that's how African Head Charge started – always drums first, through improvisation. 99% of our music was drums first. That's still the case, even today with the latest album. People called me Noah coz I was always building.
So the drums came first, but did the albums have any greater conceptual aims? Did you plan the sound, and have a vision of how you wanted the whole thing to fit together?
Eventually it did, but at the beginning it was just me adding layers. Later on I started to think about the whole thing – writing lyrics and songs.
Have there been any particular moments of inspiration in your life? Any big events, good or bad, that led to changes in your music? This could be new pieces of music technology, or playing new drums, etc.
All of my music has come from learning. I will never stop learning. Before this album, I spent a lot of time in Ghana; visiting and learning from the various tribes and peoples there. I learnt a lot,about drums, music, and life in general. This has all been reflected in the latest album.
Another point of inspiration for me was hanging out with Fela Kuti, way back before African Head Charge and meeting Adrian. There was a Nigerian band called The Funkies, who were looking for a conga player, and I went and got the job. Eventually they took me to meet Fela Kuti, as they were supporting him on a tour, so I got to hang out with Ginger Baker in his mansion and with Fela. Fela was a lovely guy.
I always brought this good Jamaican weed called Red Beard. The first time I went to meet them, I didn't talk much and just listened, but the second time, we started jamming and Fela came down and heard me playing, and said 'Bonjo', and since then the name stuck, and everyone called me Bonjo. That's how I got the name.
There aren't many people in the world who can say they were christened by Fela Kuti…
Yes, but I still think a reason he liked me so much is because I brought this Red Beard every time. He was always happy to see me after that. A friend with weed is a friend indeed… We were friends from there.
How old were you at this point?
I was about 24, 25 at that point. This was before I became involved with Adrian and African Head Change.
Do you have a favourite venue, concert or festival?
The first time I played Glastonbury we played the main stage. That moment stood out. Also the Mount Fuji festival, and the one in Belgium recently – Reggae Geel – loved that one too, and played there with my sound system.
This may be an impossible question to answer, but do you have a favourite drum you always go back to, or enjoy playing the most?
We have many drums in Africa, and I learned all of them, but when I play live I usually play the Congas as you can get sounds from all the other drums off them.
It's good you look back and still love everything you've done. I used to make music a bit and always heard old things and thought 'god that was crap'…
Well I still listen back and think 'I could have done that better'… there are always things you can add. But you can't keep adding things forever, got to stop somewhere.
Do you have any tour dates booked, and any gigs in the UK coming up?
The next gig is in Budapest, and I have a few coming up in Japan. There's one due to happen in Manchester, and some others being discussed, but can't say much until it's confirmed. I love festivals though, love gigs, love playing live… It's amazing to see what I'm doing make people happy.
by Dominic Alston
Editor: Alex H Honey
---
Back to home.