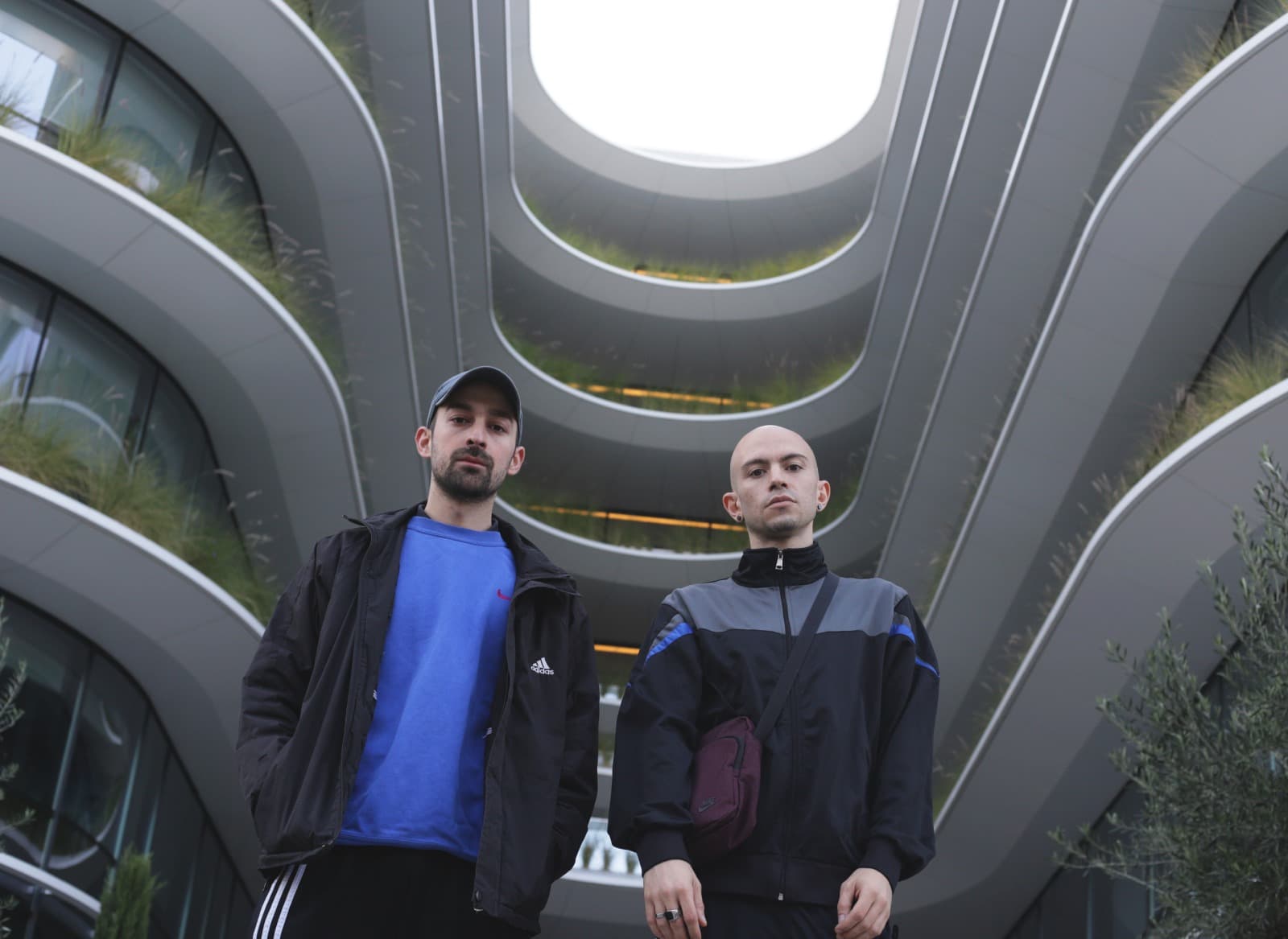 Introducing: D0g2th & Time94
The 140 Project's abstrktd interviews the two Greek DJs ahead of their appearance on tonight's show.
Hailing from Athens in Greece, Time94 is a wave and neo-grime DJ and producer and part of the team behind the Crystal Orca label. After I played one of his tunes during 140 MC's birthday set, I tagged Time94 in a clip in my Instagram story and we got chatting from there. You can listen to his guestmix for The 140 Project – recorded with fellow Athens-based DJ D0g2th – via the embed below:
~~~
abstrktd: How did you find out about wave music and what inspired you to start producing?
Time94: Before I started to focus on wave and neo-grime, I was involved with a lot of other genres – footwork, phonk, dubstep and experimental hip hop beats – mainly instrumentals because I've always liked creating something for a vocalist to jump on. Wave's impact was massive for me, especially those special feelings it provokes with the ultra wide synths and the wet effects that make this genre so unique.
Another really important thing that got my attention was the freedom a producer has in this genre. When it comes to the mixdown, and the way the result comes out, there's no restrictions. Each musician can leave their own mark with their own sound and mix the tracks in their own way. It doesn't have to be done in a specific way and that's what many people love about the wave scene. You don't see that a lot with other genres. So many musicians have found their musical home in wave and that's is what makes it so beautiful in my opinion. Some of the artists that have inspired me since 2016 are MssingNo, Shlohmo, ANUBIS-XIII and Trash Lord to name a few. After that, I discovered Rapture4D, R@ and some others that really hit the spot for me.
abstrktd: You're both based in Athens and you've run events out there. What's the underground music scene like in Greece and how are you hoping to change it?
D0g2th & Time94: The underground music scene in Greece seems to us like it's been kind of 'stuck' at 4×4 music. There's this mindset that in order to have fun and have a good time the beat needs to be 'hard-hitting', the tempo needs to be a certain way, the bass needs to be this or that and what we're hoping to achieve is to bring people from all these different genres and backgrounds to our events, to have a listen and realise that they can have a good time not just with techno or house etc. and to open their ears and broaden their horizons a bit.
We want to achieve that by creating a warm and welcoming environment in our events, not by shutting out certain groups and listeners, and to show them how big the world of music actually is and how much it has evolved and keeps evolving. This was created by a new generation, but with the old school always in mind. Wave takes huge inspiration from the legendary 90s rave scene, and we want to show Greece how far we've come and how much talent exists out here, especially locally, by introducing new producers and DJs who are so keen to make and play music that they can't contain it, ourselves included. The economic crisis generation, the lockdown generation, we have so many suppressed emotions and feelings that music is our only escape, and we want to bring people close to one another again and reconnect. It's crucial.
abstrktd: Time94, you run a label called Crystal Orca with ROT10 and Duckem. What made you want to start a label and what's your vision for the project?
Time94: In Greece when it comes to electronic music, house and techno have dominant for a long time. The fact that there isn't a lot of variation was what made us want to start Crystal Orca, to bring those sounds over here and be able to play them out and share them with a Greek audience. We move somewhere between wave, hardwave and neo-grime, but we want to create our own aesthetic too, by including variation and things that haven't been defined yet, genre-wise. We want to keep it interesting. We want to keep the listener interested, to want to hear what's coming next because they won't know what to expect. We allow full creativity, but we want to be consistent when it comes to the vibe.
abstrktd: The label explores sounds across the wave spectrum – from darker tunes like "LV.223" by Mr James to some really uplifting sounds and even tunes with no drums like the most recent release from Eone. What do you look for when you're deciding which tunes to release and how do you keep it fresh?
Time94: When we sign new music we're looking for quality, but most of all we're looking for music written with soul, you know? When we listen to someone's music, we like to be able to hear the passion behind it and to be able to feel what the musician was feeling when they were writing it. Whether that music has drums or not, it still reflects on someone's heart and soul and you can tell how much effort has been put into it. We want to be consistent with quality; the quantity comes second.
abstrktd: Your releases for Plasma Abuse explore sounds influenced by UK grime and there's a remix of a UK drill tune included in your mix for The 140 Project. Can you talk about how UK music has influenced your sound?
Time94: I've been closely watching and learning about the UK's electronic music scene – dubstep, grime and garage – way before I start producing. I've put time in to do my own research and educate myself, and it's important to me to show respect to those before us, to the roots. I've always been exploring and digging UK bass music releases, listening to radio shows and more. The UK sound in general has definitely played a very important role for me, especially having experienced some dubstep shows in London. Part of my vision is to bring those sounds and the vibe that the UK scene has over here to Greece.
abstrktd: D0g2th, producers and DJ-producers tend to play the most prominent role in the wave scene. What's it like being completely focused on DJing within that scene?
D0g2th: Personally I think that by just DJing I get the opportunity to mix different bass genres without getting held back or basically getting pigeonholed into the genre of music I'd be producing. The time I would spend on producing I get to spend on digging and vibing. Overall, wave music doesn't exactly have a specific type of sound, which gives me a wider spectrum to play, including dubstep, garage, jungle, footwork, grime, drill and more.
abstrktd: Any future releases or projects we should know about?
Time94: Got a new EP coming out soon via Reloaded Sounds which includes a special remix by fellow C.O. member Duckem, and some other tracks separately as singles plus some features. And we're about to announce something big through Crystal Orca soon, which we're very excited about so look out for that!
~~~
You can find D0g2th on Facebook or follow him and Time94 on Instagram.
Likewise, the label Crystal Orca can be found on Facebook, Instagram and Twitter.
---
Author
abstrktd is a DJ with The 140 Project. The show is built especially around the grime sound, featuring guestmixes, interviews and live sets with MCs, while exploring the full range of sounds across the 140 spectrum, including wave, breaks, garage and dubstep. Hosted by brothers Jefe and 140 MC, sometimes with abstrktd in support, The 140 Project is on 20:00 – 22:00 every other Sunday on Threads Radio.
---
Back to home.