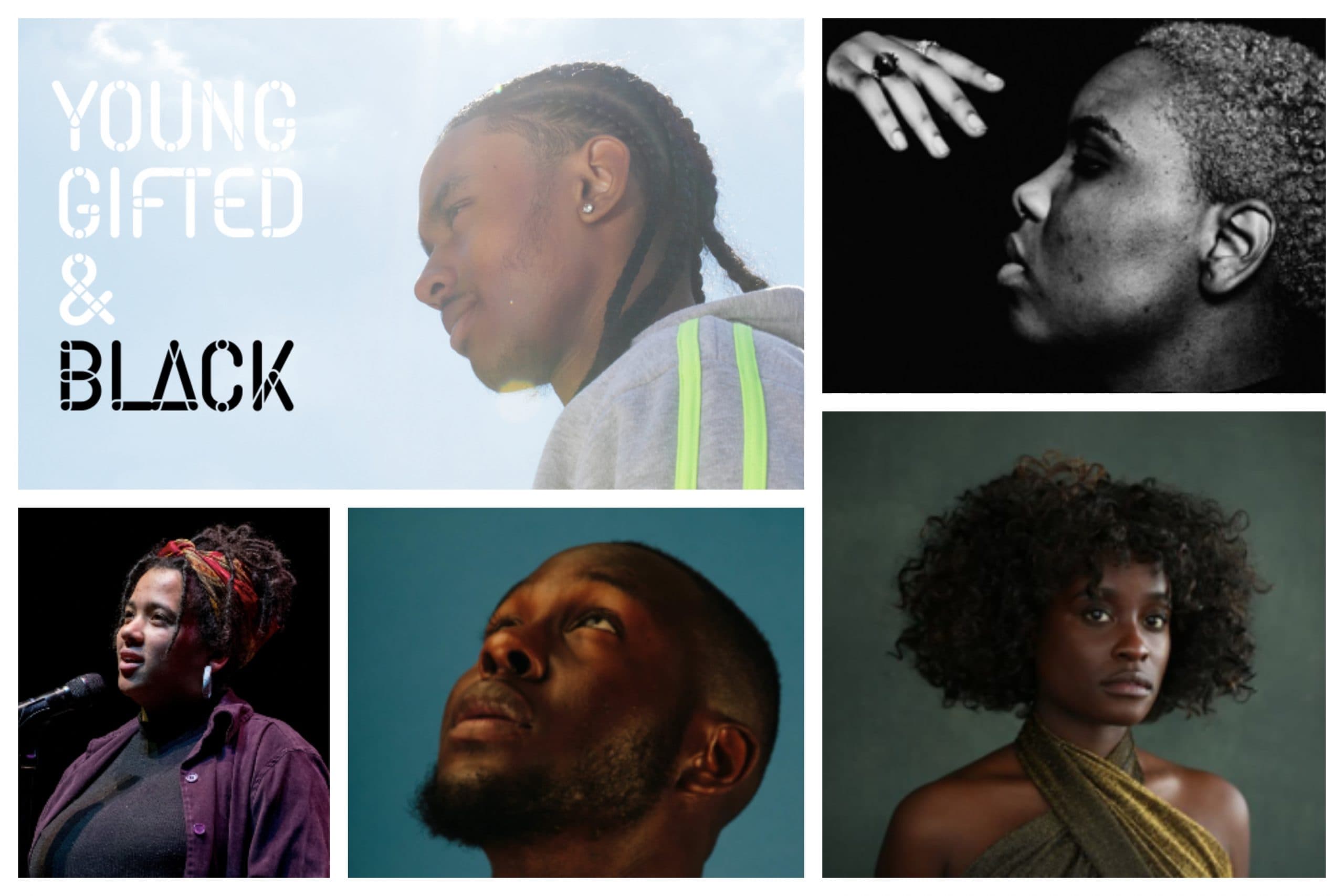 Introducing: malakaï sargeant of Theatre Peckham
Tice Cin interviews the Associate Director in conjunction with the venue's latest season: Young, Gifted & Black.
It has been a difficult time for the arts in the UK. The arts and cultural sector contributes over £10 billion a year to the UK economy, yet distribution of government investment in the provision of these public services has been fraught. Fortunately, Theatre Peckham was chosen as one of the organisations to be awarded funding as part of the Culture Recovery Fund to continue their trailblazing community-centred work. Through this time, they have adapted their working model to bring programming that continues to provide hyper-local cultural opportunity while refining their space for digital creative activity, classes for children, masterclasses, and development training for emerging artists.
They have just presented their season Young, Gifted & Black, curated by Associate Director malakaï sargeant alongside Artistic Director Suzann McLean – spotlighting the voices and work of young Black artists in London. This season is cross-form and multidisciplinary. Alongside exhibitions from artists such as Veraidzo, it launches their new initiative Five Pillars, led by Theatre Peckhams' Simone Watson, a consultant in anti-oppression work and theatre-maker. Five Pillars does something that we really don't see enough of, deploying tools and techniques from the world of theatre and performing arts to deliver anti-racism coaching and training to organisations across the cultural, public and private sector. The political salience of the arts has a considerable impact on the wellbeing of our communities, with seasons such as this finding innovative ways to share information and resources.
Having already hosted events from artists such as Caleb Femi, babirye bukilwa and Olivia Douglass, Theatre Peckham are currently looking ahead to events such as Scratch That on the 4th of November, a night showcasing new Black writing and platforming stories from writers of Caribbean descent. Along with the launch of Dylema's exhibition What If a Black Girl Knew?, five years on from the release of the powerful spoken word piece that has reached over half a million people.
I spoke with Associate Director malakaï sargeant about their time curating this season, and about the way in which the arts could improve their offering as an industry.
~~~
Tice Cin: It's been brilliant tuning into your events digitally, how have you found it adapting your digital model in this time?
malakaï sargeant: It's interesting because I've been interested in digital archiving since 2018, when I was producing a show called Likkle Rum with Grandma and an element of it was to create this digital archive. I've been thinking about audio as a way of archiving, and social media itself literally being an archive in the sense that you record something, you catalogue it, document it, file it somewhere and then you share it with other people. That's exactly the process of manual archiving materials and documents anyway. I suppose it's embedded into my practice.
We've been doing that with our projects for young people, and then with this season in particular, it was planned with an awareness of COVID because I was asked to put together the season in August.
There were a lot of things in the works happening, but it was a case of tying it together and finding a narrative arc to stitch it all up. I was able to commission new work, such as the Poetic Unity spoken word night. We've been having contingency plans for every event this season, we were due to have a BORN::FREE poetry jam and performance sooner but the leader of the band was diagnosed with COVID [the event, Veranda: Young, Gifted & Black is now on the 27th of November]. With the workshops and the Young & Gifted chats, all of them were moved onto Zoom and recorded; they're currently being edited. We got a partner to do streaming for us on Twitch for a month to engage with a new audience for us called Melanin Gamers.
Scratch That, our new writing night has a contingency plan to be turned into an audio drama if need be. Interestingly, one of the submissions chosen was actually written for audio, which brings up questions of the difference between audio and stage, what that would look and feel like. Particularly in terms of the experimental element of sound and the world building that it allows.
TC: In terms of finding new commissions, it is so helpful for freelancers to have these digital archives when pitching for future work. How have you found it supporting individuals as a company?
ms: Something we're prioritising over COVID is finding ways to continue to pay our freelancers, the people on our Academy programme and those on our Artist Development programmes. Especially because so many of the artists that we work with are part of the global majority and yet in this country they are called a minority and continue to be exploited, and are underrepresented. It's vitally important to me, Suzann and the team that financial investment in our artists and their artistry does not stop, even as the industry falters.
I hope that this season has helped demonstrate to the industry and beyond that we are here to cultivate, develop and support young artists and emerging artists who aren't necessarily young. A sort of holistic hotbed for creativity.
TC: You're an Associate Director at a very young age. Do you think this brings a different energy to your curation?
ms: To an extent. There are lots of brilliant things happening in other places too: The Bush Theatre with Lynette Linton and Daniel Bailey; at The Royal Court with people like Milli Bhatia and Myah Jeffers doing incredible things to support new writers; places like Birmingham Rep that continue to nurture new artists; and Oxford Playhouse who are collaborating with Tamasha on a socially distanced play. So there are experimental things happening.
I think that the benefit of being young is that I'm closer to aspects of our programming. Following lockdown, within three weeks we had a roster of events to support our young people because at the beginning of the year we had 400 young people coming into the building for programmes, they can't just not have that. They needed provisions. In austerity-struck Britain, it's the arts' responsibility sometimes to pick up the pieces of health and social care, of community engagement and development, and of youth work. That's what we did during that time. Being young and having the context of the people that I'm working with is super beneficial, as opposed to suggestions for a Zoom play of Macbeth!
It frustrates me when there are gentrifiers within the arts who do an Applied Theatre MA at Goldsmiths or Central, and all of a sudden they want to give back to a community that isn't theirs. If you want to give back to a community, focus on what you know. Don't come and try to give back to kids that are darker than you simply because you feel sorry for them.
TC: Especially because these particular industry types are ten or twenty years into staying in a role and are not giving that space to other professionals who do come from those communities. As much as they might be doing good programming, they're not sharing the stage.
ms: That's something we're discussing a lot this year; there's this whole metaphor of 'who gets a seat at the table?' and I'm aware that my role in this organisation looks like I have a seat at the table, but I've been working. The issue I have with the seat at the table thing is: why are we fighting to sit at a table where the legs are wobbly because it sits on the foundation of something that does not serve me? (AKA whiteness and white supremacy).
I'm in this position so I can bring more people in like myself, and like yourself – authentic artists from this city is my focus. I'm not saying that to exclude anybody, I'm saying that to create equity and to prioritise the experiences and the voices of people who have been shut out from this industry.
I'm talking about working class folk. I'm talking about people who are from migrant communities whose parents don't speak English as a first language. I'm talking about kids who are fourteen and they're a young carer for their younger siblings or a disabled parent. I'm talking about Black people. I'm talking about people who are in the global majority who continue to be sidelined by the language and structures of this industry, and therefore of this country.
I'm not interested in recycling the same old shit basically.
TC: In previous interviews of yours, you emphasise the importance of education in revolution, saying, "you cannot, will not, change anything without education". I notice with the programming for Young, Gifted & Black that you have a large educational strand, for example with your event Decolonising Education and the launch of the Five Pillars workshop initiative.
ms: I'll start off by saying that I think there's a bizarre stigma attached to theatre for education work and community theatre. It's seen as the underclass work of theatre and that really jars me, as it's often where the real truth in art comes from because you're talking to people with the real experience of the things that you want to address. For example, there was a show at The National last year called Faith, Hope and Charity where a bunch of 'non-actors' were on stage at The National Theatre, showing their truth. It's a really interesting model for how we could work with global communities and there's education within that.
Also, there's a duty I feel, for theatre buildings to use their buildings for educational purposes. I don't just mean for workshops on devising theatre or script work – this is important, has its place and should be priced affordably – but if there's budget and you know that people in your area are unemployed, why are you not offering CV building workshops, interview training and giving advice on how freelancers can do their tax returns? This is all vital information that is lacking in our main education system and needs to be supplemented somewhere. If we can, we could be doing an 'Introduction to being a Successful Freelancer' course. They're public spaces that we pay taxes for, why should we feel iced out from them? Theatre shouldn't just be for artists; theatre as a whole practice I believe should be about storytelling and storytelling is about people, finding common ground and connections within humanity.
Five Pillars is a really valuable resource in helping people understand how they might be upholding racism from their interpersonal relationships to the way they phrase certain thing, that foundational understanding. For example, realising that referring to someone as disadvantaged is problematised by the lens of which that comment comes from; you may feel privileged to have grown up in Shropshire in a detached house with a two acre farm, but if I'm looking at you, I might think you're disadvantaged because you never had access to big nightlife, certain museums, Ethiopian food and other things. It's all about the lens.
I hope this scheme sets the context in how theatre and education can marry together for social change, which is really what Theatre Peckham is all about: creating, producing and nurturing artistic excellence to go out into the world and change it.
TC: I've noticed some practitioners in the industry who complain about there being too much of 'an emphasis on identity politics' in their programming. Have you noticed that attitude in your own experience curating within the arts?
ms: I think those comments can be really derailing. If we're not talking about that, then what are we really talking about? Everything is identity politics to me because of the way that my identity is politicised, the way I grew up in a space, even the way I get to work. Before COVID, for example, if I had my bag on the seat next to me and I'm on the bus cotching, I'll see people 180 and go back down the stairs instead of asking me 'Could you move your bag please?'. It's because the identity I'm within is politicised and the way that I present to people is intimidating or scary because I'm masc-presenting and Black. Then they hear me speaking or find out my job and you can see the confusion.
Any work that I curate or create is going to be politicised. Until we get to a point where people can just deep each other as human beings, all work will be inherently political and about identity in some form or another. It's lens again innit? I feel like some people just need new glasses.
It's bizarre to me how insular the industry is. I recently pitched a show I'm producing and was told by a venue that they already had something that was similar. Tell me, how is it similar? They responded, 'Oh well, you know, it's focused on Black experience'. So I responded that one show is about misogynoir, and the other about migration, death and intergenerational conversations; those don't sound like the same things to me so why can't you take both into your season? It's so linear: 'We've got one Black show so that's enough'.
Are we in 1992, what is going on? If I'm saying that my show is about a bookshelf then why do I need to dress it up and say it's about Ikea?
– 'Oooh I've heard of Ikea, tell me more'
– 'Well, it sells lots of different things such as beds, chairs and bookshelves.'
– 'Oooh bookshelves, tell me more'.
– 'Well that's actually what the show is about…'
It's this weird sort of meandering that you have to do to get to the point, which is take my show. 
I emphasise a lot with artists, companies and young producers coming up who are just trying to get their work seen. This is why the programming is so packed for Young, Gifted & Black, 'let's do like twelve events'!
~~~
Young, Gifted & Black season runs from October to the 7th of November.
Venue: Theatre Peckham, 221 Havil Street, London, SE5 7SD.
Box Office Tel: 0207 708 5401
For details of the full programme, please visit: www.theatrepeckham.co.uk
About malakaï sargeant (Associate Director)
malakaï is an artist and cultural producer from pre-gentrified Hackney. They like to create work that disrupts the performer/spectator relationship, dissecting subjects like queer intimacy, generational trauma, gentrification, environmental racism and Black Britishness. malakaï is an alumnus of the Barbican Young Poets, and has since independently produced and directed work by other Black writers, pushing the boundaries of form and storytelling in live performance.
Directing credits include: Over to You 2019 (Tamasha/Rich Mix), VOID (The S+K Project/BAC), Do Nitties Live Forever? (Roundhouse/BAC), Palm as Portal (Theatre Peckham) and . . . cake (Theatre Peckham).
Associate/Assistant Director credits include: CALM directed by Stella Odunlami (Hackney Empire), Foxes directed by James Hillier (Defibrillator Theatre/Theatre503) and Decolonising History directed by Anthony Simpson-Pike (Tamasha/SOAS).
Producing credits include: We Are Shadows (Tamasha/Coney/Rich Mix), Queens of Sheba (Nouveau Riche/nationwide tour), Typical (Nouveau Riche/Soho Theatre/HOME/tiata fahodzi), Likkle Rum with Grandma (The Albany) and the poetry jam Veranda (BORN::FREE/EartH).
---
Author
Tice Cin is a writer and music producer, currently working on digital art at Barbican as part of Design Yourself collective. She shares news of her work on Instagram and Twitter.
---
Back to home.