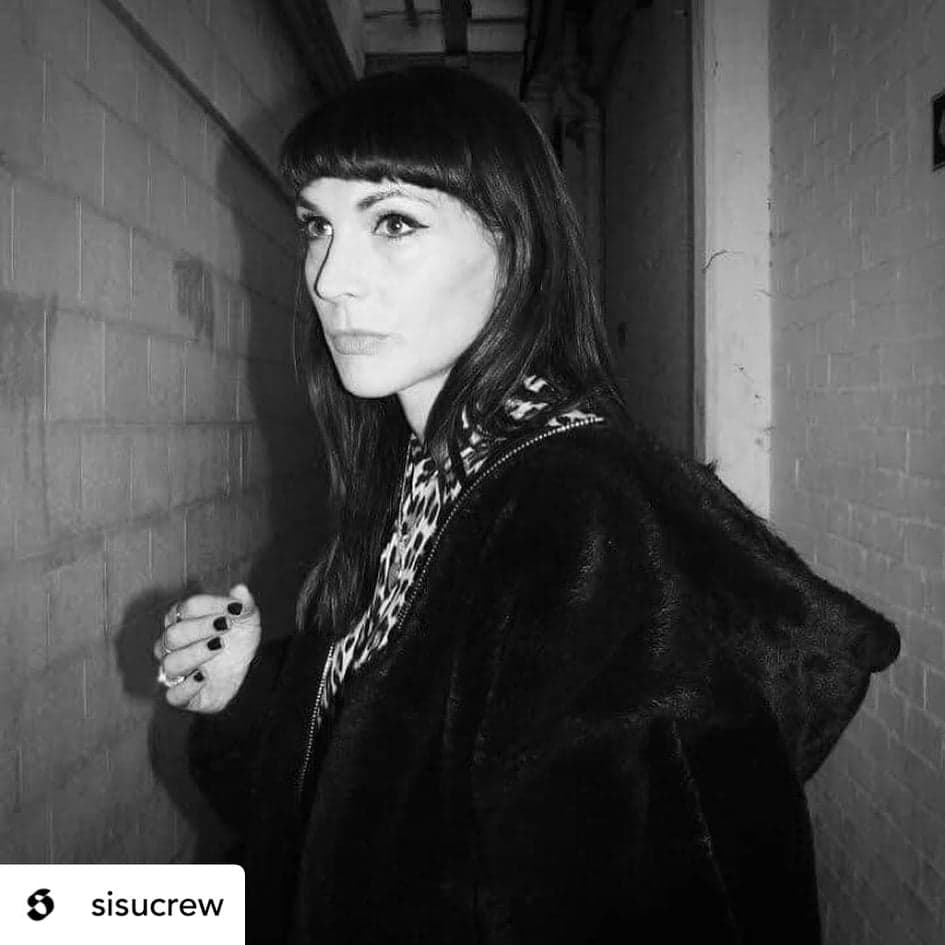 Introducing: Milly on Air
Alejandra Cabrera Abasolo spoke to the presenter and DJ about her show, her music library and her inspirations.
Milly Chowles has always had a passion for music and community radio, which is displayed in her monthly shows at Threads Radio: 'Free Love w/ Milly on Air'.
Every four weeks, DJ and radio presenter Milly takes to the airwaves to spin an array of music genres, spanning global disco, ambient techno and broken bangers. From old school gems to unreleased hitters, Milly brings it every month with a fresh and exquisite variety.
Milly was obsessed with music from a young age. She got herself into the world of DJing when she was still at school and had dreams of growing up and becoming a journalist. Milly's youth was haunted by the destructive cycle of addiction, which paused her professional pursuits. During rehab, Milly made her first radio programme, which matured into a radio journalism career. From then on, Milly's past afflictions have allowed her to help those in a similar position, through her powerful storytelling in programmes and podcasts that would inspire many listeners.
Fast forward a couple of years and a refreshed and eager Milly is in Bristol. Here she starts DJing again, inspired by the city's heavy electronic music identity and particular sound. Her passion for music re-emerged after realising how it could empower women to create their own space and to use music as a vehicle of self-expression. An inspired Milly managed to escape from self-doubts that distanced her from the idea of pursuing DJing and has been sharing mixes and dedicating more of her time to music ever since, on top of having established a career as a radio journalist working for BBC Radio 4 and 6 Music among others.
I got the chance to speak with Milly over the phone as she was taking care of her newborn.
~~~
Alejandra Cabrera Abasolo: How did your show for Threads start?
Milly Chowles: I'd been thinking about getting a radio show for a while and saw that my friends Tam & Jake – who run the club night and radio programme No One's Watching – had started doing a show on 199 Radio at New River Studios. The station looked really cool, so I asked if I could sit with them on a show. When I was there they introduced me to Freddie and we had a chat which leads to him giving me a slot there and then.  I did my first show on the 5th of October 2018 and have been doing it every 4 weeks since then. The station later became Threads Radio and moved to The Cause in February 2019 and so of course, I moved with it. I actually work as a freelance radio producer in my day job but I started out ten years ago in community radio, at the now-defunct Stroud FM and then Bristol's BCFM. I even did my dissertation on community radio so it's something I've always had a lot of love for. 
ACA: When did you start to DJ?
MC: I wanted to DJ as soon as I knew that it was a thing. I was obsessed with electronic music from a really young age and got involved with the world of club promotion whilst I was still at school. I started trying to learn to mix as a teenager but didn't continue until much later due to the circumstances of my life at the time. In my early thirties I started again and started playing out in Bristol, but again stopped when I moved to London to go freelance after losing my job.
It was actually just three years ago when I was working for Radio 4's Woman's Hour that I attended Girl's Rock London to make a radio report and came away so pumped up and inspired by the experience that I started DJing again. GRL is an incredible weekend for women, some who'd never picked up an instrument, to form a band from scratch and perform a live gig in just three days. Speaking to the women there, I realised I'd also always had this deep desire to be creative musically, and really sad I'd given up DJing. I was telling myself all sorts of rubbish like it was silly of me, I was too old or I'd missed my chance or whatever, and the teachers at GRL just smashed that out of me. They were all about taking up space as a woman, claiming your right to make music and express yourself and fuck what age you are or what anyone else thinks. So straight away I bought myself a DJ controller and started practising and making mixes.
A year later I bought myself the Technic 1210's that I'd lusted after my whole life and started buying records again, which has been such a joy (and expense!). I lived in a warehouse at the time and started playing loads of parties for friends, I'd play whatever rocked the party really, loads of garage, disco, funk, house, grime and dancehall, you can't beat house party DJing for fun imo! The next year I was playing festivals & clubs again. And yeah, I basically haven't stopped since then!
ACA: What records can we normally find in your music library?
MC: My show started out really, really eclectic. I've always been an eclectic DJ, as someone who listens to and appreciates music across the board. But over the last couple of years I've definitely honed my sound. My show has been mainly focussed around new and unreleased underground UK club music. I tend to blend ambient, house, acid, breaks, percussive and psychedelic techno and UK hardcore influenced sounds together for a euphoric, rave-y trip.  Most of the music I play is either on promo or sourced from Bandcamp from loads of labels I love like Naive in Portugal, Scuffed from Bristol, Sneaker Social Club in Berlin, Craigie Knowes, Lobster Theremin, Meda Fury to name a few. I also always throw in some old classics whether that's an old vocal house tune or some old hardcore from Nookie or Manix to finish on. There's a new label I really love called Kouncil Kuts in Scotland, and it's been nice cos I always play their stuff and we've connected online because of the show. That's one of the things I love the most about radio, the new buddies you're always making. 
To go back to the question, one record you'll always find in my bag is Outlander's The Vamp on R&S … It bangs so hard and I will never tire of playing it.
ACA: You have made shows with big-name artists, what's one of the best experiences in your career?
MC: I've had a really varied career in radio so far. I've made Radio 4 documentaries, podcasts, reports on social issues for Woman's Hour and The World Service, branded podcasts, all sorts really … I couldn't pick one moment but in the last couple of years I've been producing The Residency on BBC Radio 1 which has been a dream gig for me; curating and producing the line ups has been a huge privilege. I've made shows with some incredible people like The Black Madonna, HAAi, Honey Dijon, SHERELLE, Special Request and my absolute favourites Eris Drew and Octo Octa, who basically personify everything that's right and pure about dance music for me, a definite highlight. 
ACA: What makes you passionate about radio?
MC: Radio is such an intimate and authentic medium. I love the spontaneity of it, the fact that it can be a companion and a comfort in the background or it can stop you in your tracks with some incredible gripping story. I love that radio is cheap and accessible and caters to the nichest of tastes and weirdest of obsessions. For me radio kind of saved me, I got into radio when I was in a rehab centre ten years ago after a really dark time in my life and it became my new obsession. Through making radio throughout my recovery I've learned about the world and myself and I love that I'm still learning new things all the time by making and listening to the radio.
ACA: How have your life experiences influenced your career?
MC: I made my first ever radio programme when I was in rehab so that was a pretty unusual start! I went on to study radio and a few years later I got my first proper radio job at Radio 4 (a bit of a culture shock to say the least). At first, I felt my experience with addiction & mental health was something I wanted to keep as a closely guarded secret, but as time went on that changed and I started to use my life experience in my work. Over the last five years I've been a freelance reporter for Woman's Hour and made lots of series on issues very personal to me, for example the series I made about women and addiction. It was such a scary thing to do but it's been amazing to hear people's reactions. There is still so much stigma about addiction and mental illness, and that stigma stops people getting help so I feel incredibly passionate about doing what I can to change that. 
ACA: What are you most proud of accomplishing?
MC: I just had a baby boy called Wolfie who's four months old and I'm so totally loved up, I can't think of anything at all I'm prouder of right now. 
ACA: Do you have anything exciting planned?
MC: Yes, I've just joined Sisu crew and I'm so excited about being part of such a dynamic creative community. Sisu is a 50 strong crew/agency of womxn DJs founded by Malissa who's done so much amazing work to support womxn and increase diversity in electronic music. There are some super exciting things in the pipeline so give us a follow on Insta! [@sisucrew]. I've also been threatening to start producing music; it's been a long time ambition and I'm sure I'll get there in the end. As we've already established, I'm a late bloomer!
~~~
Listen to Free Love w/ Milly on Air every fourth Friday from 3-4pm. Follow her on social media to stay updated on upcoming shows.
Instagram: @milly_on_air
Twitter: @Milly_on_Air
---
Author
Alejandra Cabrera Abasolo is a freelance journalist and contributing writer for Threads Radio. She has written for publications such as Mixmag and Vice and is a recent graduate in Journalism from City, University of London. Alejandra has a passion for music and photography, which are the main topics of her work. You can access her recent work at: www.alejandracabrera.com, and contact her on Twitter: @alupicabr and Instagram: @alupicabrera
---
Back to home.