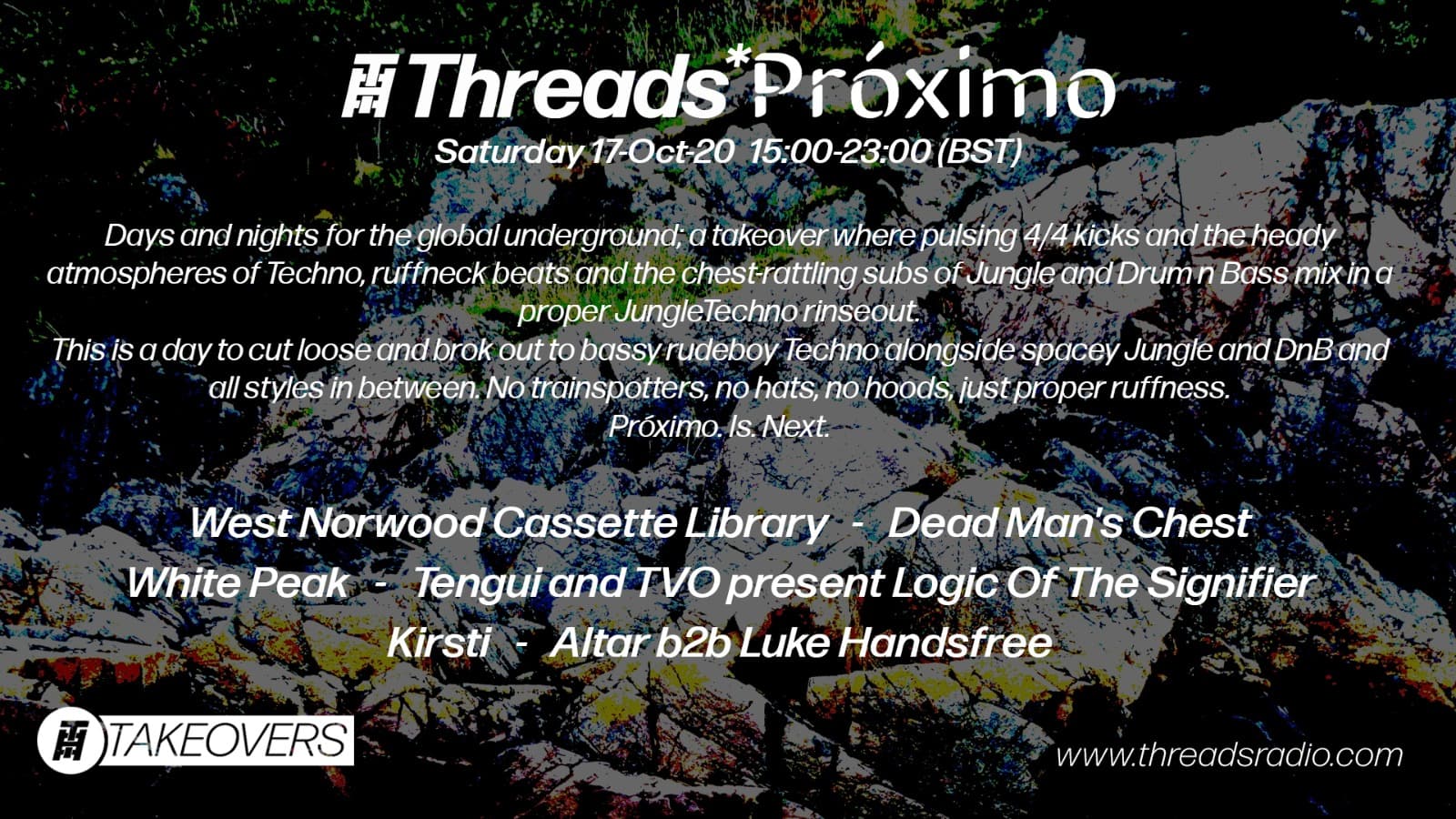 Introducing: Próximo
Will Soer meets Luke Handsfree to learn all about last October's storming and boundary-cutting Próximo takeover on Threads*.
Próximo is a really special night. Well, it's not always a night; some of the events have run from 4pm to 2am. . .
They span a whole mixture of ruff sounds; the most recent event featured Ray Keith, Mosca, Loose Lips' own Medallion Man and Rommek, and Djrum (under his Struction alias). They are packed with colour, light and ruffness (a quality explored at length in the other leg of this interview, Próximo: The Backstory). It's the baby of Luke Handsfree, who ran the seminal techno night Plex for 10 years; doing Fabric, Boiler Room, bloc weekend takeovers and their own festival in Malta, before deciding to explore a different sound.
Presented below is an 8 hour encapsulation of that sound; Próximo's takeover of Threads* Radio, gathered alongside a chat in which Luke walked me through the sets. Enjoy.
~~~
Luke: It's effectively a snapshot of Próximo's takeover of Threads*, it's a compilation of live sets created for the takeover and live DJing on the radio, a snapshot of our attitudes and approach. I wanted to bring the sensation of the club night itself, the cross-genre attitude of Próximo, along with some of the more esoteric approaches.
Will Soer: It sounds like you have someone in mind when you say that.
Luke Handsfree: Probably Logic Of The Signifier. . . well, see, there are eight sets in the takeover, the first one is a bit of an intro-thing from me, just three tracks played one after another that epitomize Próximo, the core sounds.
Then afterwards there's a set from West Norwood Cassette Library that's almost the archetype of the club night experience, a lot of heavy techno, a lot of bass music, broken beats, breakbeats, jungle and some drum 'n' bass, and some really mashed up stuff, all along the hardcore continuum.
W: I came across their track "Missing You" whilst looking through a friend's record collection last year, an absolute masterclass of sampling, a bit disco-y which isn't my genre but done with such beautiful finesse that it worked for me. What is with that name?
L: Well he's kind of an archivist record collector type guy. That's my understanding at least.
W: And even in the ruffest peak time sets, does that come through?
L: He's a fucking awesome DJ basically, that's the real key of it. He has exceptional skill, so even when playing esoteric stuff, he finds a way to make it 'rock', as it were.
W: Pulls the carpet from under your feet without you noticing. Do any moments come to mind which illustrate that?
L: There's a bit right at the beginning of the archive recording, where he's cutting and scratching in, and then later on, he flips up into some quite heavy and intense stuff, but does it so deftly. It's all really playful; he appreciates contrast as well as consonance. He knows how to bring the roughness, as well as the ruffness. [see our other interview for explanation of the separate terms]
W: And then there's Kirsti's set.
L: Kirsti's as close to a resident as we have and she's played at all of the Próximos, she really understands the approach, and she's got excellent taste, a really keen ear for stuff that's probably more melodically rich than some of the other stuff. It's really intriguing and engrossing.
W: That sounds ideal for an opening set, drawing people in.
L: Definitely. It's that, but it's also the open-eared approach, really diverse choices, great dynamism in the mix, she's excellent.
And then after that is me, a recording of the first set of the first Próximo, I thought it was a good window into Próximo's intentions. The idea was it's daytime, a daytime rave-up, even if it feels like the typical sit down for a roast dinner time, it's actually the beginning of 'let's go'.
W: Loosen yourself up, wake up, get onto the dancefloor.
L: Yeah, you would have had your Sunday or your bank holiday Monday, a lot of which was probably sitting around with your mates in the pub, and you're just getting to the point of feeling like throwing yourself around a bit.
W: It sounds like the takeover was a day of introductions, very different introductions to Próximo. So what comes next?
L: Next is a live set created especially for this takeover by Tengui and TVO, under their moniker Logic of the Signifier. It's a kind of sound collage, it highlights more of the mindset and roughness of Próximo, the texture and the DIY approach, as opposed to the actual stuff you would hear on the night, as opposed to the ruffness. That point where you bristle at the slight chonkiness of it, probably the wrong word there–
W: Oh I'm always keen to hear people use the word chonky.
L: –but yeah, the point where you bristle at the imperfection, when it draws you in. There's a lot of interesting collisions, it's really intriguing and evolving.
W: Like a studio album release from a DJ/Producer, something that allows you to listen and meditate on their sound, rather than a recreation of one of their club sets, a different kind of intensity.
L: Exactly. So the next set comes from White Peak, who put this absolute demon megamix, hybrid-live performance together. It's more akin to Próximo peaktime.
W: How does the live setup come through? You'd assume there's more consistency, something to hold onto whilst the ship violently shakes, it goes in a specific direction before hitting a massive wall of water and jolts backwards [I watched The Wolf of Wall Street shortly before this interview, such a good film]. And then next is Dead Man's Chest, who does some sick rave artworks.
L: That set is a massive rinse-out, so much of it is his own stuff released on his Western Lore label, which shows how on the Próximo-wavelength he is, imaginative jungle techno, bassy rude stuff, absolute tearout set, really great.
W: I was only recently introduced to that term 'tearout', specifically when used to describe 'tearout dubstep', the British precursor to Skrillex's sound. It kinda fits with my earlier metaphor: it's the moment the ship tears out of the water. . . Where were you when you were listening to this takeover, were you sat with a cup of tea?
L: Definitely not, I was streaming the whole thing from my house. But I've got a rig, so I was dancing to the archives.
W: Nice, I've got thoroughly into solo kitchen dancing over the last year, although I find longer sessions easier if I have something going alongside, like a magazine to cut up or a meal I'm cooking.
L: Typically these days I have a pretty intense, stressful job, so I find it harder to relax whilst listening to music. I normally get something in my hands, like I'm building a Saturn V Lego rocket at the moment, or I'll get one of my books of art in my hands. But on this occasion, with the Próximo archive, I just danced to it.
W: Ah nice, I'm so glad I asked that question. It's so tough dealing with the lack of compartmentalization between work and play in lockdown, but it's great that you achieved that tunnel vision state.
L: It was as close as any of us will get to a club anytime soon [we did this interview prior to THE ANNOUNCEMENT].
W: Yeah, we're all thoroughly into our aesthetics and home decorations now I'm sure. Anywayyyy, what was the next set after that?
L: The last set was a B2B set with me and Altar, who's the head honcho of the techno/bass night and record label THEM, the afrobeat/gqom night Kartel and owner of the Container record store in Brixton. We played for an hour or so, two for two, and just generally having that joy of directly sharing music, the kind of stuff you would hear in peak-time, a rinse-out to close things out.
W: Rinsing all the seawater out of your parrot. That's the ideal way to close out a party isn't it, play whatever makes sense intuitively.
L: Certainly with closing hour at club nights, the DJs who are all still there and having a good time, you see it time and again they all come together and almost up their game. Everyone wants to play the best shit to each other and the crowd, it's just fun.
W: Yeah you wanna see the DJs all screwfacing, thinking 'Shit, how am I gonna top that?'
L: Yeah, and it's not just the competition; you're all trying to engage each other directly in the creation of happiness, to make each other happy. It's a greater impetus to have communion. It's definitely why I wanted to have a B2B end it, the opportunity for conjoined, cross-genre, cross-approach happiness.
W: Yeah, it's a good thing to come back to. How did you feel when you finished recording it?
L: It was just fucking awesome to mix live with another human, for the first time in months, it was bliss.
~~~
Keep your ears and eyes peeled to our socials over the next nine days as we have a number of Próximo-fuelled installments. The 2nd part of this interview will drop on Friday, soon followed by more insight into the project and some exclusive live material.
---
Back to home.