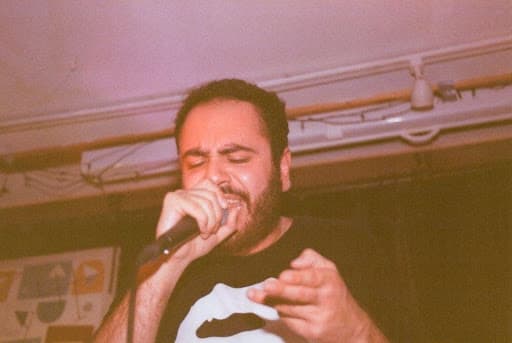 Introducing: Rhythm Labs
After attending their launch party in Kentish Town, Jed Waldron gets to grips with the budding nightlife collective.
Drill, lo-fi, hip hop, tech-house, neo-soul, crank-wave, gabber – who's updating this Wikipedia page? Add a few 'umms' and 'ahhs' in there and it'll sound like you're trying to convince a friend to come to this new night in Peckham: "it's in a really cool new brewery". Of course, genres need to exist, humans have a thirst for explanation, and A&R executives need to make a living. Rhythm Labs knows this, Rhythm Labs understand, but they refuse to keep their eggs in one basket.
That's why back in December, I went down to their launch party at Kentish Town's Map Studio Cafe. Broadcast live on air as part of Thread's pre-party for the 48-hour fundraiser, it took the audience's attention away from any post-election come down and helped redirect it to a good cause.
A multi-genre events platform, they decided to open with a night showcasing a selection of lyricists from the grime, UK rap and hip hop scene including Dubzy, NK INDUSTRY, and Mish. Before you think it, yes, I did persuade people to come with me by saying "it's a grime/UK hip hop night in this interesting cafe/studio space".
When we came in from the misty drizzle and saw the community inside bigging up the artists, it was a well needed shot of positivity. In a climate where the arts and grassroots live music are being tested by a lack of funding and area development, Rhythm Labs triumphed in an independent venue and championed lesser known performers. They were also faceless, in the crowd with the rest of us and absorbing the music. I had to know who was behind it and was so intrigued that I got in touch with a few questions. Here's what they had to say . . .
Jed Waldron: Who are Rhythm Labs and where are you coming from?
Rhythm Labs: We're a London based underground music promoter and events collective that've grown up taking in the various scenes that surround us as Londoners. We live in one of the most diverse and open-minded cities in the world, and each of us at Rhythm Labs have genuinely grown up to and with multiple genres, following their evolution and respecting their history, whether it be hip hop, grime, house, jazz or R&B.
We're aiming to reflect this core part of us in the range of events which we put on and let the crowd know that we won't be defined by just one genre or scene and that with a sense of community, we can find a way to all celebrate music we're both familiar and unfamiliar with under one roof.
JW: How and why did it come together?
RL: It fell in place seamlessly really. We've all had a number of years of experience doing different things within the music industry, from hosting parties and radio to releasing some of our own music. We decided to bring each of our skill sets to the table which complimented each other and at the time just felt right to start this exciting project.
However, what really spearheaded it is that although we've been going to nights with great DJs and artists we're fans of – and at reputable venues at that – we felt that the events that really stood out were the ones that went that extra mile to create an immersive experience for everyone involved. Whether it be the production of the venue or an interactive element like it being live-streamed – it's the combination of those elements, attention to detail, and a genuine passion for the people taking their time to come to the event that we want to emphasise, not just through an interview but through action and what you see, hear, and feel on the night.
JW: What's your long-term vision?
RL: Our long-term vision is to create a platform with a strong sense of community that champions the art and artists they love while being given the option to explore new genres and acts found through the events we execute. Collaborations with other event collectives definitely excite us and we're in touch with some great people already. We'd like to keep that up and build a network of genuine and creative people.
We eventually aim to branch across the music industry, as well as other areas such as clothing and design. The communities which we live and work in have a big impact on us and another goal is to give something back to those that have supported and allowed us to grow over the years. Whether that be working with charities, hosting workshop events for local residents or working with local businesses.
JW: You're down as a "Multi-genre events platform hosting emerging UK artists"; are we going to see gigs outside of London in the future?
RL: We'll definitely be looking to expand to other cities soon, places like Manny, Bristol, Brighton, Birmingham, Glasgow, Belfast – all thriving. These cities have cool spaces and venues, as well as some of the best artists and promoters. We've experienced that first hand, so it's only a matter of time really.
We're without a doubt looking to take this overseas too. Some of the most unique and innovative spaces which take events to another level are in Europe and beyond, that's something we definitely relate to. It adds a completely new dimension to an event or festival, which is hard to find in the UK, so we'd like to bring that to our events.
JW: How do you go about selecting the artists you put on?
RL: We've been fortunate to have a lot of creators around us including one of our co-founders NK INDUSTRY, who performed at the launch in December. We wanted to demonstrate some of the up and coming talent in London and the south-east coast and set the tone for what you can expect from us. We'll be putting on more nights with a similar ethos as well as artists who are gaining our attention in various underground scenes.
With the more established nights, having been involved in music for a number of years, we've developed a good network while naturally keeping up with releases, going to events and experiencing festivals which allow us to come across talented artists, become fans of their discography and curate a night where artistic styles and sounds complement each other.
JW: We're seeing more and more venues or creative spaces in the UK having to move or shut down due to development, what are your thoughts on this changing landscape?
RL: Yes, it's a shame that these DIY spaces are being pushed out by developers as well as gentrification, but there are still plenty of cool spaces which are opening up at the forefront of all good things for music in the UK. It's hard for these venue owners to build up such a solid reputation and then be forced to move on, but we believe that whenever one door closes another is opened and there will be interesting and innovative spaces to throw parties. It's just about finding these new spaces which we can call home again and remembering what made their predecessors important to the community they operated in.
JW: So, what's your favourite London venue and why?
RL: Our favourite venue in London has to be Tobacco Dock. There's nothing else like it. We saw the transformation from it being essentially derelict offices to a forward-thinking event space, throwing parties for 10,000 people and remaining effortlessly versatile. The possibilities are endless with what you can do with the space, but it's a shame that it only has a day-time licence.
JW: Seeing as this is an interview for Threads, what role does radio play for you as a promoter?
RL: Radio has historically played a major role in discovering new artists and songs, but over the last decade the impact of radio (similarly to record labels) has significantly decreased in discovering new talent. It's seen in the rise of platforms such as Boiler Room, Cercle and other digital platforms which people can watch on-demand with visuals rather than having to be tuned into a radio station.
What the last few years has shown us though, is the rise of the internet radio station and the immense sense of community that surrounds it, allowing it to become a hub for hundreds of amazingly talented artists, speakers and people in general. Because of the interconnectedness between people that exists at a place such as Threads, we can tap into artists and DJs and give them an additional platform while being live-streamed for others around the world to enjoy.
It's a win-win being able to collaborate with so many creatives and at the same time build a larger sense of community between two otherwise separated entities. Hopefully people can start to understand how powerful online radio can be when repurposed and used in a unique way by different members of the community. It's all about remaining creative and resourceful.
JW: After the success of the launch party, what's in the pipeline for 2020?
RL: We've got a lot of exciting things coming in 2020. Nuff riddims. We've just recently announced our first night of the new year where we take over Mick's Garage with DJ and producer Space Dimension Controller for a night of explorative and forward-thinking house. SDC is known for his storytelling in production and use of analog synthesizers, so we can't wait to see what he has in store. We've also got one of the hottest DJs to be coming out of Belfast joining the line-up, which for now we'll keep a secret . . .
As for the rest of the year, we're planning to run riddims the whole time, so keep it locked on our socials for our collaborations, clothing, and events that'll engage all parts of the musical community and keep you on your toes. A lot to come.

JW: To finish up, I need Three Threes from you. Three artists you're rooting for:
RL: Jeff Spesh, Space Dimension Controller, Lala.
JW: Three rhythms you're running:
RL: Novelist – 'Pay What Is Owed', Four Tet – 'Baby', Larry Heard – 'Can You Feel It'.
JW: Three words to sum up Rhythm Labs:
RL: Innovative, Creative, Underground.
Graphics: @matthewalextaylor
Photography: @nnamdiosadolo
---
Author
Jed Waldron is an editorial contributor at Threads. He has nothing against Peckham.
Follow him on Instagram: @jed.waldron
---
Back to home.