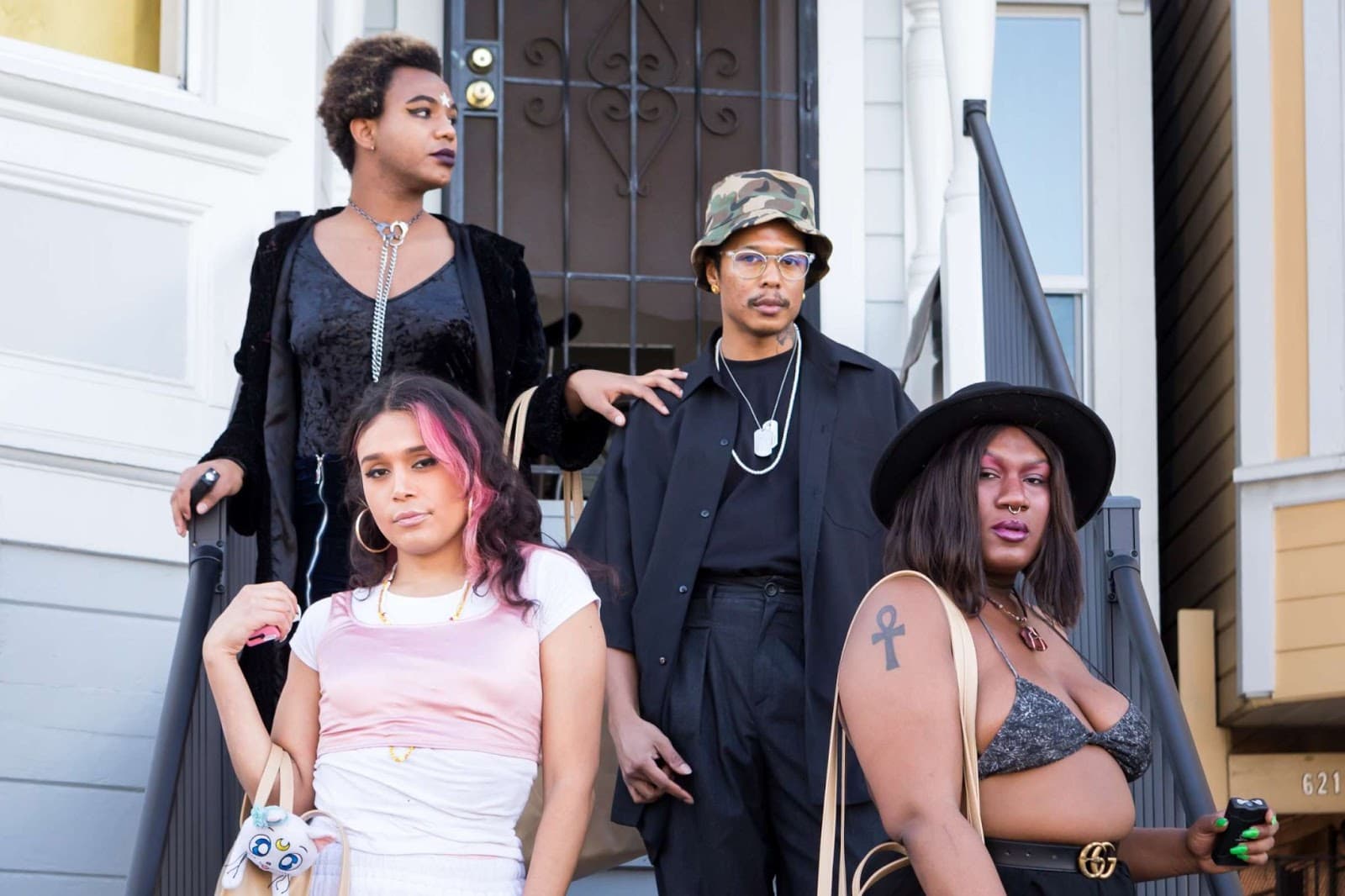 Introducing: We Are The Ones
Rounding out the lineups for COMMON MULTIVERSE INITIATIVE on Sunday, March 21, Oakland-based mutual aid and arts collective We Are The Ones were reimagining the role of the arts in empowering marginalized communities. Following their set on the weekend, James Gui spoke with them on their ethos, inspirations, and upcoming lineup, including Jasmine Infiniti, ONMOMMAS, Maya Songbird, Freddie, Qing Qi / Putang Clan, Guerilla Pump, Fiera Ferrari, and more.
~~~
James Gui: Dance music has always been a safe haven for Black and PoC LGBTQ communities, e.g. The Warehouse, where Frankie Knuckles ushered in a new era of groove to the city's most marginalized folks. But that history is often erased. How do you see your collective in relation to that history?
We Are The Ones: Our collective centers q/t/b/i/poc voices because of this erasure; we try to elevate Black + Brown queer + trans DJs and producers at our events to uplift and inspire our communities, and to take back what has – especially in the Bay area – been largely gentrified to the point that most people here think of techno as a 'white thing'. So for us it's largely a reclaiming of something that we know we are a part of and belong to and that our elders created, heeding a felt call to expand and continue that lineage of creativity.
Dance for us is largely a communal healing ritual, but the visibility from events is important to many and we hope that it garners our friends and family respect they deserve. . . as even though we influence so much of the culture, most of the industry still centers white DJs, and there is still so much violence directed against QTBIPOC especially Black Trans Women in and out of that world. So celebrating lives while they are still here with us is important.
JG: Who in the past (or present) inspires you, both individuals and organizations?
WATO: Our collective diverse crew of DJs with different styles that range from drum and bass, to dark and dangerous techno, footwork, juke and old school freestyle.
Some of our favorite DJs and collectives include: Mikey Garcia, DJ Juanito, Jocelyn Enriquez, La Veneno, Jasmine Infiniti mother of New World Dysorder, Star Ah-mer-asu, Tygapaw, Tayhana, Kush Jones, B.U.F.U., Sisters With Invoices, Terrence Nance, Alima Lee, Mandy Harris Williams, big freedia, DeForrest brown Jr, Club Chai, Haus of Altr (Moma Ready + Acemo), RP Boo, DJ Rashad, DJ Spinn, Jlin, Jordana LeSesne, Suzi Analogue, Divide and Dissolve, and Moor Mother Goddess.
Historical inspirations: Kitchen Table WOC Press, The Black Panthers, this OG soul house party Brothers and Sisters that was filled with Black and Brown people and everyone was dancing dripping sweat. Juan Atkins, Childhood; late 90s / early 00s music, tv and film. House, Freestyle, Jungle, Ballroom, Footwork, Ambient, Lo-fi & Club. The Belleville Three, Chicago Footwork

It's also really inspiring to see how these different groups/collectives mobilize, how people hold various spaces for the community to come together & how we are able to make things happen.
JG: What role does your collective play in the fight for liberation of marginalized people?
WATO: We just wanna uplift our people and our various intersecting communities and be able to provide us all with an abundance of joy, love, and care.
We are hyper transparent about our politics.
We create accessible space.
JG: Tell us about the music and arts scene in Oakland. I've only seen it from afar in the pandemic through your work & the SmartBomb Oakland crew, but what's it like in person?
WATO: The Bay is an incubator, we have an intimate community with different little worlds and subscenes going on at once. SmartBomb has been a pillar for the beat and hip hop community on the West Coast. We've also had many other spaces for our community to show up and show out: New World Dysorder, Club Chai, Women Sound Off, NOTURBABY, Swim Gallery, Feels, Twerk for Mother Earth etc.
Pre-Covid, the best things were the festivals, the nightlife and a good art show type function. At the moment it seems like most folks are developing their next steps. But over the last few years there has been an elevation of the art and music scene here, within many centering femme & qtbipoc artistry.
JG: What does the word "collective" mean to you? What about the phrase "mutual aid"?
WATO: A collective consciousness, as in we all play various roles. For us, it's a fluid/organic process. Our membership isn't a static thing; whoever has a skillset they want to contribute or just wants to support is welcome to come thru, plug in and be a part. Collaboration can be challenging but it's also beautifully expansive in the ways we learn to problem solve and trust. Accomplishing goals together helps us bond and provides a container for us to learn from each other and for creative play!
As for mutual aid, it feels like just continuing the work we do with our friends and family, trying to answer these bigger questions of how can we keep each other safe and fed. How do we build with our network, and with our community so that we may all feel safe? Because none of us are free until we all are! Our work needs to be intersectional. We need to take care of each other because the government sure as hell won't!
Mutual aid is more than just a fundraiser. Mutual aid is a guiding principle and foundation for the work that we do. When we throw a dance party, it's always free or NOTAFLOF. Everything that makes the party is free or donated in kind, from sound system, to venue, to food, water, and our community-based safety squad (aka security). It's a lot of elements, a lot of different skills, interests and passions coming together to create accessible space for creativity, collective expression, or healing, for freedom to connect, experience and us to just be.
JG: What upcoming projects does the collective (including individual artists) have coming up?
WATO: The New World Dysorder Global Stream is happening soon; two members, Fiera Ferrari and BashBabyBlue are helping organize it. We're gonna show you a sneak peak of Jasmine Infiniti's set for it on this 12 hour stream, so stay tuned.
JG: What can we expect at your COMMON lineup?
WATO: 100% Oakland.
100% underground talent.
100% authenticity.
We've got DJ sets, live acts, from hyphy music, empowerment music, experimental dance, pop, and some amazing shit that doesn't have a 'genre'. We hope you enjoy.
~~~
Catch We Are The Ones and their 12-hour stream started 12pm PST on Sunday, March 21.
---
Back to home.