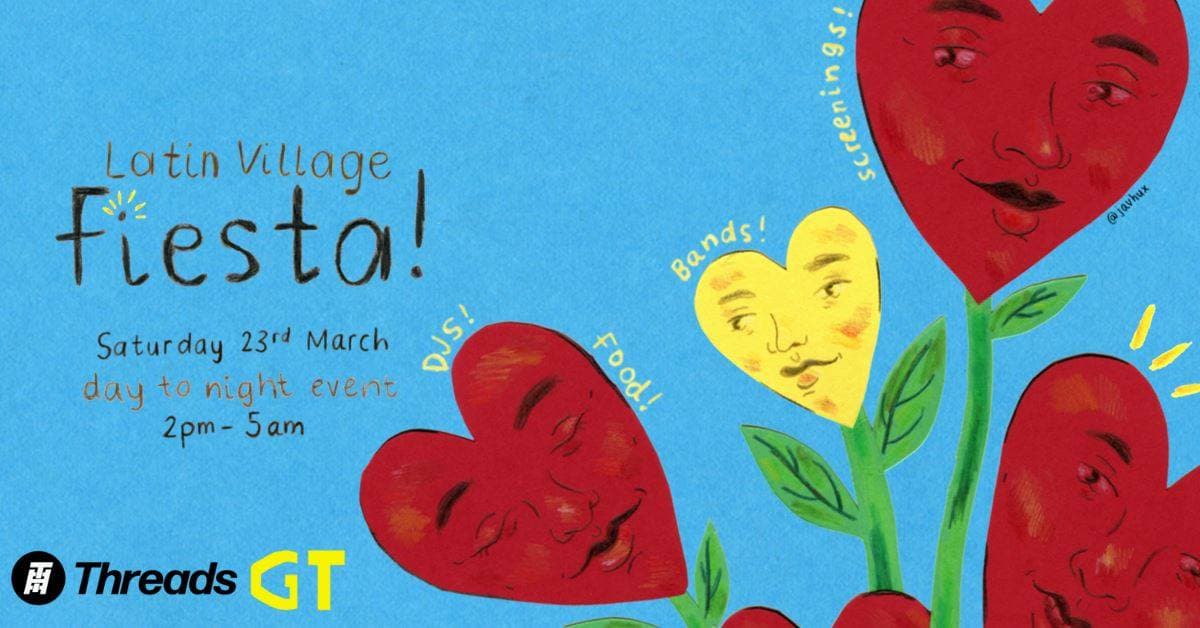 Latin Village Fiesta! 23/3/19
   (Artwork by Javie Huxley)
So following on from our Latin Village Takeover Show on February 14th, we agreed to help arrange the Latin Village Fiesta (Fundraising event) in partnership with Grow Tottenham and the Save Latin Village Campaign. It seemed like only yesterday we were having the initial conversations with all parties and we aren't even 24 hours away from this exciting event.
We are kicking off at 2pm with some family friendly activities. There will be a zine making workshop based on materials from the Latin Village. This is great because it is open to all and an awesome chance to create a story in the spirit of the event. Then from 3:30pm there will be a series of short talks from members of the Latinx community on the following subjects: Growing up in the Latin Village, The Community proposed development plan, Latin American Decolonisation and more. Following the talks there will be some live music from Latinx artists. Attendees will also be able to visit the 'Save Latin Village' exhibition at The Hale Arts Exchange which is also based at Grow. The talks and live music will be streamed via the Threads facebook page
Felt Sound will be providing their magnificent Soundsystem between 2-10pm hosting a series of great DJs from the community, Threads family and of course a set from Mark Felt himself. All of which will be streamed on Threads*. As we move into the night the event  shifts gears into a full blown club night going until 5am (last entrance at 2:30am). Below are some of the acts you can expect to see during the event:
DJ Cal Jader (Movimientos)
DreamUnit (Threads Radio)
Felix Hall (NTS Radio)
FELT SOUND
DJ Keyhole (Field Manuevers)
Ivicore
Sasha Keable Live
JSCA live
Local Group (Threads Radio)
Miguel Musiq
Carlitos Niño (Latinos in London)
Xera Vera (Threads Radio)
There will also be a raffle featuring prizes donated by Latin Village traders (Carniceria Martinez, Colombian Coffee & more will also be there on the day) alongside the Gentrification Piñata! Which is of course a heavily featured part of the day. While all of this is a lot of fun, it is important to remember that these are ways you can directly give to the Latin Village legal fund. Tickets for the raffle are £5 each or 3 for £10
Entrance between 2-10pm is a suggested donation of £5 and 10-02:30am are £8.
Tickets for the event can be bought HERE
You can also give directly to the Save Latin Village Crowd Justice Campaign HERE
See you there!
---
Back to home.