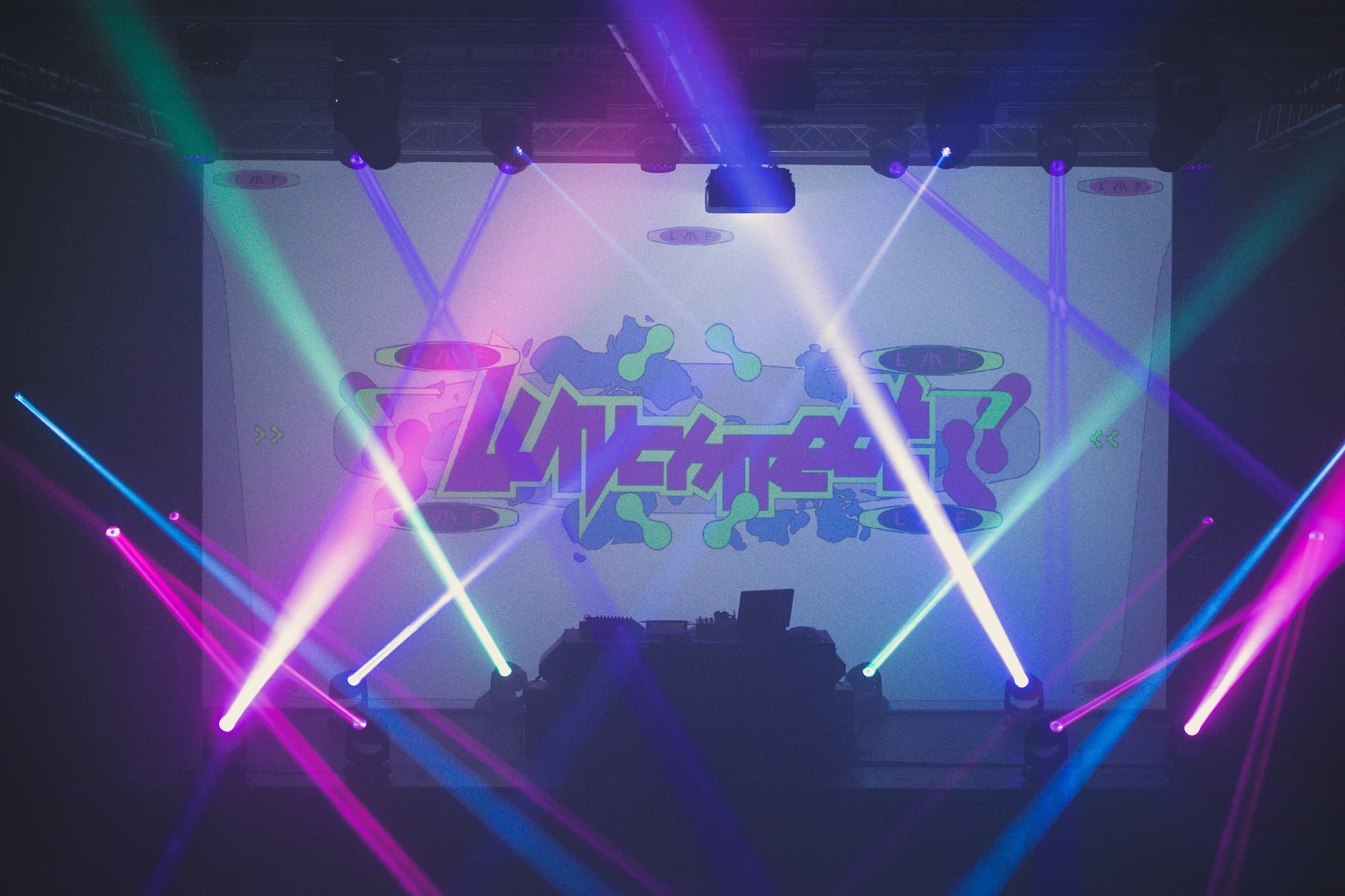 LUNCHMEAT: a pan-European hub for Prague's experimental music and arts
Alexandre Honey reports on the 12th edition of Lunchmeat Festival, which saw a return to form with a slew of cutting-edge contemporary audiovisuals and critical discussions.
When it comes to underground electronic music, Prague may not the be first metropolis that comes to mind. However, scratch just beneath the surface of the city and you will find that it is home to a burgeoning scene of fresh-faced artists, DJs, underground venues and organisers. Within the oversatured tourist industry that is the European club scene, it is a hidden gem amidst the usual, well-trodden dancefloors that one sees time and again in the music press. In this review, I hope to highlight some of the music and transdisciplinary arts on offer at Lunchmeat, to situate the festival within Prague's cultural and historical milieu, and to encourage anyone considering—just do it.

wikiHow, "How to Get Into Berghain" (December 2020)
Last year, in the midst of the pandemic, Lunchmeat made the bold decision to go ahead with its festival, masks and all. As stated in Inverted Audio's 2020 review, while this was fully in accordance with Czech law, a certain apprehensiveness loomed in that the government could at any moment change their regulations and shut the whole thing down. If last year we were holding our breath about the future of life itself, let alone that of clubbing and live music, this year brought both a sense of relief at having survived, accompanied by a residual anxiety that we cannot take anything for granted. Even moreso, perhaps we are left ambivalent—wondering why, in the midst of a global death toll surpassing five million, we engage in such risk-seeking behaviour in the first place, other than to simply "have a good time." People often brought up the fact that Sophie had performed last year, passing on stories about her. On a personal level, the naive belief which I had in the messianic power of rave culture to bring about a better society in 2019 was replaced by a comparatively pessimistic view of our coming together over music as something chaotic, unpredictable, and heterogenous—a lawless ritual—yet still something deeply important to our collective (un)becoming. It was in this context that I arrived in Prague at the generous invitation of Lunchmeat, overfamiliar with the UK club scene and excited to explore new horizons.
First, a bit of historical context: the presence of communism's ghost can be immediately felt in Prague, from the archetypical Slavic cuisine to the remnants of Stalin's Monument—a location where raves have been held, and where I heard somebody had recently died in an accidental fall. A key event in the history of the Czech Republic was 1968's Prague Spring, which saw the fight for the democratisation and decentralisation of the Czechoslovak Socialist Republic's economy come to a head. It included a demand for the loosening of restrictions on the media, speech and travel, and inspired such works as Milan Kundera's novel The Unbearable Lightness of Being. The concept of a "global 1968" has become increasingly popular within art history as a way in which to view the worldwide escalation of social conflicts and popular rebellions against state bureaucracy across Europe, Japan, and the Americas as being interconnected—most often through anarchistic, non-state networks between artists, musicians, and writers, resulting in the blossoming of what we know today as "counterculture". While the Spring was crushed by Soviet state intervention, growing resentment eventually led to the student-led, anti-communist Velvet Revolution of 1992 and to the dissolution of Czechoslovakia in 1993, marking the beginning of an independent Czech Republic. This is all to say that much like its neighbouring city Berlin, the democratic freedoms which exist today in Prague cannot be taken for granted, since these events exist within living memory, and that one might see something of the spirit of rebellion alive and well today in the broadly anti-establishment ethos of the experimental underground.
With a name inspired by the team's collective efforts, Lunchmeat was started in 2010 as an audio/visual event by Jakub Pešek after a chance encounter at the character design conference Pictoplasma with an Argentinian man called Acampante, who ran a festival in Buenos Aires focused on graphic design. He had closed his design studio to run the festival and tour as an A/V artist, and after being hosted by Pešek in Prague for an event that included local acts, artists and lectures, the inaugural edition of Lunchmeat was born circa 2008-2009.
Pešek states in a 2020 interview that "…something was missing in Prague, and Lunchmeat fills that void." If you are still unfamiliar with the city's relatively new history of electronic dance music, here's a quick summary of that interview: back in 2010, apart from the short-lived Sperm Festival and the native Free Tekno scene, the demand in Prague was mainly for Drum & Bass. However, a number of UK dubstep artists such as Kode 9 (who returned to Prague for the festival this year), Shackleton, Mala and others would visit Prague quite often to play for small, intimate gatherings.
WIth its origins in graphic design and as the side-project of creative studio Anymade, the visual identity of Lunchmeat is immediately striking. If earlier designs reflected both the city's Gothic architecture as well as contemporary trends in graphic poster design, also seen in the work of David Rudnick, this year's logo created in collboration with Kristýna Kulíková reflects a more defiantly colourful and playful style. It appears to reflect not only the diverse and unpretentious style of Prague itself, but also the defiant, childlike rebirth of club culture following the first of what is likely to be an indefinite number of lockdowns.
Luchmeat's logo design by Anymade Studio, 2018-present
Day 1: raster 25th anniversary @ CAMP
Arriving in Prague on Monday, I was unsure of what to expect from the city about which I had, until then, heard very little in the way of music. I was received warmly by organisers Anna-Marie and Freddie at CAMP (Center for Architecture and Metropolitan Planning), a reconstructed brutalist building designed by the Czech architect Karel Prager, reinvented in 2017 as an exhibition space and to improve public debate on the development of Prague. Sitting inside, a hall-length projection begins—at 20 x 4 meters comprising of five projectors—presenting two live audiovisual works: Frank Bretschneider & Pierce Warnecke's "No Content" (embed video) and East Germany's Olaf Bender a.k.a. Byetone, which set the tone for the week ahead.
I was immediately struck by Bretschneider and Warnecke's "No Content", the latest collaboration between the Berlin-based experimental noise composer and North American sound and video artist, described as "both a dadaist prank and a visual mindfuck of found footage, depicting the sensory overload of modern life." The piece is something that must ideally be seen on the big screen, since the barrage of sounds and textual imagery transfixes the viewer into a speechless stupor through an onslaught of high-definition VFX. While the more explicitly anti-capitalist mediascapes of vaporwave (e.g. Chuck Pearson, James Ferraro) lull the listener into a eerily comforting and warm nostalgia for capitalism's promised future, "No Content" shocks the viewer into the grimness of the now through a brutal reflection of the omnipresent manic aggression by which capitalism force-feeds us increasingly numbing advertising and "content" through our screens—an empty, endless escalation of modernity's "shock of the new"…
The political sentiment and power of the opening ceremony is apparent, but I am keenly aware that Lunchmeat has much more left in store by way of both the physical immersion of dancing and the cerebral stimulation of symposia. Its program boasts some of the most exciting and recognisable names in electronic music, alongside some of Prague's best local acts. What drew me personally to Prague was the opportunity to see some of my favourite aritsts—Lee Gamble, Kode9, AYA, Pearson Sound, etc.—but what made me want to return was the close-knit DIY community of musicians and organisers whom I happened to meet.
Day 2: Ankali
My first real impression of this scene came on Tuesday, the first time I ever visited Ankali. Ankali is without a doubt one of the best venues in Prague, if not throughout Europe. The motto of the club is the unpretentious and sweet banner "happy and sad", and is described by the owner Sanjin as a "gently crafted club space for open minded heads." Based out of a former soap factory, I immediately felt the sense of community in the conversations I had in the smoking area with attendees, many of whom knew one another and seemed to have projects, musical or otherwise, of their own. It is this sense of innocent-but-not-naive enthusiasm and passion for one's craft that stuck with me throughout my experience of Lunchmeat and Prague, where the relatively low cost of living, slow rate of gentrification and lack of state intervention make it an appealing place for creative minds to gather within the Slavic territory. While there is no doubt space to explore one's art freely here, there is a sense of collaboration and aesthetic cohesion that is especially apparent in Ankali—whose ethos sits somewhere comfortably between techno, punk, emo, and ambient—and I was lucky enough to catch Inverted Audio's Freddie Hudson play an exceptional ambient set there one night.
Lunchmeat's collaboration with Ankali, however, provided something different to their usual club nights, bringing together two exceptional live sets from Bílej Kluk and Prison Religion sandwiched between two sets from some of Prague's most esteemed DJs. The first was a poetic b2b between visual artist Kisstempera (Jakub Hošek, founder of the legendary Creepy Teepee festival) and gertie adelaido, an "open channel and meta-punk creator" whose work combines experimental electro, noise and texts. In the mood-lit front room of Ankali they perform as their duo-project SCRAWLERS, bringing together melancholic emo-industrial noise, harsh screamo vocals and soft, high-pitched vocal sounds.
The first live act of the night was Bílej Kluk, a producer and singer who has released numerous projects via Prague's BCCA System—a community label and hybrid club/art collective. His bio references the underground ATLien Black kray, Glo gang, and German-Turkish trap, whose influences can be heard in his careful layering of trap beats, trance-like synths and autotuned whisper/screamo-rap vocals which, at something of a stretch, I would compare to a much harsher and aggressive take on the contemporary "Drain" sound popularised by the likes of Bladee.
The crowd then makes space for the headliner for the evening—the collaborative project of Richmond-based audio/visual artists Poozy and False Prpht, Prison Religion—who electrify the room with their explosive blend of noise, club music and rap on the third show of their European tour. Due to passport issues, Parker (Poozy) was unfortunately unable to make it, so a friend and associate of the band, Lillith (s280f), was there to support. While the pair had never performed together before, by the third show of their tour the two had finally gotten into the same rhythm, and nothing felt missing from the performance. False Prpht had this to say: "Everything about these recent performances post-quarantine has been about pushing us and the receiver to our absolute limit… I think once there we are able to have an honest and vulnerable experience with the music and each other. Lunchmeat was very fun. The crowd was super active, even with the looming COVID restrictions."
The night was concluded by a regular on the Prague scene, the inimitable DJ, artist, writer, and ex-VJ Adéla Sobotková aka New Magic Media, whose experimental yet danceable and refreshingly varied selections ranging from techno, noise, grime, and everything in between reflect her free-party and noise/punk roots. I was pleasantly surprised by the amount of grime that I heard during my time in Prague, which as previously mentioned is no doubt the result of transcontinental travel on the ground between London and Prague—not just in the early presence of dubstep, but the many DJs and artists who had studied or spent time in the UK. Adéla and I ended up bonding over our shared love of Murlo's 2014 glassy tune Into Mist.
Day 3: Mechanical Encounters @ Archa Theatre
Lunchmeat's collaboration with the Archa Theatre, a self-described centre for contemporary stage art "without regard to genre," showcased two light-based works that one would not be surprised to see in the Tate Modern. The first was Jan Kulka's live audiovisual project "Pramítačka 2.0", a stunning performance piece created using the "Archeoscope", an opto-mechanical projecting apparatus constructed by Kulka himself that has the capacity to project both traditional film formats but also any physical object that one can think of, from bandages to laces and bubble wrap—pushing the limits of film as a medium and purifying our concept of cinema to the pure projection of light and silhouette.
However, the highlight of the evening and one of the festival's most memorable moments was "MA"—a synchronised mix of dynamic light design and electronic music that must be seen to be believed. An immersive sonic experience that explodes the staleness in much of contemporary art, it is a stunning reappropriation of technology by the art lab Collectif Coin, based in Grenoble, France. In it, a series of industry-strength spotlights are attached via metal rods to a central, rotating machine, which are then choreographed into a mechanical, spinning ballet of light. The dancing lights synchonise with the electronic music reminiscent of Ryoji Ikeda, composed of sine waves, as the viewer enters into a state of cold, machinic hypnosis. Indeed, whilst sitting the spectator can almost feel themselves quietly becoming one with the machine…
Day 4-6: National Gallery
One of the biggest advantages of Prague as a city is its small and manageable size. Unlike the huge urban sprawl of London where one might spend up to an hour travelling on public transport to reach a gig, leading to many missed opportunities and tenuous connections, the ease with which residents of Prague can travel from place to place creates an intensely tight-knit and homely sense of community, if not a tendency towards gossip. The idea that all of your friends are a maximum twenty minute tram ride away at any given moment was strange to get my head around, but once I was used to it this made perfect sense for a city dedicated to the flourishing of independent arts. While I had the privilege of attending the entirety of the festival, each day functioned as its own standalone event for locals, and the venues were never far apart from one another.
The final three days of the festival, as is tradition, saw the festival culminate at the Trade Fair Palace of the National Gallery. Since 1796, the National Gallery of Prague has managed the largest collection of art in the Czech Republic, including critical works of Czech and International fine art across a number of buildings. The Trade Fair Palace, as the name suggests, is a hallmark building of Czech Functionalist architecture built in 1928 formerly intended for trade fairs, and has been the seat of the National Gallery since 1976, shortly after it was almost destroyed by a week-long fire in 1974 that led to its eventual reconstruction, completed in 1990.
The spacious and neon-lit upstairs area open to the public formed a boundary between the festival and the outside world, with the majestic pavilion outside acting as a smoking area and space for socialising. On Friday and Saturday, the inside held an impressive and cohesive set of symposia in both Czech and English that brought an intellectual edge to the weekend for those more cerebral clubbers. On Friday it hosted forward-thinking talks on journalism, clubs as safe spaces of care free of prejudice (Aaron Guice, Afrorack) and CTM's Michail Stangl on the intersection of blockchain technology/NFTs and music. On Saturday there were workshops on music mastering (Daniele Antezza), talks with light and sound technicians Eva Hamouzová and Eva Hamouzová, and concluded with a discussion on the specificity of the Eastern European music scene hosted by members of Eastbloc Antifascist Sound Alliance and Lucia Udvardyová (Easterndaze). Coming from the UK where a vague atmosphere of anti-intellectualism sometimes dominates club culture (the idea that "good music speaks for itself", as Kodwo Eshun writes in More Brilliant Than The Sun, being one of many "toglodytic homilies [of] Great British cretinism masquerading as vectors into the [traditional] Sublime"), it was exciting and refreshing to see such educational and explicitly political discussions happening just outside of the club itself.
The music and audiovisual performances occurred between two rooms downstairs in the basement, away from all natural light, in a cavernous auditorium and concrete-box club space divided by a wall. It was here that the festival reached its apex, beginning on Thursday with a film screening of the late Icelandic composer Jóhann Jóhannsson's feature-length abstract film "Last and First Men." Narrated by Tilda Swinton, it is a hypnotic and dreamlike audiovisual poem and masterpiece of contemporary experimental cinema. The mood amongst the crowd is meditative but quietly buzzing with energy for the weekend ahead, and the bars are fully stocked. The basic structure of each day is symposia, followed by audiovisual works and concluding with DJs. I prepare myself for the experience as I awkwardly take another sip of my Vodka Mate.
It's almost time to dance, but we're first treated to a wall of queer, post-club sound, marking the commencement of tonight's de facto Hyperdub takeover. The Manchester-based new darling of the UK underground AYA (f.k.a. LOFT) came together with Sweatmother to deliver the world premiere of this audiovisual performance. It combines her latest experimental cut-up electronics and unforgiving femme vocals with an onslaught of indecent text projected behind her as the fonts warp across the screen, echoing SOPHIE, in line with AYA's shrieking. At one point, the screen straightforwardly flashes the word "CUNT". This is a defiant battlecry for the queer and the femme, a declaration of club culture's queer roots as well as a promise that the space that we are in must be safe for anyone who does not conform to the repressive regime of heternormativity. In this performance, the figure of the girl/femme is transformed from the plainly misogynistic metaphor in Tiqqun's Theory of the Young-Girl of the modern subject who only consumes while producing nothing but images of itself, into one closer to that of psychoanalyst Saitō Tamaki's Beautiful Fighting Girl or the "girl with a gun", the girl who wields power and violence as a defensive means of protecting the weak. At first, the crowd doesn't seem entirely sure what to do with themselves in the face of this explosive eruption, which disrupts the quiet contemplation of the former gallery space. But we assume a standing position and begin to sway, as the dynamic between spectator and spectacle is slowly broken down into a mass musicking, as is the case anywhere dance is involved.
A live set from Loraine James follows, exploring more colourful queer soundscapes which infuse her emotional vulnerability with the sounds of jazz, electronica, UK drill and grime. The atmosphere is delicate and fragile yet charged with energy, as the crowd bops along in solidarity. This is followed by a live audiovisual set by labelmate Lee Gamble, who delivers his signature contemporary post-club sound design. Ambient synths are penetrated by thudding bass kicks and snares, and the shiny-textured three-dimensional objects floating in hyperspace behind him appear to directly represent the sounds emitting from the soundsystem—or is it the other way round? The mood amongst the crowd is beginning to pick up now, as people begin shuffling awkwardly to the arhythmic bass that envelops us all.
Thursday evening concludes a little earlier than the following nights with a DJ set from the bossman himself, Steve Goodman a.k.a. Kode9 on the Club stage, as the auditorium empties out into an ambient cave that attendees are free to wander back into to get some headspace. Goodman plays an incredibly solid and characteristic set of dub-infused bass and footwork, about which much has been written and I'm not sure if I have much to add at this point, except that it did the opposite of disappoint. It's a big moment to see someone who has perhaps done more than anyone to influence and sustain this subsection of the UK's underground scene, both in theory and in practice, doing the same in this corner of Eastern Europe. Clearly, those early dubstep DJs saw potential in Prague's vibrant energy, and together with its local people have managed to traverse and connect both sonic and geographical territory in order to create new dancefloors.
I confess that Friday and Saturday became something of a blur. There is a longstanding synonymity between the hidden and the sacred, especially in ritual, and this is one reason why the clandestine space of the club is often compared to a religious festival. If we think about this not just in terms of space but time, many of our deepest moments are ones that we do not have the capacity to fully remember—in fact, they are afforded on the premise that one will forget. Michel Foucault, the philosopher who frequented BDSM clubs, dropped acid in the southern California desert and wrote in order to "have no face," himself spoke of the importance of anonymity during his nighttime encounters: "You meet men [in the clubs] who are to you as you are to them: nothing but a body with which combinations and productions of pleasure are possible. You cease to be imprisoned in your own face, in your own past, in your own identity." While Lunchmeat may still have been a little more controlled than this quote might suggest, it certainly transfigured everyday life into something unrecognisable.
By Friday, the anticipation with which the week has been building comes to a head in a chaotic explosion of experimental electronics, post-club, and hard techno. It's hard to fully encapsulate the energy with which the festival transformed the gallery—that bourgeois "white cube"—into a truly liminal and underground space, particularly in the form of a written review (e.g. this might be more appropriate). Despite the impressive array of government grants (including from the Ministry of Culture) and brand partnerships that Lunchmeat manages to secure, it is a testament to the power of light and sound, as well as the creative vitality of Prague's local talent, that this was even made possible. The Prague-based Ursula Sereghy began the night's events with a live show foregrounding her playful and utterly genius synth free jazz musique concrète, fabricating unheard of sounds that transport the listener into an utterly incomprehensible mental realm.
Next up was Fraction's new media art project "Ritual For A Dying Planet", which immerses the audience in a distorted amplified signal in sync with dark psychedelic visuals. This was followed by a collboration between leading Slovak experimental musician Stroon's and graphic designer DevKid, the formal church music project "Temple Timbre Embers", which brings together the magnificence and grandeur of organ music with the heady rising synths of club music. Oscar Mulero & Javier Bejarano's "Monochrome" then provides a moment of respite from the intensity, as their minimal IDM downtempo aligns beautifully with hazy monochromatic film projections. GTA Soundsystem, a collaborative project between David Herzig, Oliver Torr and Aid Kid, begins to reaccelerate the tempo of the evening with atmospheric visuals by Marek Silpoch, before culminating in the final audiovisual performance of the evening, "Hypersynchronous"—a sublime mix of live-generated visuals, sub-bass and post-apocalyptic sci-fi atmospherics.
Friday night concluded with the queen of darkness herself, Helena Hauff, who stepped up to the decks of the auditorium to deliver a set of her signature slamming, big room 4×4 techno, followed up by a heavy and eclectic b2b between Lunchmeat co-curator Kredenc and Yadel, who together form iodance. It is fantastic to see organisers DJ in such a space, contrary to larger, more commercial event which can seem thoughtlessly profit-oriented in their curation, and this can be reflected in the shallowness of the festival experience itself. By contrast, every aspect of Lunchmeat's set up feels carefully crafted by design, which allows for the crowd to relax and become fully immersed in the experience. By this point, the audience has fully let go of their inhibitions and energy is pulsating through every molecule in the room.
There comes a point during any festival after a few sleepless nights when one's body passes through a state of shock into a loose, quietly meditative relaxation, and here was no different. The crowd became noticeably more open and receptive, as people for a moment began to let go of their rigid identities and performed roles. The undeniably beautiful environs of Prague lends itself naturally to this feeling of dreamlike transformation, and as the sun rises, ears ringing from the night before, I begin to reflect on the city which birthed Kafka, who was known to laugh uncontrollably when reading his unbearably depressing writings aloud to friends. Similarly, after some long nights, one doesn't always know whether to laugh or cry.
It is now the final day, and the Czech-born coldwave crooner Never Sol, takes the stage by unleashing her classically trained voice onto the crowd, calling towards us over her vintage synthesisers to summon the Gothic pop aura of the 70s/80s, back from the dead. Against the backdrop of the experimental noise and relentless techno that preceded it, melody hits different. But this simple pleasure is short lived, as it is succeeded by the challenging and nightmarish performance piece "Corpus Nil"—a "duet" between a half-naked human body and a signal-generating machine, connected through biophysical sensors on the performer's limbs which produce an unstable feedback loop. This is artist and scholar Marco Donnarumma, whose work explores ritual, power and technology through the medium of the body. While much of the week has been spent dreaming of becoming one with the machine (perfect, in a way) through dance, this performance brings the audience back to the uncomfortable reality of our corporeality, that decomposing flesh and blood which is fundamentally incompatible with technology's operating system, and I see a number of people leave the room, disturbed.
As the audience begins to recover from this shock to the senses, the Norwegian minimal wave duo Soft as Snow come through, wiring shock into adrenaline. Their discordant, gut-wrenching set is accompanied by visuals from Guynoid, a net-based multidisciplinary artist whose experimental, fantasy-inspired 3D models fill the screen. The atmosphere is relentless, but there a perverse enjoyment in pushing the mind and body to its limit in this way.
The futurist folk temptress Lyra Pramuk is here now to hold us in her spiritual ambience. Her almost wordless layered vocal harmonies, like transness dissolving the boundary between nature and artificiality, evoke the sense of being in a forest. The fantasy theme seamlessly flows on from Guynoid's visuals.
The Copenhagen-based Lyra Valenza (a massive hot tip for fans of Lee Gamble), accompanied by visuals by Signe Dige, crank up the energy on the Club stage, shooting us straight into the heart of their pulsating, high-velocity and futuristic sonic architecture—drawing elements from jungle, footwork, hardcore and more to manifest an accelerated spacetime. The sense of a shifting time affected by music within the space is noticeable, as we face the reawakened post-COVID future of the club.
The final audiovisual performance of the day, and of the festival, is a set from the Canadian born, Berlin-based Aquarian, whose cold, hard, and intricate beats seamlessly bring sounds together from Detroit electro, old school jungle, and UK grime, creating a mutated, hypercontemporary and transnational rave experience. The founder of the festival himself, Jakub Pešek, synchronises lasers with projections in a stunning world debut from the duo. It's hard to think of a more appropriate ending to the festival, which turned this dark underground theatre into a cinematic apolalyse which burst out of the screen.
Our eyes and ears expanded by the full range of frequencies which we have been subjected to, we are now returned to earth by Hessle Audio's own Pearson Sound, with his hallmark British club sound. The crowd enjoys their last dance to the funky bass grooves and body rhythms, enoying some simple pleasure, before the night closes with an hour of eclectic, high speed bass insanity from underground legend Opium Hum, as the infinitely recurring live video of the room is projected onto the screen behind.
Lunchmeat should be considered an immersive audiovisual festival as opposed to a strictly musical affair per se. If you're in Prague on a lads-on-tour holiday simply looking to get fucked up, you might be better off heading to Duplex. While we at Threads do not necessarily condone sobriety, Lunchmeat is evidently a place where a new generation of ravers from diverse backgrounds have the chance to connect with the more thoughtful, contemplative side of the culture. There's no reason why the dancefloor should not be a place to think and feel deeply, as well as to dance. For all the cynicism that surrounds "clubbing", we should be grateful that spaces like this continue to exist. The only other festival we can think of which regularly combines cutting-edge sounds and visuals with intellectual rigour in this way is the yearly CTM Festival in Berlin. It is vital that we continue to attend and maintain these spaces, even in a period of global unrest, if for no other reason than to try and figure out what it is that we are fighting to survive for.
I will conclude by restating that Lunchmeat is a diamond in the rough of Europe's festival circuit, one that is still finding its audience. In many ways, it serves as an introduction to the wide variety that Prague has to offer in terms of underground experimental music by focusing on points of intersection with more institutionally recognised arts and culture. While many of the big DJs remained familiarly distant, what will stick with me is the kindness of the people that I met, many of whose music and projects are worth keeping an eye on—to name a few: Freddie Hudson (Inverted Audio), Mary (Mor Wen) and Linh (Xynnh) of Glory Affairs, Iggy (ionai), New Magic Media, Joanna Taurogińska, Krystof Rezler (Psina Kollektiv), Alex (MrSitUrSelfDown), Arnii (ONYX, Fuchs2, Radio Punctum), Sonya the Moon, and Boris. Thank you! I remain deeply inspired by what I experienced in Prague, and I implore the reader to make the trip themselves and to expect the unexpected—you may, like myself, end up staying far longer than you had bargained for.
Many thanks to the entirety of the Lunchmeat team for their exceptional organisation and generosity—without which I would have been unable to justify the trip to my family and colleagues. The entire experience affected me deeply, and it is my hope that this piece will do something to further strengthen ties between Prague and London's underground culture.
Alex Honey is a writer and content producer based in Woolwich Arsenal, London. He is the host of Consciousness Raising on Threads and has DJed under various aliases. Her undergraduate dissertation focused on the emergence of early electronic music in postwar Japan, Europe, and the United States.
---
Back to home.