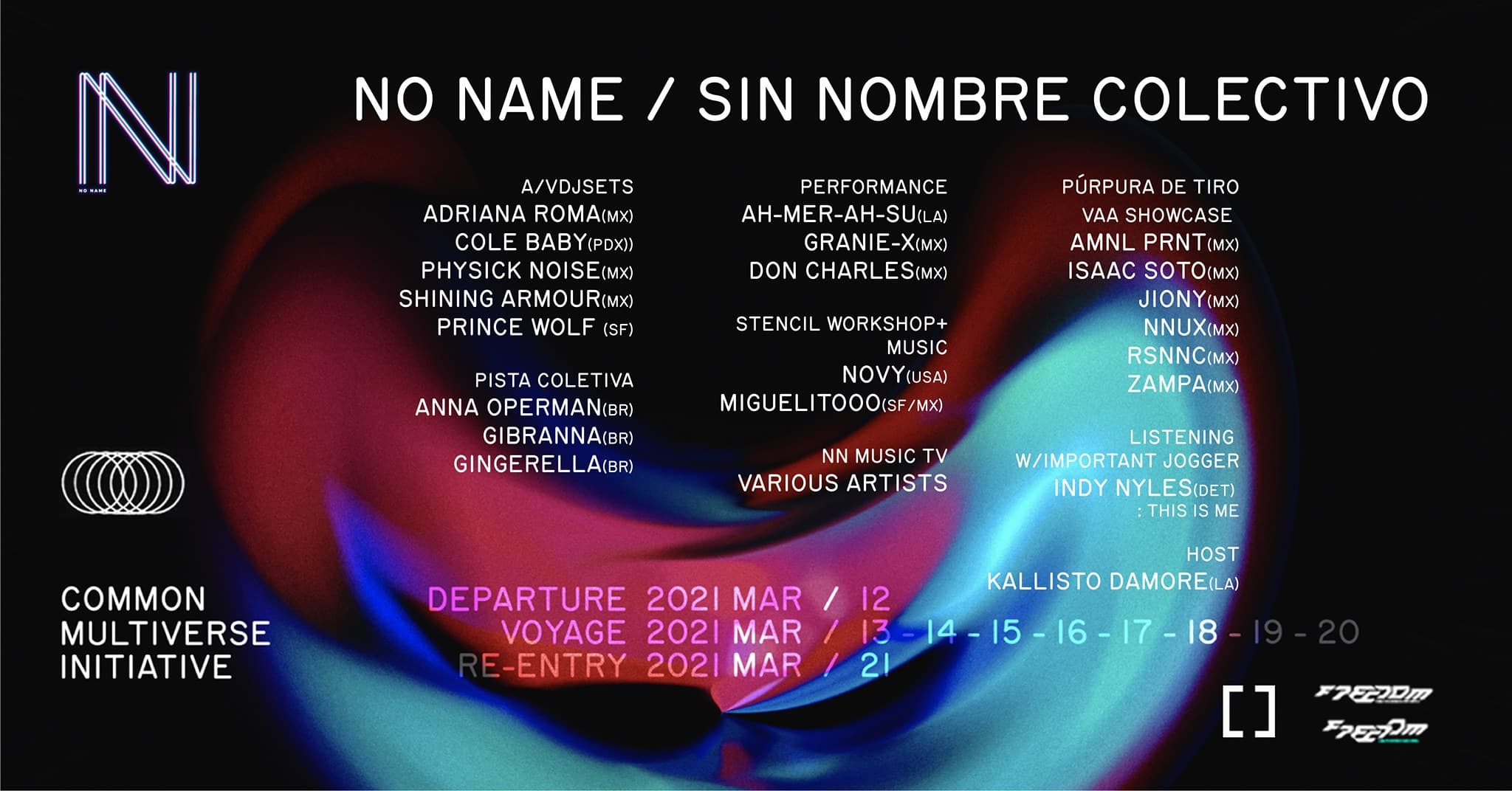 No Name / Sin Nombre Colectivo: COMMON MULTIVERSE Preview
We caught up with four key members of No Name / Sin Nombre Colectivo—SD-born/SF-based DJ Miguelitooo, SF-born/LA-based rapper and drag performer Kallista D'Amore; Brazil's Pista Coletiva, and Mexico's Granie-X—to talk about the collective and their upcoming 6-day arts extravaganza broadcasting starting Sunday, March 14 on COMMON MULTIVERSE INITIATIVE.
Tell us about your relationship to music: creative process, influences, and how you want people to feel when they listen to it!

Miguelitooo: My creative process can be pretty hectic when it comes to audio or visuals. I tend to keep trying to add new tracks or visuals and ideas as I go even after I've decided on a set list. It can become quite stressful but it's always a learning experience and a lot of fun when you really get down to it and you're not on crunch time for the next gig.

As for influences, I'm a little stumped. I really have a love and admiration for so many different performers, artists, and genres but since I have to pick… I'll go with genres and say punk and most of its subgenres + ALL THE DISCO.

When they listen, I want people to be captivated in its entirety. My visuals and audio mixes always go hand-in-hand and are meant to give you an experience, make you feel as if you are there in the video and a part of the musical journey.

Kallisto D'Amore: I want people to be able to express themselves more openly and be inspired by my music. My work is really influenced by drag, pop culture, hip hop, 90's R&B, and specifically artists like Aaliyah, TLC , Missy Elliot etc. My music is very freaky, weird, queer, out spoken, witchy and ghetto fabulous. I'm a very off-the-grid kind of artist. I want people to be able to express their inner freak and not be afraid to shake that ass!

Pista Coletiva: Our collective, Pista Coletiva, was formed in 2017, composed by LGBT artists from the vibrant underground scene of São Paulo, Brasil. Currently we have four resident DJs: Ana Flávia, Elsi, Gibranna e Gingerella. In their sets, these artists, who represent different generations and areas of Brazil, transit between subgenres such as acid, breakbeats, house, electro and synths.

In 2018, we created the label PΣGΔDΔ r e c o r d s, that promotes independent production from Latinamerican artists. Besides launching sets, mixtapes and radio shows, PΣGΔDΔ released 2 EPs and a single.

Granie-X: We work in layers, each component of Granie-X defines a layer of sound, when combined, the works are created. We want them to be captivated by each layer, letting their mind elaborate multiple landscapes, using the deepest processes of their brain, where logic has a quantum dimension and even beyond. We're influenced by Flume, Portishead, Massive Attack among others.

How has the pandemic changed the way you make music and operate as a DJ?

M: I started a series on my soundcloud called "The Quarantine Mixtapes" when all of this began. It was more of a way for me to process the new isolation by revisiting music I hadn't had time to listen to for quite some time. It was really calming to be able to be with myself and my music, a coping mechanism if you will. Eventually every mix had its own tale which I began telling through A/V sets with collage like visuals.

KD: When the pandemic hit I couldn't go out and perform or network in person with fans, producers and other collaborators. It forced me to reach out remotely. I also had to learn tools and ways to be more self-reliant. I became more inspired creatively and really focused on my craft. The pandemic helped me channel my inner self and reflect on what I'm doing and where I'm going in life.

PC: The collective had to stop producing events in the city. The last one happened at the carnival of 2020 – a memorable party produced in partnership with 3 collectives from Brazil and one from Berlin, held in a warehouse in the historic center of São Paulo. Since then, two of our residents had to move out of the city (Elsi went to Salgueiro, in the state of Pernambuco, and Ana Flávia went to Turkey).

The collective members, both DJs, visual artists and performers, remain in touch, virtually or in intimate meetings, looking for new ways to produce audiovisual immersions. We held an online edition of the party and participated in several projects, such as Toca Radio and Salva Rave. PΣGΔDΔ invited LGBT latinamerican artists for a series of mixtapes, as a way of sharing their productions during the isolation.

G-X: it has made us explore other methods of survival, with different works that are not necessarily music, although at the end of each human process, every movement in existence can be faithfully translated into artistic expression. Granie-X has a fusion of sounds and techniques, if we use an orthodox definition of DJ maybe not, of course in this attempt to diversify our expressions we have even coupled ourselves to using DJ techniques.
Tell us about your upcoming set at the No Name / Sin Nombre Colectivo room at COMMON!

M: Most of my work this time around has been on the back end with all of the organizing and production of the 6 day broadcast on behalf of No Name / Sin Nombre Colectivo.

However, I did make the mix that's playing in the background during the Jeremy Novy stencil workshop. He sent me a message sometime during the beginning of the pandemic and had asked me to do something he could stencil to. It turned out to be a pretty fun set because it starts sort of slow and gets to that level where it's not bumping but gets you movin' and a groovin'

KD: I'm hosting the fabulous art showcase at the No Name / Sin Nombre Room at COMMON with many amazing artists of all sorts of mediums from around the world. My music video called "Thats Money" is one of the pieces being featured. I'm looking forward to this opportunity to converse with and support fellow artists from all backgrounds.

PC: We will present a set by resident DJ Gibranna, accompanied by a video produced by the collective. It features a performance by the legendary underground diva
Anna Operman, with visuals by Gingerella. It was filmed in March 2021 by Guilherme Sacon, with Paula Pretel and Franco Franklin (from Amy Vainohouse collective) as production assistants. Our proposal is to create an immersion in the collective's aesthetic and affective experiments in this pandemic period.

G-X: Our set contains 3 songs which are available in our Bandcamp, YouTube, and EP and an unreleased track/song that will be part of the same EP as the ending for Brain Diseases Pt.I. We hope you can enjoy it as much as we do and allow listeners to form landscapes and feed themselves creatively. Granie-X wishes you a great experience where the multiple possibilities make you connect with your nature, spirit and faith.
RSVP for COMMON MULTIVERSE INITIATIVE here. Catch No Name / Sin Nombre Colectivo starting Sunday, March 14 until Friday, March 19!
---
Back to home.