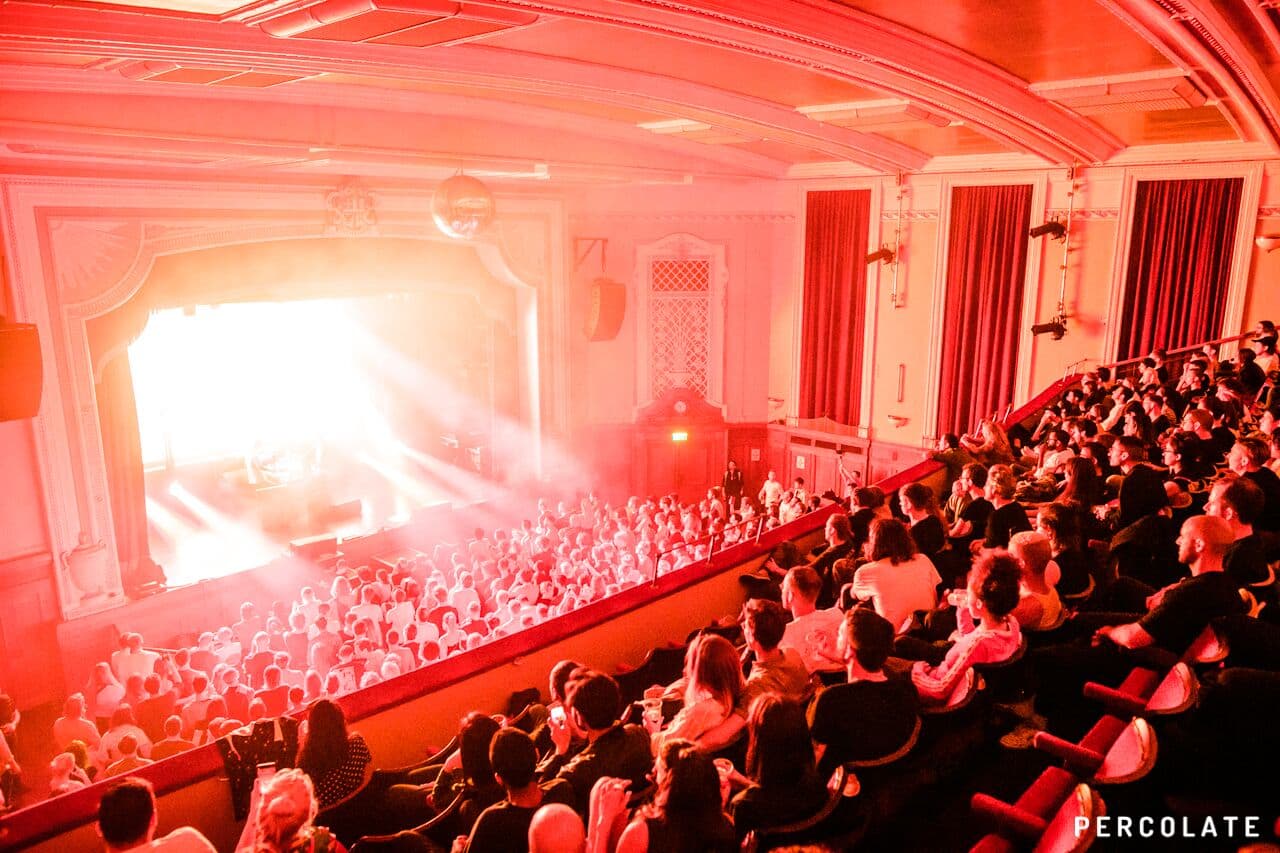 Objekt x Ezra Miller (Review)
(Image courtesy of Percolate)
Thursday 12th September marked the fifth outing of Objekt and Ezra Miller's live audio-visual performance. Over the past decade, Objekt has made a name for himself as one of house and techno's most dynamic DJs and producers. His counterpart, Ezra Miller is a renowned generative artist, web developer and programmer whose work seeks to reflect life in and outside of the internet all the while, challenging the way we interact with the idea of the 'limitless feed'. Respectively, the two are masters of their fields but together, something fell flat.
Going into this I was excited, and the buzz amongst the sold-out Islington Assembly Hall reflected my feelings. Warm-up sets included Make Me's Kit Seymour and a live performance from Optimo Music's Lia Mice, who adorned the stage with 2 accomplices in silver sequinned spandex jumpsuits. Questionable fashion choices aside, they performed a solid warm-up and set the tone for a night of 4 to the floor dancing within the live performance sphere. Mice's set presented a nice balance of technology and club culture, in short it was enough to get the partiers dancing, and the chin strokers discussing.
After a clumpy switch over and a string of technical difficulties, Objekt x Ezra Miller began. Technically the set was overwhelmingly complex. Both artists stood opposite each other in front of a table full of their respective equipment. I won't present this subjective review from an angle of understanding the complex elements of their set up or how I would have done this better because I can't. What I can do is to offer an opinion of how it felt to be in the audience that night.
The best electronic live sets and live AV sets I've seen take the audience on a journey – through sound, visuals, storytelling, they create an ambiance that presents the story in a euphoric manner. Demdike Stare and visual artist Michael England's performance in March 2019 comes to mind as it held a narrative from start to end, incorporating references around pop culture, politics and other issues in the public sphere such as LGBTQ+ rights. It evoked harrowing feelings and left the audience emotionally challenged. Without comparing artists work, that feels like a good example of how to do a live AV pairing in a thoughtful manner.
(Image courtesy of Percolate)
What I witnessed was a series of songs produced live by Objekt which were given to Miller with a brief to simply create an accompanying visual. Which individually in itself, is no mean feat but my main take away, was a desire for some continuity. Things felt choppy and although between each piece there was a transition of sorts – mainly through the visuals – they felt more like a distraction from the sound than an accompanying partner. Notable visual moments included an attempt at an A.I.-esque moment though the guise of a talking centipede. A brazen attempt to stay up to date with current technology buzz topics. This move alone seems below the thoughtful calibre of Miller's previous work.
The musical element was always going to be solid, Objekt is a profoundly adept producer after all. Trampling through songs from his Cocoon Crush full length, such as 35 and Rest Yr Troubles Over Me left the visuals feeling like an afterthought. Miller's aesthetic focused on hyperreality, often garish visuals relating somewhat to the unnerving sounds produced by Objekt. It is worth noting however, that the best moments were the transitions between tracks, the serene visuals paired with ambient like soundscapes felt like they belonged together more so than the main body of the show.
My main takeaway was that the foundations for something special are there. Perhaps the duo weren't the best pairing – stylistically and practically. It felt rushed and messy. The last 30 minutes of the show ramped up the tempo, and the crowd began dancing more – perhaps an attempt to leave a buzzing impression? Nevertheless, it worked. Crowds left gleeful and content. Who knows, perhaps I'm more of a wet blanket than I thought – maybe more so than the chin strokers.
Author:
Ned Dillon contributes editorial at Threads Radio and Hard Life magazine. By day he is a tech-start up operations worker, by night north London promoter. Founder of Meeting Points parties he has helped to shine a spotlight on some of London's best emerging talent and old-school luminaries. As part of the World Unknown team, he has helped to relocate the legendary party to its new north London haunt, as well as guiding their series of 10th anniversary parties and festival stage take-overs. Instagram @neddillon
---
Back to home.