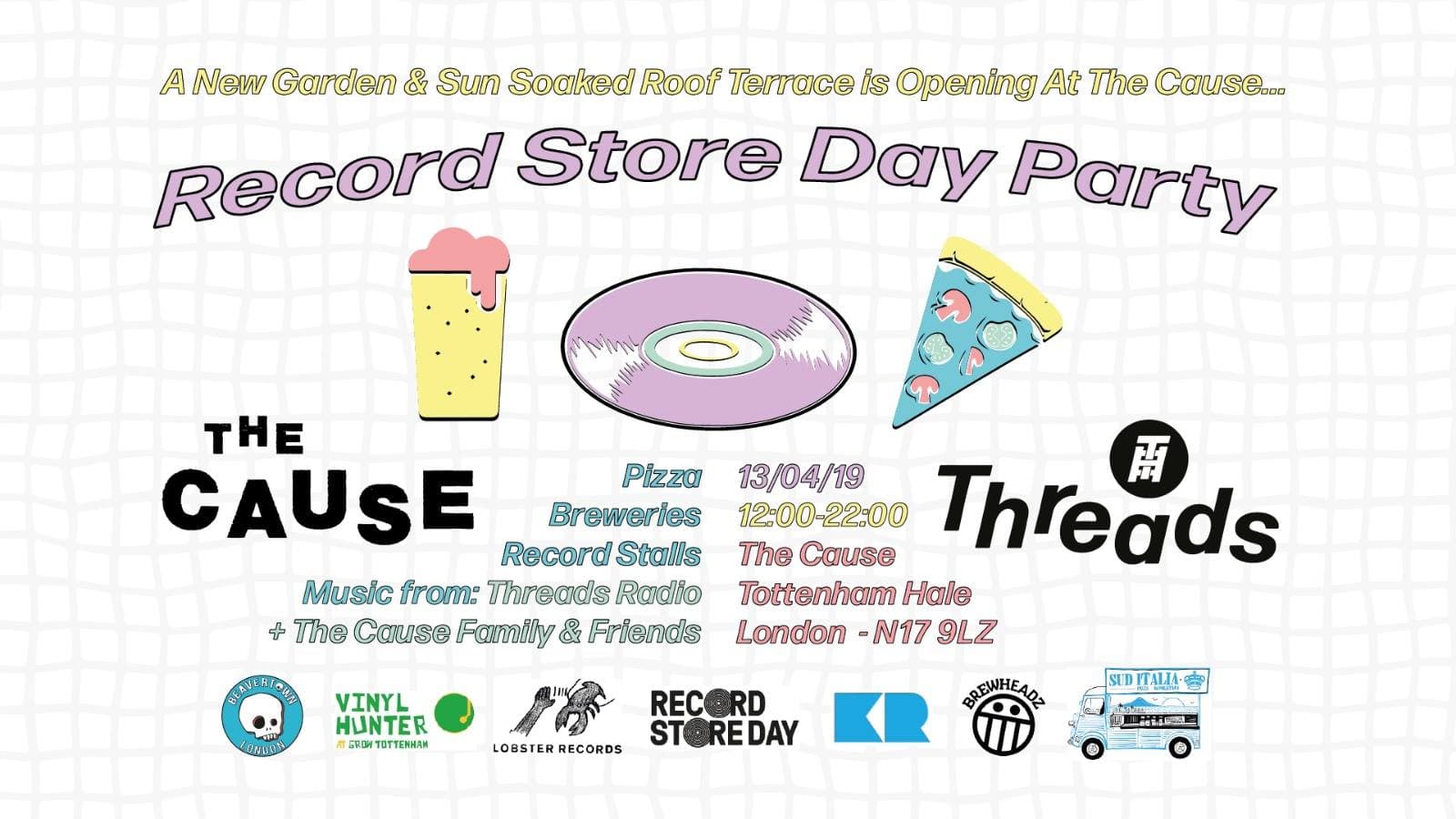 Record Store Day at The Cause (13/04/19)
Summer is well and truly on the way, and The Cause and Threads Radio are teaming up to bring you the first event in our summer series, kicking things off proper on Record Store Day.
– FREE ENTRY ALL DAY LONG
– £3 beers until 4PM
Credit to Benjamin Abraham on the artwork.
The Cause & Threads have lined up an array of crate diggers, DJs and record shops for the event. Stalls from in-house Kristina Records and Grow Tottenham's Vinyl Hunter, Lobster Records, Yellow Machines & Modified Magic, Ceri / Find Your Own Records, Definition, Seven Sisters' own Zen Records, and many more.
Pizza extraordinaire Sud Italia will be providing delicious Neapolitan pizza all day long, in our new sun trap garden, complimented by beers from local Tottenham breweries Beavertown and Brewheadz.
—–
DJs from Threads Radio and The Cause's friends and family playing on the day:
– DEFINITION
– Unknown Artists
– Enclave Records
– JDS
– Elliott & Ornography (Threads)
https://soundcloud.com/elenlemenson/199-radio-walk-crew-tomboy-ornography-002
– Felix Raman (Brief Encounters/Threads)
https://soundcloud.com/felixstock-1
– Inhale Exhale (Threads/Unbound Events)
https://soundcloud.com/loose-lips123/loose-lips-show-threads-w-joel-kane-unbound-events-280119
– Kenny Mulligan
https://soundcloud.com/kennnygan
– Massive Dance Hits (Threads)
https://soundcloud.com/199radio/081017-massive-dance-hits
– Montana Cruz
https://soundcloud.com/montana-cruz
– Perfect History DJs (Threads)
https://soundcloud.com/199radio/230118-perfect-history?in=199radio/sets/perfect-history
– Rico Casazza
https://soundcloud.com/ricocasazza
—–
If that weren't enough, new party The Model then takes over the club from 10PM with Danny Daze, Serge, Privacy, Darwin and many more. Limited tickets available on the door or grab one below:
Event
https://www.facebook.com/events/1616513238494294/
Tickets
https://www.residentadvisor.net/events/1226249
—–
---
Back to home.