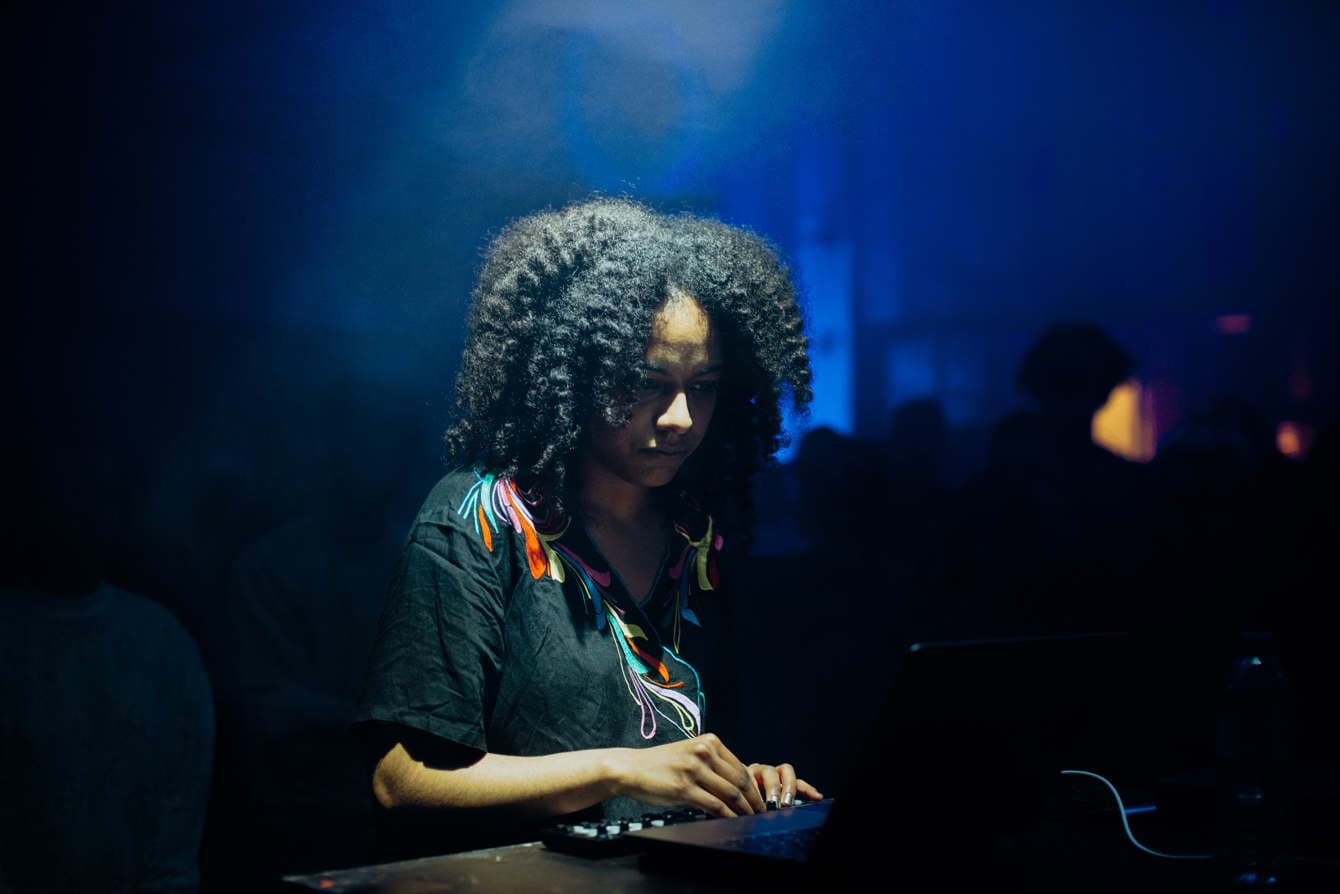 Recorded Research: Jessica Ekomane
Jessica Ekomane's work is everywhere at the moment and it feels great to see an artist recognised for their focus and originality. We invited Jessica to make a mix for our new series Recorded Research, in which musicians create mixes around themes that inform their practice. In her contribution Jessica maps one of her obsessions; the point where rhythm meets melody and the two begin to shift and blur.
A French-born, Berlin-based electronic musician and sound artist, Jessica creates music that uses simple patterns, layered independently from each other so that they slide in and out of phase, creating constantly changing polyrhythms and ever-evolving melodies that affect a kind of seductive disorientation. Often played in four channels so that they surround and envelop the body, her works are grounded in research into psychoacoustics and gestalt theory.
Since the start of the year she's contributed a sound work to Natascha Süder Happelmann's installation at Germany's pavilion at the Venice Biennale, premiered a new commission for radio via the Untrain the Earseries a collaboration between SAVVY Contemporary, Deutschlandfunk Kultur and CTM and collaborated with percussionist Andrea Belfi at the Letra / Tone Festival. Later in 2019 she'll release her first album on Important Records joining the ranks of legends like Eliane Radigue and Alvin Lucier.
She also has her own radio show on Cashmere Radio called Open Sources that focuses on archives and for the last year she's been delving into the early American folk recordings of Alan Lomax, with occasional deviations into Indonesian music and the music that was sent into space on the Voyager probe.
We hope you enjoy Threads*ZK/U Berlin's Recorded Research No.2 and if you like this type of intensely focussed approach to radio make sure you check out Recorded Research No.1 with Konrad Sprenger.
Jessica's track listing and extensive notes are below.
PLAYLIST
Bernard Parmegiani – Hors Phase 1977
Two impulses are slowly phasing which in return makes our perception of the rhythm shift. You find the same principle in Mika Vainio's "Twin Bleeps" for instance (released under the name Ø in 1994).
Jessica Ekomane – Figures/Ground part. I
A commission for the Untrain the Earseries a collaboration between SAVVY Contemporary, Deutschlandfunk Kultur and CTM.
Suzanne Ciani – Concert At WBAI Free Music Store
"Spatial control was always part of the Buchla, so from the beginning we worked in both quadraphonic space and imaginary space. You could create big, small, close, far away, all that, as part of the music. It's different from a lot of spatial manipulations nowadays, where it's mapped onto the music in post-production. The Buchla actually generates spatial characteristics, so it's rhythmically in sync with the music. I use different kinds of space for different kinds of things, instinctively–sometimes it's a continuous space, sometimes it's a discrete space, jumping around in a different rhythm. And it's alive. Without the space there's nothing, because the output of this type of machine is essentially monophonic. Stereo was fabricated to spread things out over a span; it wasn't meant to move sound. Quadraphonic in electronic language is meant to be a parameter, like pitch and volume and rhythm, so it's really part of the music. […] It's all about the motion. I always say that, with the Buchla, it's not about the sound, but the way the sound moves. And Don knew that. We weren't trying to imitate a sound or make an amazing sound and then play it on a keyboard. The sound was a byproduct of the way it could move. So you have voltage control, with which you could move the sound quickly, slowly, whatever, and the sound changes with the movement."
https://www.listentothis.info/2018/08/interview-suzanne-ciani/
Emahoy Tsegué-Maryam Guébrou – The Homeless Wanderer
This somehow sounds to me like a more obviously melodic version of Ligeti's "Touches Bloquées"
George Ligeti – L'escalier du Diable (The Devil's Stairs)
The best version of Ligeti's studies, are for me, those by Pierre-Laurent Aimard. Each of the pieces of this work has a different concept and narrative, and Ligeti really inspired me in term of complex rhythmical structures and intricate melodic lines. As the name suggests, this one belongs to the most mind-bending of his pieces.
Maryanne Amacher – Head Rhythm 1 and Plaything 2
Maryanne Amacher's work with psychoacoustics is rather underestimated in my opinion. Here are two favourite of my pieces.
Hecker – Lulliski sim con
"Sun Pandämonium" is an impressive album I discovered really late. In this track I think it's fair to say there's almost nothing you can relate to in term of the usual musical parameters.
Sensate Focus – Y
I love Mark Fell's solo work with irregular rhythms especially when he takes some of those experimentations to the dance floor. Here in collaboration with Vladislav Delay.
Jessica Ekomane – Common Fate (Jesse-Osborne Lanthier Rework)
Track produced for Berlin Community Radio's incubator program, reworked by French Canadian producer Jesse-Osborne Lanthier
---
Back to home.