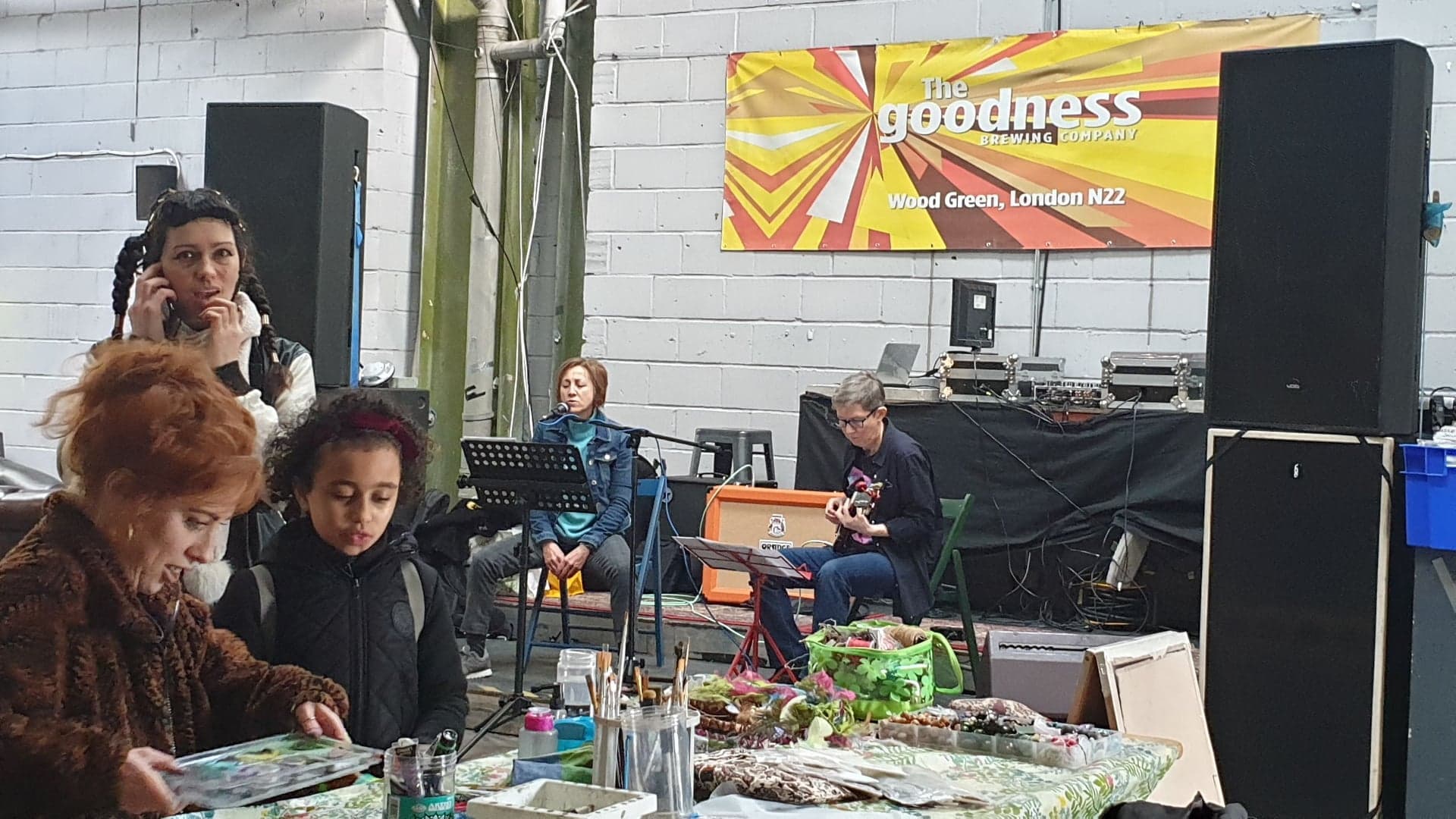 NEWS: Reflecting on the '#WeLoveWoodGreen 1st Airwaves Anniversary' Show
An enlightening journey through North London's creative communities
by Niamh O'Connor
As we near the end of 2021, we're combing through the archives and digging out some of the most memorable shows on Threads Radio. One segment that stood out, in particular, was the '#WeLoveWoodGreen 1st Airwaves Anniversary' and to get a sense of what the show entailed, we've reflected on the hour-long broadcast, which initially dropped on 8th February 2021.
But first, what is 'We Love' all about? In their own words, they embody 'Super times, Sustainable laughter, Satisfied people, for the people, by the people, with the people — we love'. After listening to the collective's debut show, the description couldn't be more apt.
Based in The Goodness Brew Co. in Woodgreen, WeLove is a community resource platform managed by the applied theatre facilitator Hannah Raggamama and sound developer Elijah Light. Combining their skills in project managing and audio producing, the pair's collaboration on the 'WeLove: WoodGreen 1st Anniversary – Airwaves Edition w/ Hannah Raggamama' aimed to shed light on creative practices based in Wood Green.
To mark the first 1st Airwaves Anniversary, Hannah curated a series of captivating interviews with multi-disciplined artists working within the N1 postcode. The concept of the show was to offer a tour of The Goodness Brew Co., alongside interviews with creatives who have cultivated the art culture in Wood Green, and to hear their solutions to Covid-19-driven-problems that have impacted the community.
The show was broken into four segments, and Hannah takes to the task like a hop to a masher (brewery lingo, FYI). Her affable manner and smooth delivery are engrossing, not to mention a few one-liners peppered throughout the programme. 'Welcome to the WeLove: Woodgreen Airwaves Anniversary tour', she enthuses into the mic. 'This episode aims to take you on a floaty whirlwind journey across interviews with the goodness brewery crewery — sorry man, I just love wordplay'.
While covering topics ranging from mental health, austerity, and a lacklustre government in the UK, Hannah asked each interviewee the same question at the end of each segment: 'What would your ideal outcome be for creative arts organisations?' The question acted as a tool to maintain structure and add to the compelling nature of the show.
First up is the floor manager of The Goodness Brew Co., Alex Evans, who states the vision of The Goodness Brew Co. It's a space to cultivate community, host live music events, provide 'good wholesome vibes' and, of course, brew beer. When Hannah asks Alex what his ideal outcome for the creative arts industry during and post-pandemic, Alex answers with clarity. 'The key is to reinvigorate the sector, as much as we can — speaking for Goodness at least — we've gotta try and get the community going again, get the music out there, get the morale up.'
For the second interview, Hannah brings us to UAL in Kings Cross after a Capoeira workshop with Leo, aka Pinguim, an Italian Capoeira Angola instructor. Capoeira is a Brazilian martial arts practice that enslaved Africans carried out in Brazil in the early 16th century. But how is Capoeira relevant to building communities today? 'We're singing, we're dancing, we're play-fighting together, so it's a very immediate way to break the ice with people you have never met before,' Leo explains. When Hannah asks his hopes for the future of creative practices like Capoeira, Leo lights up. 'Artists — get together, create a community, hire a space…like a cooperative. We rent it by the month. A collective investment where everybody chips in. A fertile environment for all artists.'
East Finchley-based street artist Ben Farleigh follows suit. Hannah asks how things have changed for him since lockdown. 'I stopped buying new materials. I started working on scraps of ply and stuff I had been hoarding for years.' Ben explains how he built a weather-proof gazebo in his garden to host workshops and maintain community spirit in line with Covid restrictions. Regarding his hopes for the future of the arts, though, Ben is pensive. 'I can't imagine things being exactly the same ever again. I'm a realist; I try not to set myself up for failure. But we need to be together again. People are so resilient.' Hannah predicts an art renaissance is on the horizon, but Ben says it's already underway; just look up #artistssupportpledge.
Wrapping up the tour, we're back at The Goodness Brew Co. with the Rap Therapists, aka Alex DeVille and Barnacle of 'A&B Rap Therapy'. Alex is a psychotherapist and bereavement counsellor, and Barnacle works as a gardener in a crematorium. Together, the pair talk about their storied spoken word experience and how rap therapy can help get out of one's head. It's the most raucous segment of show. Barnacle drops few bars, freestyle, that include the lyrics 'poetically relaxing and syntaxin' before Alex's declares Barnacle as 'the dopest mollusc'. The duo share their hopes for the arts today, and in the future. 'We want an essential space for dislocated creatives to come together and share their work and actually network with others, and find other collaborative artists so we have a burgeoning new creative industry.'
Hannah and Elijah nailed their debut broadcast. Thanks to the diverse range of artists on-air and Hannah's easy rapport with each guest, alongside Elijah's crisp audio editing, the message of WeLove was transmitted loud and clear; we need to dissolve boundaries and bolster creative communities. Without them, London would be lost.
---
Back to home.