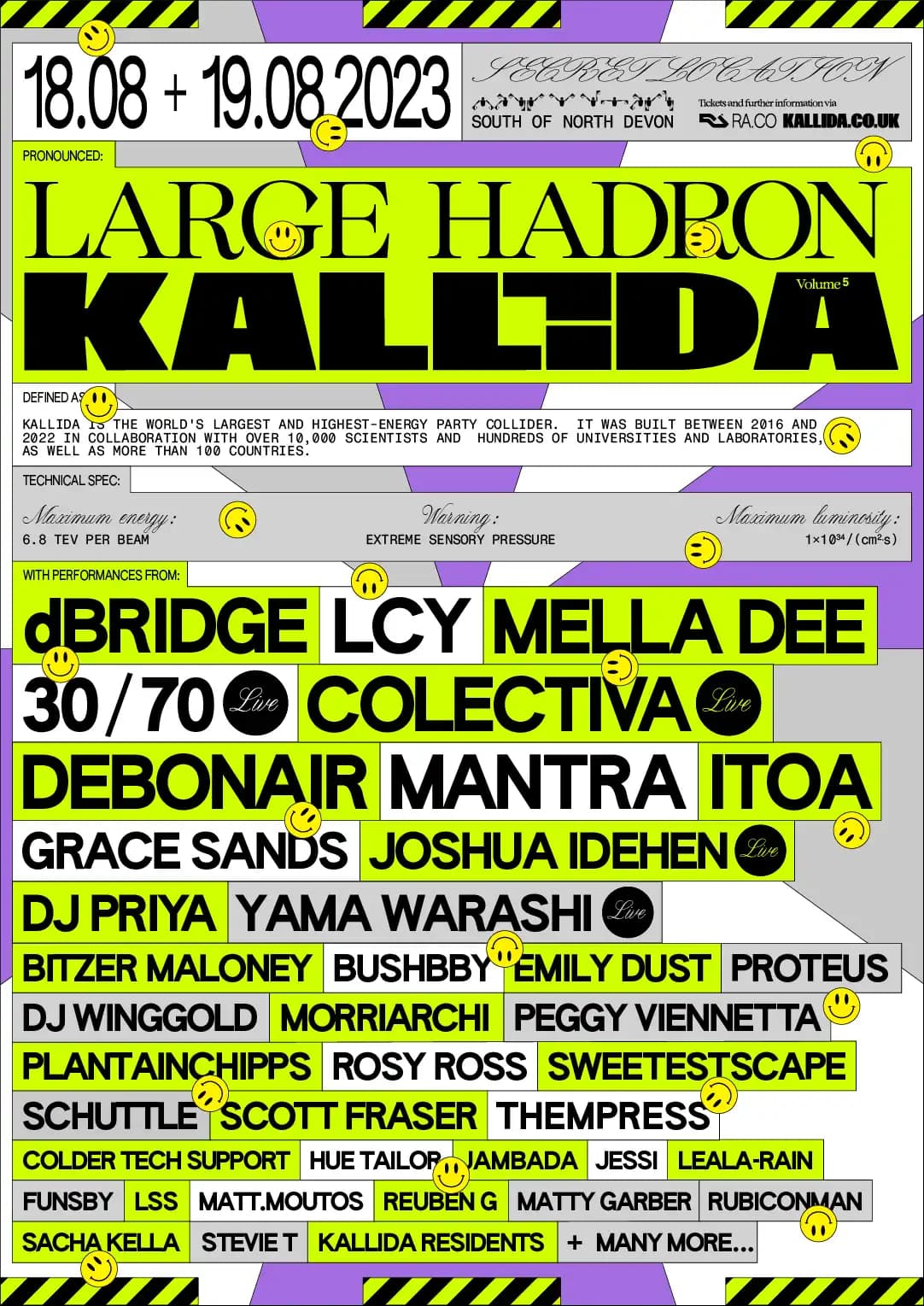 REVIEW: KALLIDA Festival
Part one of a two-part series on KALLIDA Festival, by Ben Broughton.
I think I can say with fair certainty—it's been a pretty shit summer hasn't it. So imagine my sense of vindication, when, as I awoke last Saturday morning in a field in North Devon and heard the soft-spoken voice of a recovery MC gently declaring they had fixed the weather, I felt the comforting, quite unfamiliar rays of the sun basking the countryside in its golden glory. They had only gone and done it. Amidst a desert of dismal grey, the weekend of Kallida festival was an oasis of sunny memories and good times. In the spirit of that, and to keep summer 2023 in as positive a light as possible if only for my own sanity, I offer this somewhat fragmented recount of one of the most unique and memorable festival experiences of my young hot life.
Situated on a manor farm deep in North Devon, Kallida festival feels more like a house party put on by your mate with impeccable music taste than a conventional festival. This became evident as I trudged around the site in the drizzle on the Friday afternoon, orientating myself to make sure I wouldn't lose people later. Yeah no need for that. With 4 stages (6 if you count the Walled Garden and pool) in total and a 'main stage' which could house maybe about 200 people, it took 10 minutes to cover the entire site. And this was an amazing thing, because it meant intimacy, but more importantly meant everyone who was there was there for a reason. And that reason was: really, really good dance music. And so, as the rain gradually started to dissipate on Friday evening, the creme de la creme of raving royalty gathered in a field in Devon; the Avengers Assemble, or Power Rangers, of the dance.
Friday night drew in quick. By about 8PM I was already getting down at the main stage to my favourite Missy Elliot and Modeselektor beats. I told the DJ how impeccably vibes things had been so far – he replied with a naughty little wink and said: "you aint seen nothing yet". But I'd have to wait. With only the main stage open at this time, a pal and I sank into some old bus chairs at the back of the stage. I sat there, in utter contentment, already quite waved, as the blue-note-esque tones of 30/70's sultry jazz ambience wrapped me in a soft blissful blanket whilst the fairy lights swayed in the night air. In the calm before the storm I was properly introduced to the warmth and friendliness of the festival – I met so many lovely people in that chair, and by the time 10PM rolled around and Kallida revealed its true self, I felt warm, fuzzy and fully supported in my lumbar.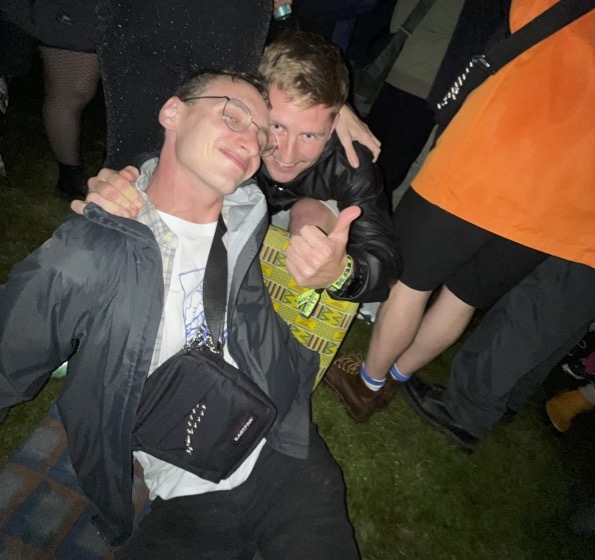 Each night at Kallida, from 10PM, 3 stages opened up—The Chapel, The Love Hotel and the aptly named Threshing Barn. As the DJ at the main stage had pointed out, I'd not seen anything yet, because these stages are where the magic of Kallida truly lies. We checked out The Chapel first—literally is what it says on the tin, an old stone chapel, 150 cap max. Sweatbox. Totally pitch black inside aside from a giant monolithic screen on the wall behind the DJs which displayed pulsating pixel totems of heavy greens, blues, reds and yellows. Things started to warm up as the DJs in there threw down some seriously heavy dancehall beats—I could feel my rave legs activating.
On to the Threshing Barn next. Look, as someone who grew up in Devon, I've seen my fair share of free parties, barn parties, all that jazz. The Threshing Barn felt like an ode to this rave heritage, a towering sound system dominating the room and a super industrial utilitarian vibe keeping everything sparse and brutal. This was juxtaposed by the Greek-style busts observing the crowd with a solid serenity enshrined on thrones of foliage. I wonder what was going through their heads as they saw the throngs of sweaty excited ravers start to fill the room.
Things went from warmsin' to total energy activation as Mella Dee hit the Threshing Barn stage, lifting the crowd up through heavier and heavier 4/4 tracks and breakbeats. You could feel the energy in the room rising, big man Mella Dee keeping the crowd in the palm of his hand, total masterful warmup control. After a quick cashew and banana break, I was back at the front as LCY stepped up. By this stage I was already pretty gone, and lost myself in the hyperactive super-collider which was LCY's set, fragments of jersey club, breakbeat, grime 2.0, footwork, bassline and garage blasting my senses. I don't think I said a single word during that entire set.
DJ Priya took to the stage next. I've not had the chance to see her play before and was super excited to see her do her thing, and she absolutely delivered. For me it summed up the whole spirit of the festival – unashamedly fun, in no way pretentious – just a kaleidoscope of ridiculous bangers and singalongs which felt like the most tasteful free party set I'd ever heard. On the way up to the festival I'd be talking to my mate about the key axiom of dance music—the axiom of bangers and non bangers. The axiom is simple—bangers live in a constant dualism with non-bangers, because for something to bang, we need to define what does not bang. The most effective DJ sets intertwine bangers and non-bangers in amazing ways to create super satisfying juxtapositions, because no one can just play bangers all night. Otherwise, are they really bangers? Well. DJ Priya certainly broke this axiom.
DJ Thempress up next delivered another absolute blinder, taking us further down the free party rabbit hole as the BPMs and silliness continued to step up—me and my mate were front and centre for the entire set, raving like absolute silly things, kids who have just woken up on Christmas.
Around 4 we headed back over to The Chapel, which was in full sweatbox mode as Sheffield bass music specialists Liquid Steel Sound checked out some of the most ridiculous baseline and garage I've heard in a long time. I got lost in the hypnotic allure of what i will only refer to now as The Screen, the constantly warping pillars of colour acting as a portal to further immerse me in Kallida.
Kallida has a mantra—a manifesto, if you will—"total sensory overload". I thought I'd already experienced this take as I stumbled back towards my tent that morning, but then I walked into Zaron Mizmeras and his synesthesia machine. Zaron had taken one of the little cubbies at the estate, and inside it he'd set up a multi-sensory, individual-use rig which, from what little I could understand in my state, was able to generate unique musical arrangements by monitoring an individual's electron activity and project visuals directly into one's retinas which simulated the phenomenon of synesthesia. Sign me right up. I honestly felt like I was Christopher Walken in that 1980s movie Brainstorm, being plugged in to some state of higher consciousness. It might have just been what I was on, but I definitely felt like I was seeing an insane montage of what can only be described as everything but in the style of 90s CGI game art. Sort of imagine a blend between that and the music video for Flying Lotus – Zodiac Shit and you'd be close. I finished up, gathered my senses, and Zaron told me my emotional state was in good nick from the readouts. Excellent. Time for sleep, I drifted off to the sound of digitally rendered crystal drum circles coming over the hills.
Saturday was, as said, glorious weather. The MC hadn't lied when he said they'd fixed the weather for us. First stop – the pool party. It hadn't even gone 3PM and Colder Tech Support were throwing out a killer set, as everywhere ravers, now fully replenished from the night before by the sun, booze and of course, bangers, danced their socks off in their swimming gear. The people watching was to die for, so many beautiful humans on display, as well as a raver in a fully inflatable dinosaur costume and three people welded into an inflatable rubber ring. My mate got a lot of compliments for her bag of grapes which she had skilfully attached to her bag for ultimate dancing mobility.
The day progressed beautifully—the sun kept shining, and everyone was in wonderful spirits. After a delicious late lunch courtesy of En Root, a grabbed a quick power nap. Three hours later I was awoken by my pal—I'd totally dozed off, and night was drawing in. Time started to speed up at this stage as I acclimatised to the flow of the festival, and before I knew it it was time to catch someone I'd been excited to see all weekend – Debonair. The Chapel was the perfect backdrop for her shapeshifting beats, and for two hours me and my mate felt utterly content with life—a lot of the time we were pretty much the only ones in there—it felt like she was spinning just for us. Lovely humans left right and centre—a particular highlight for me was a lovely dude called Benton calling me and my mate the most professional ravers he had ever seen—"somehow you always seem to be where the best vibes are and have totally transcended above the rest of the gremlins". I'll take it.
After this, we finally got round to checking out the Love Hotel. From a set design perspective, it was impeccable, with a fully light up LED dance floor, funhouse mirrors, and a queen-sized four poster bed at the back which looked like it had been lifted straight from Versailles. Jambada was on the decks and was playing some ridiculous heaters, sort of like a mix between afro-house and UK Funky, but truthfully I don't know what it was. If someone was there, happens to be reading this article, and knows what genre of music that was, please tell me, because I have been racking the Spotify playlists and depths of Soundcloud trying to find something similar.
I made my way back to the Threshing Barn to catch the rest of Mantra's jungle set, before Rob Rua stepped up to close things down. The crowd had definitely dissipated by this point—many people's energy had totally dissolved after the madness of Friday night, and what was left was a concentration of pure ravey energy. Fully embracing my professional raver identity, I donned my sunglasses and proceeded to cut shapes until the sun came up.
I wandered down to the ponds as the sun rose, and, alone with my thoughts, reflected on how beautiful the experience had been. The weekend had been nothing short of a total catharsis—any anxiety or bad feelings I'd been holding on to had been totally obliterated by the total sensory overload of Kallida. I felt totally at peace with the world.
Packing up to leave the next day, Kallida's beautiful spirit manifested itself once again—unlike literally any other festival, everyone took their stuff home with them, and again I was re-affirmed in the fact that everyone was here for a reason—to have a good time, enjoy some seriously good dance music and do it with a crowd of unbelievably lovely humans.
As I sat on my couch that afternoon, watching shit TV to numb my mind, I desperately wished a ravey Peter Pan would swoop in and take my right back The Chapel, for just one more night. But alas, I've still got 360 or so days to wait until I get to experience that immaculate atmosphere again. I'm counting down the days.
by Ben Broughton
Editor: Alex H Honey
---
Back to home.