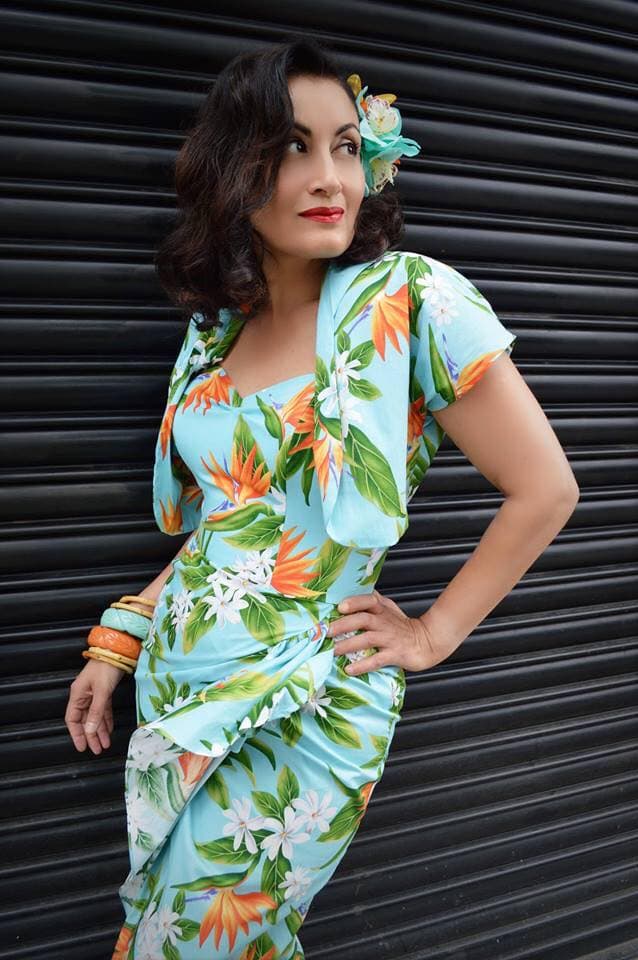 Roots Sisters Roundup (by Aisha Khan)
Roots Sisters – Contemporary Female Performers of Roots Music
Written by Aisha Khan

The Roots Sisters are a group of women that perform Roots music. Singers, songwriters, musicians and DJs, they all share a passion for the music and a desire to add something unique and new to the genre. These gals play everything from Bluegrass and Country to Rhythm & Blues and Rockabilly, with a whole lot more in between. We seek to support and promote each other in any way we can.
Leo Castro's El Ritual Nocturno radio show which broadcasts every four weeks on Tuesday nights between 6-8pm hosts a Roots Sisters half hour slot within the show, with Aisha Khan presenting the best in female Roots Music old and new. To honour International Women's Day, we are launching a blog introducing a different Roots Sister to you every month. Kicking off with the very suave:
Florence Joelle
I remember the first time I saw Florence Joelle. At the time I was new to the Rockabilly scene in London and feeling hopelessly out of place; not cool enough, or beautiful enough, or dressed sharply enough. Then I saw her, on a tube platform. She was diminutive but with a presence that belied her petite frame and with a handsome Rockabilly guy who towered above her. And she was all the things I thought I would never be, Gorgeous, Immaculately dressed and cool as fuck. On top of all that, she had a French accent, which put her into a whole different category of exotic glamour.
A few decades on and she is still all of those things and much more. She has forged a successful career as a singer, songwriter and musician. Born in Paris and soaking up a myriad of influences throughout her colourful life, her music is a unique mixture of Jazz, Gypsy, Torch songs, Folk, Blues and much more. With stunning original songs and her own inimitable version of Roots music classics and standards, she garners critical acclaim as well as audience adulation with her recorded material and live performances.
What were your earliest musical influences?
FJ: I was fed plenty of jazz at home growing up.  My dad loved Duke Ellington, Count Basie, Billie, Ella, and Django of course. I saw Jailhouse Rock on TV, and fervently saved my pocket money to buy an Elvis K-Tel album.  A school friend's teddy girl older sister introduced me to Gene Vincent, Chuck Berry, Eddie Cochran and Little Richard.  By the time I was 12, I was on the Paris rock'n'roll scene, jiving myself into a stupor, when I wasn't battling with my parents to be allowed out. I was always trawling the second hand shops and flea markets of Paris for cheap records.  Played plenty of yéyé, the French's take on early rock'n'roll, and I still love their twangy guitars and groovy arrangements. Thinking back it seems I spent most of my early teens practicing my jiving steps with my door handle, or twisting to Sylvie Vartan and the Chaussettes Noires.
How do you bring the musical past and heritage you love into the present?
FJ: Even though in my head I'm in about 1961 right now, having moved to the 1950s as a teenager, I like to write songs about what happens around me.  '29 Bus Blues' depicts an assault witnessed on a night bus, 'The 'God Of Things' was penned during the London riots and looting of 2011, and 'How Many Chickens Are You Missing Today' was a protest song for the thousands of Roma people persecuted in Europe, addressed to the presidents of too many nations.
How much bearing does your French and Gypsy heritage have on your music?
I didn't realise how strong it was until I recorded my first album.  Everything in our thoughts and soul has a blueprint we bring back in music. Even what we think we forgot.  Never knew I'd carried the memories of French chanson and storytelling, the music of the Paris streets, be it Django, North African rai, Gypsy rumba or hip hop, until I listened to the first mix of my first album.  It never leaves you.
What, if anything, do you think women bring to music that is different from a man's perspective?
FJ: One of the very many beautiful things about music is that creatively and technically it makes men and women equal.  This said, the music world is still male-dominated in many ways, and it takes courage for a woman to join it.  So the ones who do are usually very, very brave, and inspiring for others.
What musical projects are you working on at the moment?
FJ: I have been writing songs with my old friend Gary Day, the very talented bassist and multi-instrumentalist who was part of Morrissey's first solo line up, along Boz Boorer, Alain White and Spencer Cobrin.  He's an amazing composer and producer, and I can't wait for us to finally release what we've been working on.
Are you working on songs for a new album?
FJ: I keep being told a new album is well overdue.  All I can say is that I'm working on it, and it will be…  Continental and hopefully suave.
For more information on Florence Joelle: https://www.florencejoelle.com/
For more information on Roots Sisters: www.facebook.com/rootssistersrule
---
Back to home.