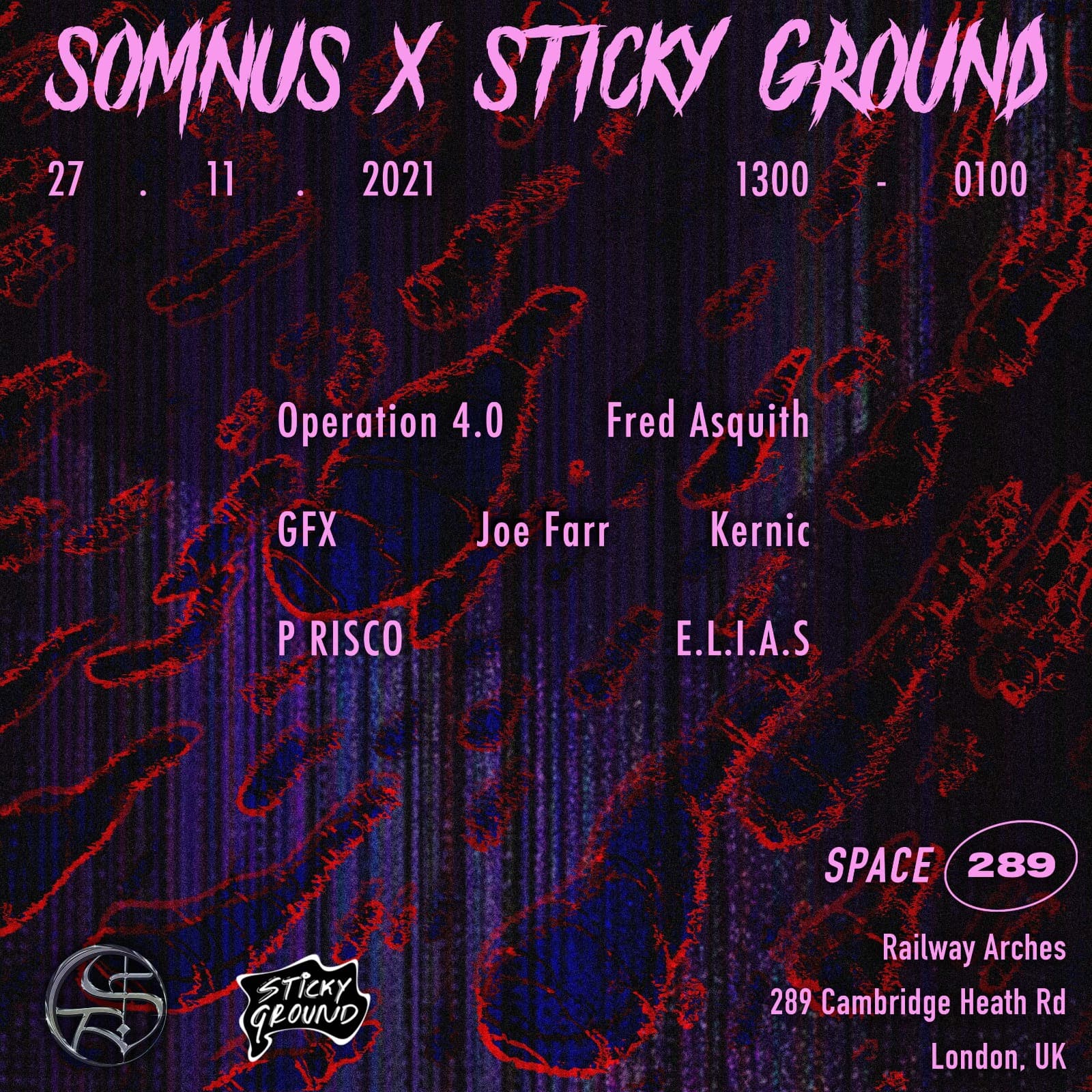 NEWS: Somnus and Sticky Ground join forces for an all day event on 27th November
In the midst of an event boom since the ease of lockdown restrictions, London-based techno label Sticky Ground and event series via radio show Somnus (run by Simone Grasso) combine their vision for an all-day event that is taking place at Space 289, the newly-run club uniting hard techno nights with electronic fringe music. Eleanor Bickers catches up with Simone, Paolo and Mattia ahead of the event this weekend.
What fueled the event collaboration between Somnus and Sticky Ground? Have you worked together previously?
SIMONE: I have been following Sticky Ground for quite a long time, and when I realised the owners Mattia and Paolo are from the same city as me (Turin, Italy) I immediately thought to get in touch and ask them to showcase their label in London at one of the Somnus parties. We were meant to do the event in June 2020, but due to obvious circumstances out of our control, we weren't able to go ahead with the plan. So yeah, we've been waiting to do this for quite a long time and it's finally happening! We actually have never worked together before, apart from a few guest mixes for radio shows and podcast series.
Can you take us through the artists on your lineup? Will there be any live performances?
ALL: The idea of the event was to involve artists who have released on Sticky Ground, as well as the Somnus residents of course. Joe Farr will play a HYBRID SET with a drum machine; apart from him, all the other artists will perform a DJ set.
The main headliner will be Joe Farr, who is a pioneer of our style of techno, having been involved in this scene for many years. Fred Asquith is a well-known London-based DJ and producer who is set to release a banging EP with Sticky Ground shortly after the event, which will include a Joe Farr remix too.
Kernic (küetzal & Sancta Sanctorum) are the owners and main producers of Sticky Ground and resident DJs at Genau (Turin, Italy). Their sets span between raw acid and electro. E.L.I.A.S is also a Turin-based DJ and producer whose music perfectly represents the Sticky Ground style and often releases new tracks and remixes on the label.
P RISCO has been involved in the London industrial techno scene for a few years and has been part of the Somnus crew since the beginning, frequently contributing to the Somnus event series with his powerful, tasteful and mental sounds. Operation 4.0 joined Somnus as a resident shortly after P RISCO and is undefined by style yet heavily influenced by the 90s. Her selections are diverse and ever adapting as she builds dance floor tension between a palette of enticing and enigmatic to fast and furious.
Heading from Geneva, GFX is the latest addition to Somnus. He provides groovy and fast techno with a touch of industrial. He's probably the most excited guy on the planet right now as this will be his London debut.
I'm sure five years of running Sticky Ground and three years of running Somnus has flown by. What have been your favourite moments running the event series?
SIMONE: It has been lots of fun so far even though we didn't have the chance to throw any parties during the last year and a half. My favourite moment was when ØTTA and P RISCO played a b2b set at The Castle for our fourth event; the venue was really packed and the guys just smashed it.
PAOLO AND MATTIA: We did many Sticky Ground showcases for Jaded Afterhours at Corsica Studio in London between 2015 and 2018 and for Genau in Turin, but we can't really tell what our favourite moment was, as all of them were so much fun and always had something different from the others.
In your opinion, what are the most important aspects of putting on a good techno night?
ALL: The most important thing for us is creating a good vibe with a nice and loud sound system and banging music. Of course the lineup is important too.
Are there any releases on the horizon for Sticky Ground that we should be getting excited for?
PAOLO AND MATTIA: Sure thing. After the Fred Asquith EP which will be out shortly after the event, we'll be releasing an EP by Another Alias with a remix by Jerome Hill. Then we will release Vlayisin's first album within the first half of 2022, followed by the Sancta Sanctorum vinyl.
Do you have any event collaborations planned for the future? What's next for Somnus and Sticky Ground?
ALL: At the moment we just want to enjoy the event on the 27th of November and be focused to make sure everyone has a great time – the DJs, the crowd and us. We will likely plan another event together possibly in the spring. Meanwhile, Somnus will continue its event series aiming to run an event every two months, and Sticky Ground will focus on their upcoming releases and showcase in Turin.
Tickets for Somnus x Sticky Ground are available on Resident Advisor. Details of the event can be found here.
---
Back to home.