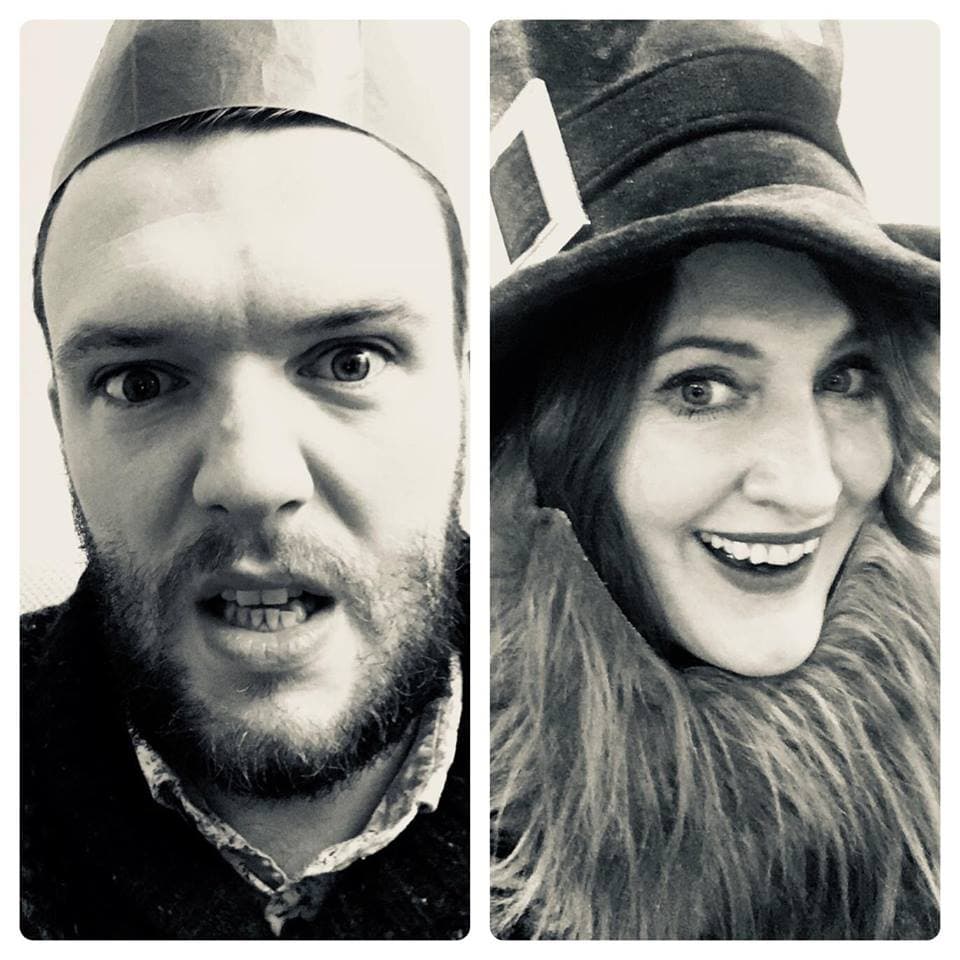 The ConnyJoJo Show
Hi, I'm Conny (or to use my Roman or 'street' name; Marcus Cornelius Hibernia) and along with Jojo (Gaudia Ioanna Novocastria) I'm one of the presenters and writers of the new, fortnightly comedy-chat show starting soon on THREADS RADIO. Welcome one, welcome all to THE CONNY JOJO SHOW.
Catchy title, no? I'll be the first to admit that it took us a while to collectively decide on what best to call this stamping new thoroughbred in the Threads stable, this depressingly shiny wedding-ring in the Threads pawnshop window, this disarmingly sweet-and-innocent-looking ingenue performing in the Threads production of 'Bukkake Typhoon 3'; but after much soul-searching, gurning and furious country-dancing, we decided the best way forward was to put our names together (in inverse order of funniness), cocooned, as might the arms of a loving parent or over-familiar drunken friend, in those stalwarts of the English radiogram sentence, 'The' and 'Show'.
At the behest of the production team at Threads Radio, we've put together this fun and informative 'questions and answering' (or 'Q&A') for those of you cool cats who would like to learn more about what we'll be bringing to North London's most exciting new radio brand. We like to think of it as representing the sorts of questions you and your pals (your homies, I believe is the term) might ask during an average chat about digital radio; say in your local pub, bathhouse or achingly trendy, pop-up quinoa gallery:
Who are we?  
We're Conny and Jojo. Stand-up comedians, writers and all round good-eggs.  
Who is the show for?  
In a rather ground-breaking departure from the radio norm, we've decided that this show is NOT just going to be for those poor folks who are visually impaired, those who are housebound, or indeed, those whose preferred form of jailtime recreation consists of mindlessly listening to great broadcasting on a digital radio that was smuggled in via a drone. In fact, we're for everyone! From young to old (obviously with limits either way), short to tall, thin to fat, or indeed, from those who are merely vapour to those who have calcified into a bog-mummy.  
Sounds great, when is it on?
Why thanks, back at you! The show will begin at 10am on Saturday 2nd February, just as the grim teeth of Winter are chewing the last hope of ever being warm again from your bedraggled soul, and end at noon, just as the last melodic tinkles of our glorious voices nurture into your bellies the need for lunchy sustenance.
What can I expect?
Haha, hold on there, Eager Edmund! There's lots to expect from The Conny Jojo Show, in fact, maybe too much to go into here. Needless to say, there'll be silliness aplenty, special musical and comedy guests, great music, and about as much whacky banter as you could ever hope to listen to!  
Oh wow, I can't believe it! For months and months the voices have been making me do terrible things and the darkness has been creeping up on me, but this sounds amazing! How do I get involved?
For a start, you can follow us on Facebook, Instagram and Twitter! (they're all some variation of The Conny Jojo Show, but with cool new symbols like @ and _, neat huh?). If you follow, like or…the other one any of these, you'll be kept well up to date! Then, when you feel really brave, you can email us (yes really!) on [email protected]. We love hearing from our listeners for all their anecdotes, funny memories, answers to burning questions, and useful personal information.  
Excellent, and what if I just want to come to your house?
I'm afraid that's not an option (thanks GDPR!) but if you sit really close to your radio or digital device, prepare yourself a tea or herbal tea, and respond to what we're saying on-air, it's like you're really there! Also, keep an eye out for special Threads events where you'll get to meet the cool, sexy presenters of the show, and Conny!
I can't wait!
Neither can we, Edmund, neither can we.  
The Conny Jojo Show, bringing nonsensical comedy, music and chat to a radio station near you* from the 2nd February!
(If you live in the North London area)
---
Back to home.