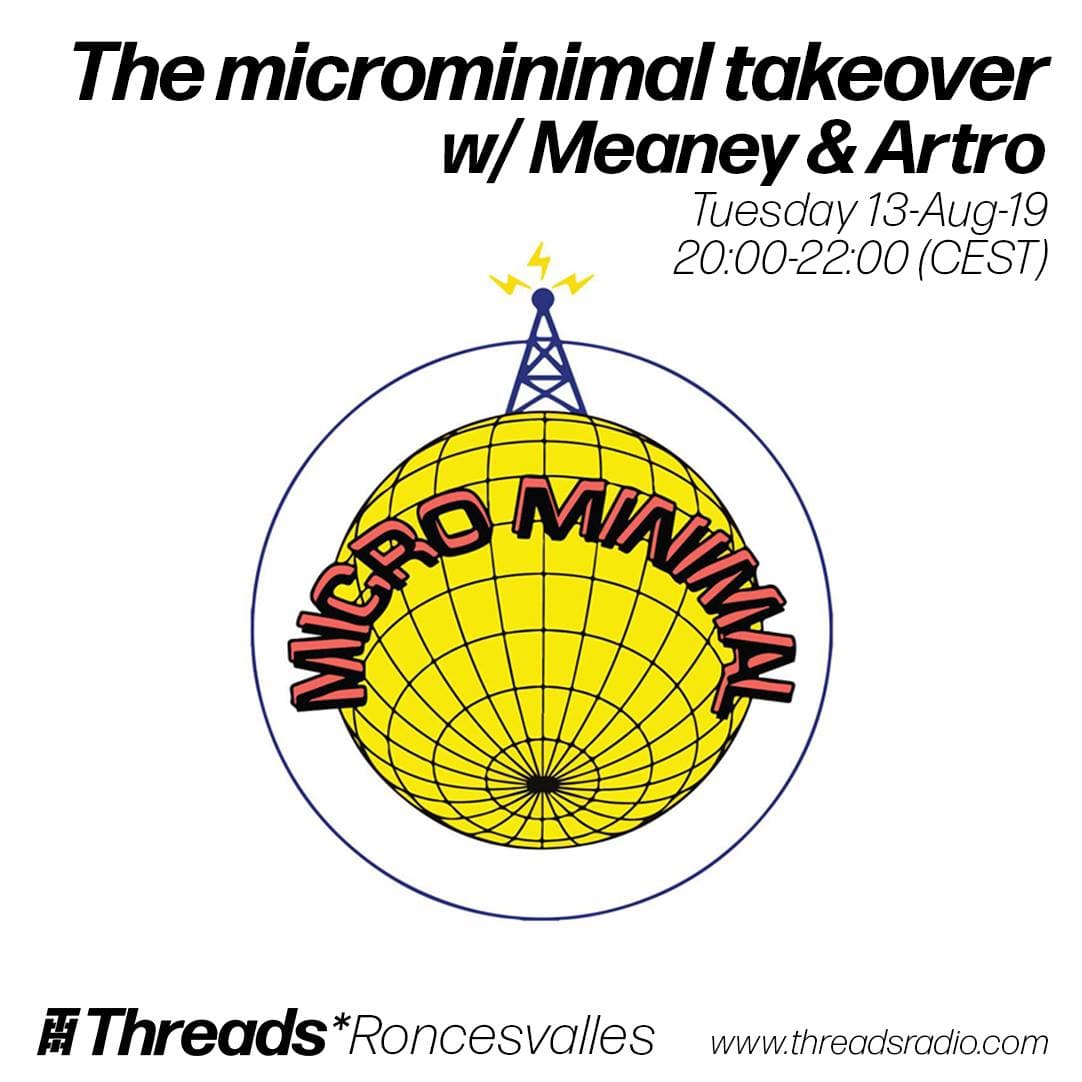 The Microminimal takeover w/ Meaney & Arto
The microminimal takeover w/ Meaney & Artro
The microminimal takeover – Episode 2 – Meaney
Today's mix was inspired by hirō records– dai-3 (see the article I wrote on the track release here). Arturo and I wanted to record a show experimenting with similarly deep, mystic and hypnotic soundscapes. The set is characterised by its use of dub-driven bass parts, sibilant hi-hats, and mesmerising vocal loops. We chose to play at a slower tempo, as it allows greater experimentation with aural textures, mood, and percussive elements.
Having recently incorporated Maschine elements into my mixing, today's episode was a pleasant return to the more purist approaches to DJ-ing. Instead of adding to the atmosphere via Maschine, I relied on my mixer's effects to enhance and blend the existing audio elements in my selections.
As always – a big shout out to the microminimal team and Freddie, Nick L, Nick S, Calvin and Al at Threads for the continued support!
Cheers,
Rich
The microminimal takeover – Episode 2 –Artro
This mix is a reflection of a new beginning for me and the global microminimal project.
During my recent visit to Brooklyn to perform at TBA Brooklyn– I was lucky enough to visit Halcyon The Shop to dig for some new records. In this episode, I experiment with these new sounds alongside elements from both the digital and analogue worlds.
This experimentation created a blend of thick and thin sounds, breakbeats, standard-time structures such as dubby-bass melodies, organic textures, and flowing beats to create a ritualistic ambience.
This mix showcases my love for dipping between futuristic electronic sounds to more organic aural elements. I feel these are present in our everyday lives, and whilst we sometimes just don't pay attention – these textures can carry some kind of meditative state or mood.
This mix contains a variety of musical elements from micro textures, techno, minimal to some acid sounds with nasty vocals. It's a different kind of voyage.
Thank you, guys for this and I'm truly happy to be part of microminimal!
Arturo
Find more of the music featured in today's show:
Meaney's Track Spotlight: hirō records – dai-3 (UK)
After reviewing this track for Loose Lips a few weeks ago, I was eager to feature it in an episode. With support from artists such as Cosmjn, Barac and Subit, the label is gaining widespread acclaim for its unique spaced-out sound.
Meaney's Artist Spotlight: Artro (Costa Rica)
Living in San José, he operates a studio named Trial Und Error, and has been releasing music since 2012. Alongside his residency with microminimal, Arturo is part of the Half Seas Over family in San José. Check out his track Micromundo (released on Soblazn) at the end of my set.
Meaney's Label Spotlight: Brosh (Serbia)
This label based out of Belgrade merges hypnotic beats, ambient soundscape and minimal percussive progressions to maximum effect. With releases from artists including Luka Vukovic, Matje, and Yaar Kü– Brosh are one of my favourite labels for the deep after-hour selections.
Richard's Set:
Arturo's Set:
---
Back to home.