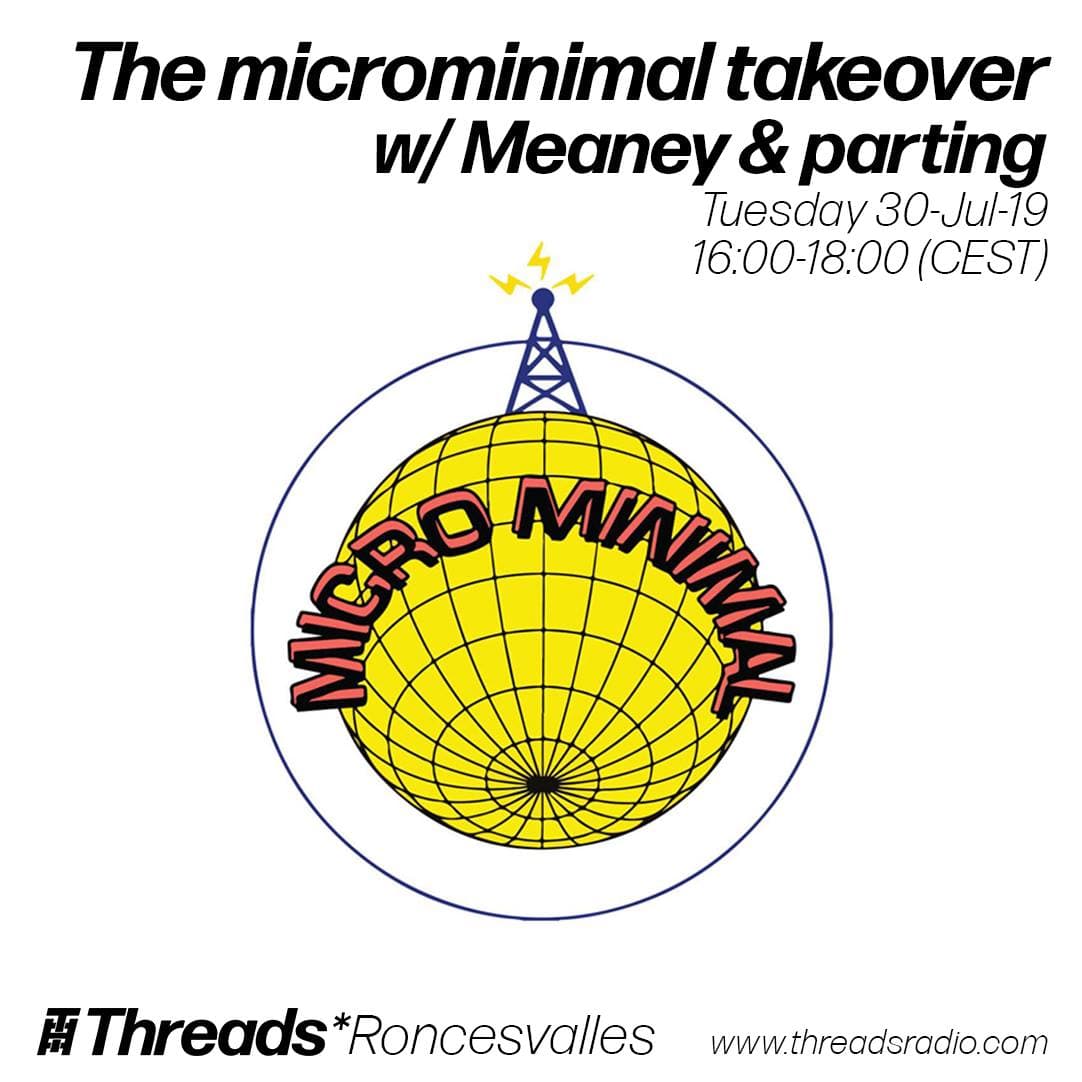 The Microminimal Takeover w/ Meaney & Parting
Introducing: The microminimal takeover
The microminimal takeover – Episode 1 – Meaney
Today's episode is a celebration of summer – Justin and I both wanted to play music that reflected our excitement for the approaching festival season, but could also be played to relax in the warm weather. I start the mix at around 120 BPM, with parting then upping the tempo.
The overall theme today was minimal deep house with a mid-western mood, created by the use of melodic instrumental samples and generally soothing chords and soundscape.
Today's show is a mix of digital DJ-ing, me messing around on my Maschines, and some vinyl goodness. I hope you enjoy!
Once again a big thanks to Freddie, Nick L, Nick S, Calvin and Al at Threads for the support on this project so far!
Cheers,
Rich
The microminimal takeover – Episode 1 – parting
I'm truly excited to embark on this journey with the microminimal team, to share all the music and positive energy passed on to me by friends accumulated from my travels in this global electronic scene. Every corner of the earth I've had the privilege to visit has such a different take on this great art-form and I'm humbled to be a part of it, and for the opportunities to present my ideas.
This mostly vinyl mix is a culmination of bright vibes, earthy tones and tight rhythms embedded not only within the minimal and micro-house sound I love, but also of the deep, dub, Detroit and Chicago. Within this recording is experimentation with extended juxtaposition of different chords, vocal loops, pressures and drum grooves ranging from swinging to straight.
Big ups to nicoes, a great friend and another resident of microminimal, who gifted me the Pete Moss record back when I threw my first parties in my apartment back in Allston, Massachusetts. Stay tuned for his mixes and blog contributions which are sure to include selections from his vast record collection with cuts as deep as this one. Shout outs to Meaney, Artro, Dexu' and Charlie for your efforts and enthusiasm in getting the ball rolling with this project.
Find more of the music featured in today's show:
Meaney's Track Spotlight: Chaise Longue – Atlanta Night Skies (USA)
This is the track that inspired my selection for this mix, and the overall theme for today's show. Justin and I have endured a long and cold winter here in Toronto, and the entire city's dynamic really changes once summer arrives. This type of music I associate with summertime, and is what I love to listen to whilst chilling on a warm evening.
Meaney's Artist Spotlight: Hostox (Romania)
Hailing from Transylvania, Hostox is a versatile producer and DJ. His releases on labels including; OuiOui Concept, ukiyo and Ponza Records demonstrate his seemingly innate ability to compose hypnotic grooves using a wide range of samples and moods.
Meaney's Label Spotlight: Plastik People Recordings (USA)
My first encounter with Plastik People Recordings was through the resurgence of the blistering Warren Clarke – 4 AM Wake Up. After it resurfaced, demand ensured the 1996 vinyl-only hit received the digitisation treatment. From the day of its release, I was hooked on its one of a kind sound. The fusion of influence spanning UK Garage, mid-western deep house and warm jazzy cuts leaves a musical legacy of timeless, genre-bending productions.
Richard's Set:
Plastik People Recordings (Bandcamp)
Justin's Set:
Underground Quality (label website)
Bass Culture Records (Beatport)
Contact:  [email protected] for bookings / demo submissions.
---
Back to home.