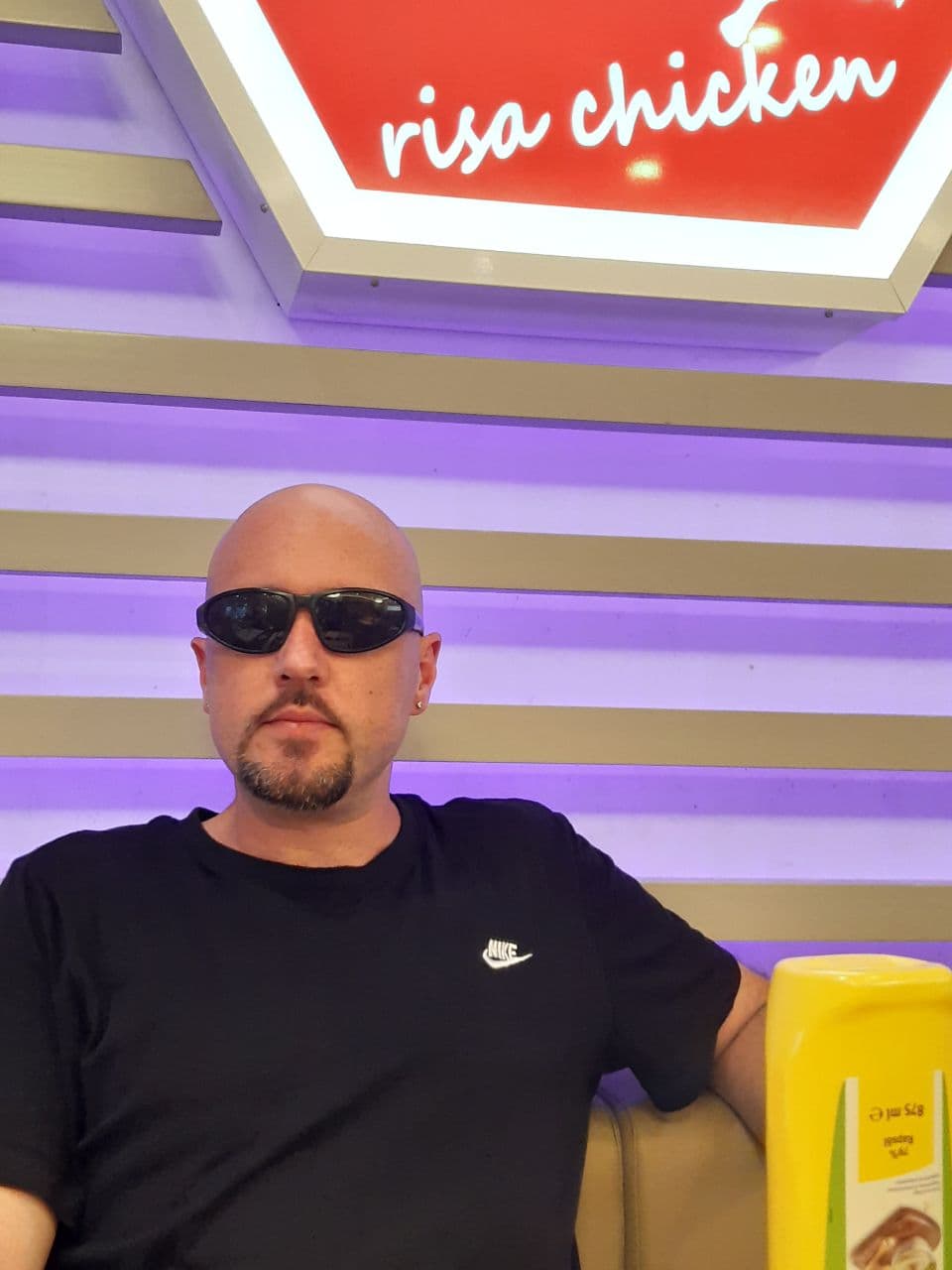 The Smooth Jazz Conspiracy – A documentary by Jeremy Coubrough
---
This is a short article about a very good friend of mine. Jeremy's bald, has a goatee, is a little on the hefty side, and always wears Oakley sunglasses. In fact, his style icon is James Jannard Oakley's founder. He looks speed-dealer-dodgy but he's disarmingly friendly, relaxing to be around, and exudes an aura of calm. In short, he's beautiful, as the pictures accompanying this article will testify, all of which are from his Tinder profile.
Recently he tattooed the Soulseek logo on his always cleanly shaven head, intensifying his edgy look. It's a bold, strange move but one that makes complete sense if you think about it. Soulseek is a free P2P file sharing service that started in 2000, surviving longer than any other service like it and hosts the weirdest music and most intense community of music lovers. Like Jeremy, it's been quietly and reliably enriching lives for years now and has a small but devoted following.
The tattoo is a conversation starter and magnet for the right (and wrong) kind of people, so it's handy that Jeremy is the kind of conversationalist who manages to find interesting things about most people. He can be intellectually stimulating, hilariously low-brow or disarmingly earnest. He's that humble, sometimes it can take a while for people to find out how talented he is.
And Jeremy is talented. As Tloatlon he produced shape-shifting electronic vapours and released them on Baba Vanga and 1080p, he was the original drummer for New Zealand optimism machine Orchestra of Spheres, as a 3D artist he's created the covers of releases from Orange Milk and Hausu Mountain , and since moving to Berlin he's begun working on his latest project: creating a line of designer sex toys intended to work as functional design objects. Butt-plugs and dildos you'll want to show off.
This spring, in the pub, in the club and at the lake, while experimenting with micro-dosing, Jeremy started talking to me about his latest obsession, the corporate take down of what had been the world's most listened to (and laughed at) genre of music: smooth jazz. After several, extremely long conversations, I asked him to lay his thoughts out as an audio documentary for Threads*ZK/U and the result was The Smooth Jazz Conspiracy.
It's the story of a genre designed to soothe the nerves of overworked Americans who dreamt of luxury in a time of declining living standards and despite its popularity, that same genre's demise. It's the story of how technology shapes taste, how market research manipulates markets rather than actually researching them and how racial bias overlooks the needs and opinions of large sections of society. And it's the story of how life became less smooth or maybe how the curtain of smooth was drawn back to reveal something rough and uncomfortable. The irony is that the author is a guy at the centre of a small group of friends who find his presence infinitely soothing, who has an unconscious power to smooth out reality. I think you're all quite lucky to have a small glimpse into the wonderful world of Jeremy Coubrough. I know you're going to love it.
---
Author
Nathan Gray is an artist who works with spoken word and the voice his works take form as lecture-performances, radio-plays, narrative and rumour. He is the host of the Weirding Module on Threads*ZK/U Berlin an ongoing enquiry into the spoken word in contemporary art and experimental music.
He is one of the programmers of Threads*ZK/U Berlin and started the series Recorded Resources where artists make mixes on a chosen topic of importance to their practice.
He writes fiction and art criticism for various publications including this one.
Look for him on www.nthn.gy
Twitter: @nathansnawklor
Mixcloud: weirdingmodule
---
Back to home.