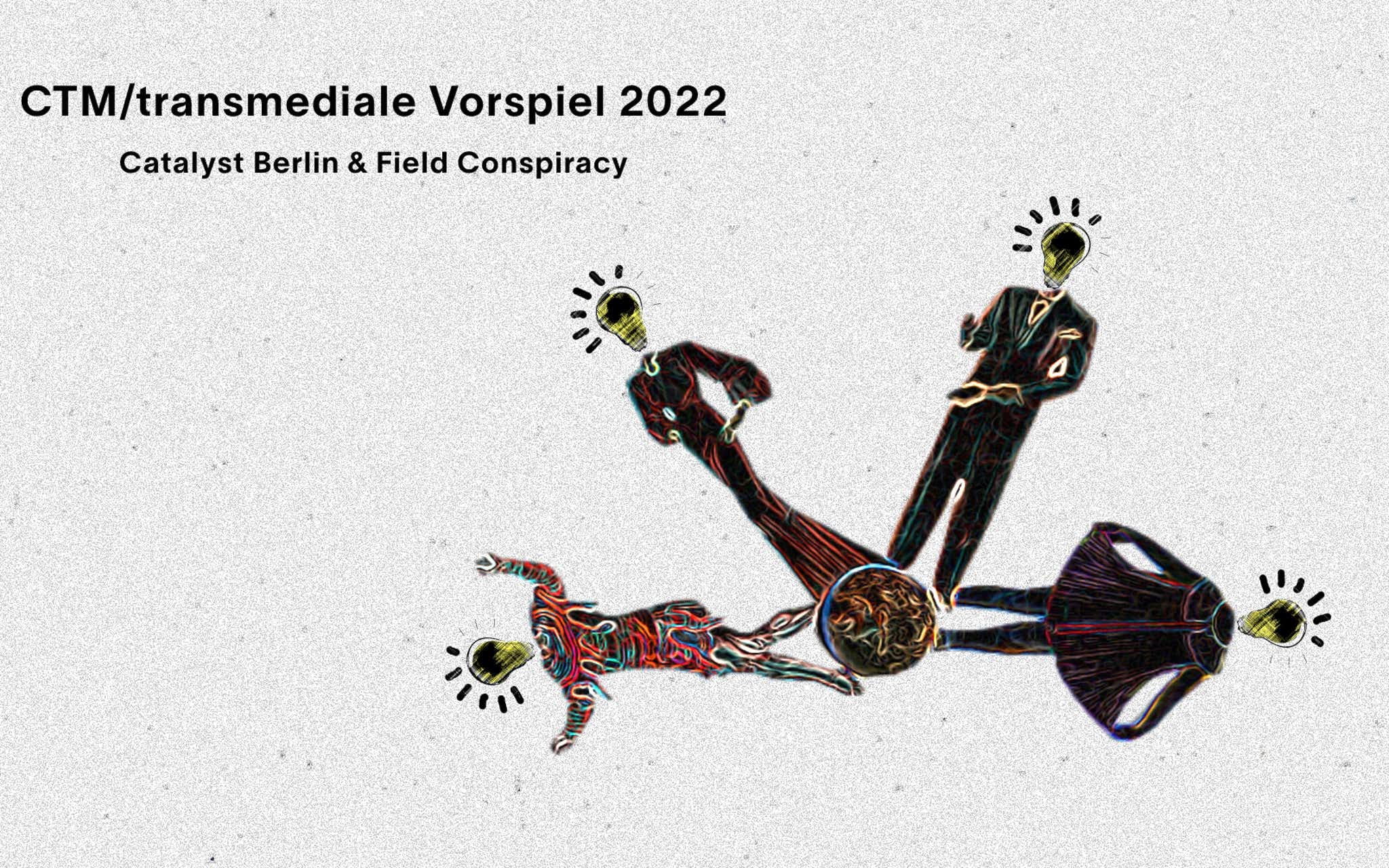 NEWS: THREADS announces monthly takeover and events with Catalyst Music Berlin for CTM Vorspiel 2022
During the pandemic, many radios gained more listeners than ever before. Many people who were stranded in their homes during lockdown turned to radio, not only for music to keep them company, but also to be soothed by a human voice of a radio host and even to engage and chat with other listeners or the hosts themselves. The magic of radio certainly lies in the immediacy and intimacy between the broadcaster and the ear of the listener, and with contemporary technological possibilities and online radio communities being able to interact directly via chat or social media platforms, it often surpasses the one-way model of a classical radio broadcast which has been with us in the last century.
A new monthly Berlin THREADS* Takeover w/ Catalyst Music Berlin
It was the charm and impact of a live radio broadcast that brought four of Berlin-based THREADS* radio show hosts together one autumn night in 2021. Paula Hakkaja of Field Conspiracy, Alice Colley aka Lady Plague, Daniel Cherney alias The Communist Czech and myself, Friday, hosting the Forest District show decided to join forces and start streaming live together regularly from Berlin. We teamed up with Catalyst, an academy for electronic music and film which is based at Berlin's famous Funkhaus and which runs Etikett radio, to start a monthly live stream from their studio.
The first takeover took place on November 28th 2021 and apart from the hosts mentioned above, it welcomed Cocktail Party Effect, FOAD, Baal & Mortimer, Withheld, Migz, Deluge and kranespotting. The regular takeover will run every fourth Sunday of the month from 12 to 8PM CET with the four hosts and more guests, starting February 27th 2022. In January 2022, THREADS* and Catalyst will host a special stream of live performances instead of regular radio shows in terms of CTM Vorspiel as one of the festival-related events put together by Field Conspiracy. Prior to the live stream, the audience can engage online at an event on Thur 27th January called 'Hack Your Code & Optimize Your Creativity' and 'Thrive, not Survive – From Individualism to Cooperatism' on Saturday 29th January. Read more about the whole programme and guests below.
Field Conspiracy w/ Catalyst Music Berlin: THREADS* Takeover
Between 27-30th January, Field Conspiracy will host a series of events together with Catalyst as a part of the official CTM Vorspiel programme.
The live THREADS* and Etikett Radio takeover will take place on January 30th from 2PM to 7PM CET. This time, the radio hosts and other artists will be playing live music shows, sets and interdisciplinary performances instead of hosting their regular shows which were formerly supposed to be performed at Funkhaus but will be instead recorded from various locations due to covid restrictions. They will be streamed live via Youtube, Etikett Twitch channel and THREADS* and will be archived on Youtube and THREADS mixcloud.
Line-Up:
Lady Plague
Baal & Mortimer
FRANKIE
Freya Algiz
FridaΨ live
Safejas w/ Henry Weekes
Wax Museum
Strange_B0unding
Feel.MA
Deluge
About the Artists
Lady Plague's performance on 30th January 2022
'Whilst we waited for things to happen'
This work In progress is a new composition for Vorspiel '22 in five acts. A performance of a series of fictional and real events. A meditation on squalid happenings and erotic fantasies ending in sudden death. The viewer may experience moments of boredom and feel disappointment as well as unexpected joy throughout the performance. The performer aims to make the viewer aware that they must take full responsibility for their role as voyeur and are liable for any further repercussions this may incur. The performer promises nothing as nothing has been paid for the performance. Perhaps there is nothing to see, however, something might happen in real time but there are no guarantees.
https://www.instagram.com/laydee_plague/
Baal & Mortimer
Baal & Mortimer is the project of A. Grübler, dedicating herself to the sonic exploration of questions around resistance, tension, limitation, and elegy. After the release of her debut album Deixis on Bureau B in 2020, the EP The Torso Tapes followed via ITALIC in 2021. She has collaborated with Black Merlin, Musiccargo and Rupert Clervaux and was the mentee of Laurel Halo in the Berlin Amplify programme in 2018.
Baal & Mortimer currently live in Berlin, researching along the membrane of sound and image, language and body, matter and speculation.
FRANKIE
Frankie is the solo music project of Franziska Aigner, consisting of a solo cello and vocal set combined with a hyper-emotional lyricism. Mostly working in choreography and performance, the past few years have continuously brought more and more music to her life. She performed in and co-wrote the music to FAUST by Anne Imhof, the project of which was awarded the Golden Lion at the 2017 Venice Biennale. The music to FAUST was released as a LP on PAN in 2019. In 2019 she also joined the Holly Herndon vocal ensemble, with whom she performed the album 'PROTO'. Franziska continues to work and perform with artists such as Anne Imhof, William Forsythe and Austin Jack Lynch, and recently completed her PhD in philosophy.
https://www.instagram.com/franziskaaaigner/
Freya Algiz of Field Conspiracy
Freya is an electronic musician whose sound exploration is inspired by experimentation with techno, ambient, and IDM. Her musical journey is creative therapy practice to heal and connect herself. This time her performance explores the dynamic relationship of the inner and outer worlds of plants. Through using biofeedback devices by Natural Symphony, she will interactively experiment with sending external impulses to plants, using microcurrents of varying frequencies, to discover how they affect the auditory output patterns of the plants.
https://www.instagram.com/freya_algiz/
https://www.facebook.com/FieldConspiracy/
FridaΨ
FridaΨ is a Berlin-based artist using synths, bass, harp, vocals and field recordings for creating slow, dark songs. Her musical influences range from dark wave and UK bass to post-punk and experimental electronic music. FridaΨ also hosts a monthly radio show 'Forest District' on the London-based THREADS Radio, records mixes, plays DJ sets and runs a left-field music mix series 'FOAD' together with de.index.
https://www.instagram.com/friday_musik/
Safejas w/ Henry Weekes
safejas is a producer and sound artist working in the fractured seams of electronic music, producing sounds which feel both alien and familiar. In this rare collaborative live set, he will be joined by saxophonist Henry Weekes, for an improvised, explorative performance which takes place in a visual dreamscape built by multidisciplinary artist Rodger Brown, with styling by visual artist and designer Zoe Frost.
Wax Museum
Wax Museum are a Disco Funk-Riot ensemble based out of Berlin, Germany. They started in 2019 and released their debut Ep "I Will Probably do the Opposite" on Unsustainable Records on June 1st, 2020. The 5 piece group collectively lay down insatiable funk and disco grooves without ever betraying the punk spirit that brought them together. Initially started as a studio project of Pierre Auradon and Bryan Dunleavy, the live embodiment of the collective has blossomed into a loud synergy of theatre and satire.
Strange_B0unfding w/ Von Abseits
Strange_B0und was made from the east spree of Berlin and capsized with a mass inspiration of electronic Music from the UK. They felt bound to do something strange and take creativity to another level – to never be forced into one genre and to break the barrier of limitations. Strange's synthesised universe is a cycle that changes its form, just like our own inner vibrations in their harmonies, dissonances and patterns. Von Abseits is a music collector, beat maker and sound engineer on a mission to become comfortable with permanent uncertainty. Together, channelling vibrations of the present moment, is the communication and projection of Strange_B0unding and Von Abseits.
https://www.instagram.com/strange_b0unding/
Feel.MA
Feel .MA is an italian DJ and producer born in a small village lost in the mountains on the north of Italy. Music was a way to escape from the microscopic and conformist reality where he grew up. With love for all music zenres (everything from rock to hardcore), his sound and compositions are playful and emotive. In his set, he travels the vivid and atmospheric space between ambient and hypnotic techno to teleport the listerens between spectrums of their own emotions.
https://www.instagram.com/f33l.ma/
Deluge
Drawing on inspiration from all across the electronic music spectrum, Dan Guerin aka Deluge's ever evolving style and sound finds its footing more through the flow of sound and the vibe of his creative process than it does within the constraints of conventional genres. His productions are often influenced by emotions and mood, resulting in a broad and well-rounded mix of tracks.
For this mind, body, spirit focused event, Deluge promised a less 4/4 vibe and a more expansive pallet for the audience.
https://www.instagram.com/delugedj/
Visit All Events by Field Conspiracy w/ Catalyst Music Berlin
Field Conspiracy w/ Catalyst Berlin: Hack Your Code & Optimize Your Creativity
Thur 27th Jan, 19:00-21:00
Event link: ​​https://www.facebook.com/events/349153180373232
Are you playing a game worth winning?
Are you battling with a lack of creative energy or drive?
Are you struggling to find the time to get the things that matter most to you done but find yourself doing all the other things automatically, even if the impact is negative?
Are you battling with physical ailments or brain fog that is impacting your ability to function normally?
Do you look at other creatives and wonder why you can't have the same output?
Do you find it hard to see where you're headed or do you have difficulty figuring out how to get where you want to be?
Would you like to learn how to be more healthy, happy and creative?
Some of the above resonating with you??? Good!!! We would love you to join us for some presentations and a panel to discuss these topics with us.
With today's busy lifestyles and high pressure environments it can be hard to find a balance and achieve what you want to achieve. Yet, some people seem to be able to do all that they want to do and with ease, why?
In order to get into a flow state to allow for things to really get moving we need to make sure we're giving some TLC to the 3 pillars of life i.e. Body, Mind and Spirit/Heart. Without checking a few critical boxes in each of these areas we will never find that magical place where things just seem to work and real momentum takes over, allowing us to just focus and get on with it, vs fighting to get going all the time and constantly restarting things.
The event will start with presentations around mind, body and spirit, followed by a panel to discuss it all and finally, a Q&A with everyone on the stream. Ask us whatever you'd like around these topics and if we can help or learn from you, that's a win win!
We will be joined by:
Diana Perova (aka DJ Diana May)
Diana has been working in the nightlife industry for 13 years. Covering all possible roles and positions, she became aware of many problems within the system. While studying pedagogy and educational sciences, she kept wondering how especially mental health in the music and nightlife business was barely discussed in the community. After dedicating herself to her artist career and moving to Berlin, the idea of helping others as a mentor was born.

Diana brings her systemic NLP knowledge into her coaching and all the gathered learnings from her students over the years. She sees her students as their own experts. Diana helps them to see the power of change within themselves and is providing helpful methods to encounter the struggles from within.

https://www.facebook.com/dianamayofficial
Daniel Guerin
An Irish born Dj, producer and biohacker. Daniel has spent over 20 years in music while hacking his own mind, body and spirit via martial arts, movement, diet and plant medicines. Over the last decade he has tested and developed some methods that can help people find balance in life and achieve what they want to.

https://www.facebook.com/delugedj
Daisy Rapp
A poet / artist. In her experiences with dealing with a rare genetic disorder – NF1- diverse surgeries and challenging medical diagnoses, she developed her practice of 'creative resilience' where through creativity, storytelling and meaning makes tools one is able to experience certain challenges in life in a more fulfilling and soul nourishing way.

Her first book, Wildchild of the Universe – a poetry and music experience- was published last October in Berlin.
Mirjam Hakkaja – Psychologist & Ayurveda practitioner
Mirjam is psychologist and ayurvedic practitioner.Her interest in human nature has led her to formal studies of psychology that arouse questions and developed her critical thinking skills. However, Ayurveda, with its holistic approach to health and well-being, gave her self observing skills and provided her with answers. To be healthy, the body wants routine. This is how the body builds immunity. The mind wants change, novelty, turns towards the source of the strongest signal, gets restless and tires easily, undermining the hard work of the body to keep its stability. The mind is competitive and tricks you very easily into self sabotage yet, controlling the mind is difficult and takes life long practice. However, cherishing the body with pleasant rituals is a very agreeable way to coax the mind into cooperation – this is the ayurvedic way. It is essential for our survival to see life as a cooperation. Mind and body are so closely intertwined that healing of the system happens when the rules of nature and of the physical body are followed.
Field Conspiracy w/ Catalyst Berlin: Thrive, not Survive – From Individualism to Cooperatism
Sat 29 Jan 15:00-17:00, Online
Facebook event: https://www.facebook.com/events/603574717377569
Join us for an interactive afternoon of discussion on creating a paradigm shift within the music industry by restructuring working models of labels and collectives. Only through collaboration and cooperation can we manifest a reality where our management systems are defined by the interests of communities. However, often our collective empowerment is undermined by the fear of the unknown that derives from doubting ourselves and our capabilities. During this conversation we aim to shed some light on the challenges that we see as obstacles for social change within the creative industry. In addition to any questions on the day, we aim to tackle the following problems during the talk:
What are co-operatives and how do they compare to traditional business models?
Can co-ops provide a solution for fair distribution of income and balanced bargaining power for the artists?
How to create flat hierarchies within an organisation and are they enough to ensure sustainable working models?
What are the greatest challenges of co-operative working models?
How can NFTs be used as a tool for creating sustainable income to artists with the help of independent labels?
Facilitator: Paula Hakkaja: aka Freya Algiz, is an electronic musician and an activist whose primary focus is a continuous research into re-structuring social and economic systems to enable the development of self-sustainable artist communities. She is also a co-founder of a young cooperative music label Field Conspiracy.
Guest Panelists:
Melissa Taylor https://tailored-communication.com/
Peter Harris https://resonate.is/ 
Brandon King https://resonate.is/ 
Alex Head (ZK/U) http://alexhead.com/ricochet 
Gary Shulz (Care Of Editions/Catalyst Berlin) https://catalyst-berlin.com/ 
Author: Friday Foad
---
Back to home.