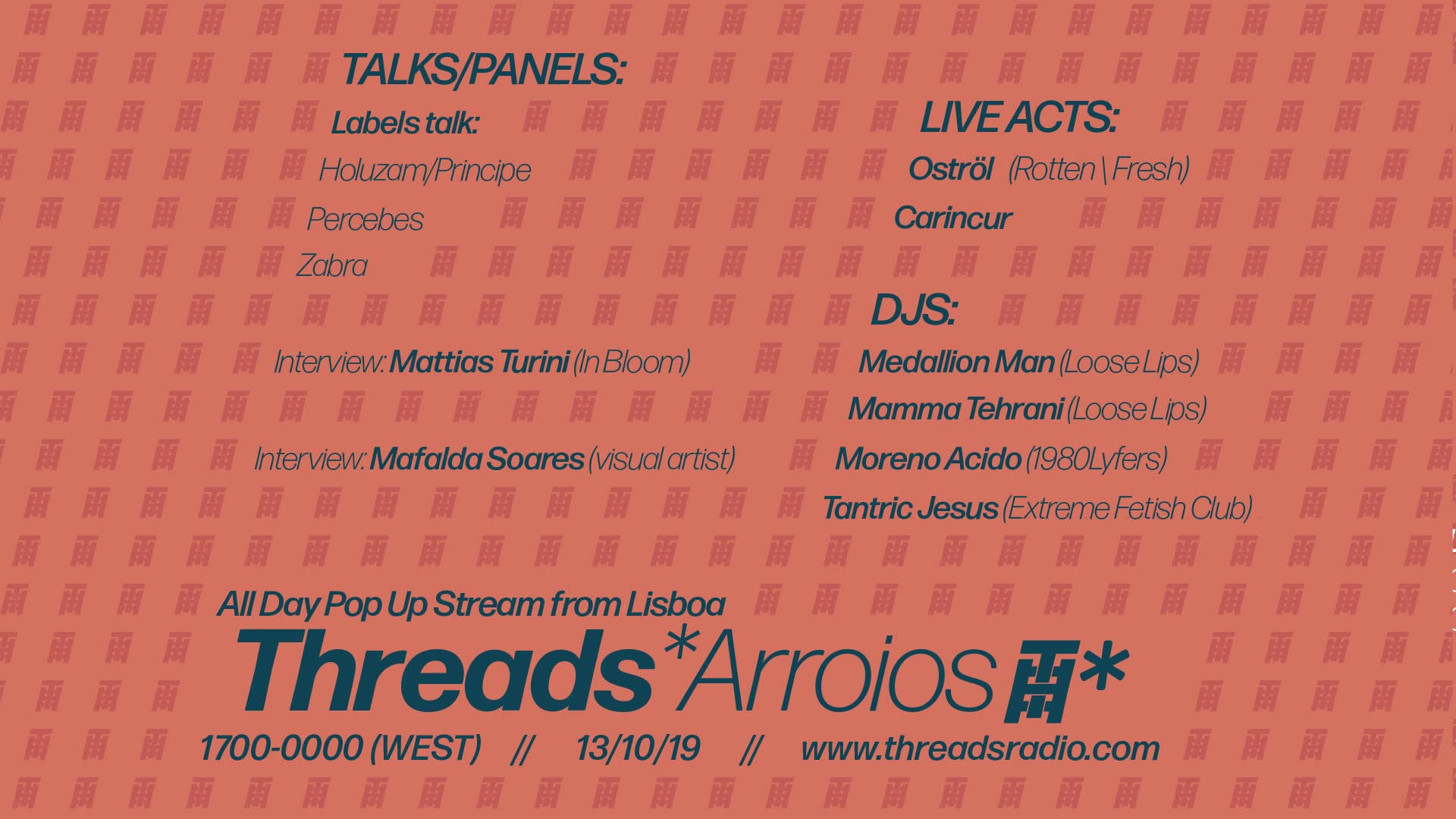 Threads*// Arroios (Lisbon) Pop Up Event 13/10/19
This week (Sunday 13/10/19) the Threads crew are headed to Lisbon's Arroios neighbourhood with a pop up event at venue and gallery InBloom.
We've been itching to get out to Portugal for some time now for what will be the 26th country we've broadcast from since launching in January.
The event is a mixture of live performance, panel discussions and DJ sets broadcast live on Threads* between 17:00 and 00:00. (WEST)
The Event Schedule is as follows:
17:00 – 17:45: Moderno Acido (1980Lyfers)
17:50 – 18:05: Interview w/ Mattias Turini (venue manager 'In Bloom')
18:10 – 18:25: Interview w/ Mafalda Soares (visual artist currently exhibiting at In Bloom)
18:35 – 19:15: Panel Discussion – Labels
19:20-20:05: Oströl
20:10-20:55 Carincur
21:00-21:45 Tantric Jesus (Extreme Fetish Club/Threads)
21:45-22:45: Medallion Man (Loose Lips/Threads)
22:45-00:00 Mamma Tehrani (Loose Lips/Affair)
Featuring in the panel discussion about labels are:
Tune in live to Threads* on Sunday 13th October from 17:00 (WEST) or join us at InBloom for the fun!
Video will be streamed via our Facebook page. Here's the Facebook event if you want to come down or get locked in on Threads* from
Message us for more information 
---
Back to home.