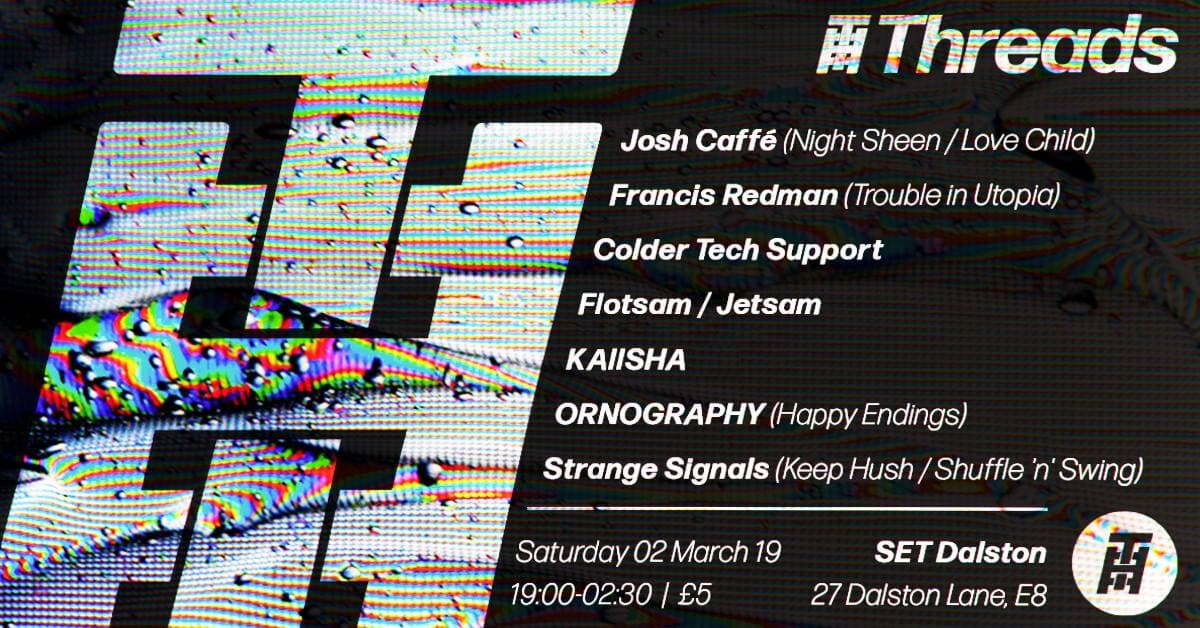 Threads at SET Dalston (02/03/19)
Threads Radio have teamed up with the wonderful crew at SET Dalston to help herald the beginning of Spring with an amazing line-up of Threads DJs.
—————-
– Josh Caffe – Official (Night Sheen / Love Child)
https://soundcloud.com/josh-caffe
Josh Caffé is an assured part of the underground house and techno scene. He is someone who has nurtured a close following of fans thanks to his varied, lauded DJ sets and live PAs.
– Francis Redman (Trouble in Utopia)
https://www.mixcloud.com/ThreadsRadio/we-have-sound-w-francis-redman-31-jan-19/
A child of 1980s East London and a born collector of music, Francis has been DJing since he became fascinated by dance culture in his teenage years. His club sets reflect the more dancefloor focussed side of experimental to sound system culture – for lovers of leftfield music. Francis runs Trouble in Utopia Records.
– Colder Tech Support
https://www.mixcloud.com/ThreadsRadio/colder-tech-support-07-feb-19
Rare live outing from radio show hosts Itoa, Hugh Taylor and Time New Roadman, playing pretty much anything from ambient and jazz to jungle and breakcore – noted enthusiasts of chatting absolute fraff.
– Strange Signals (Keep Hush)
https://www.mixcloud.com/199Radio/200818-strange-signals
Strange Signals brings you rhythmic excursions through the full UK Bass spectrum: music for mind, booty and soul.
– KAIISHA
https://www.mixcloud.com/4Kofficial/4k-radio-02-12219-kaiisha
KAIISHA will be bringing her unique and incredible selection of forward thinking electronic and esoteric styles.
– ORNOGRAPHY
https://soundcloud.com/elenlemenson/199-radio-walk-crew-tomboy-ornography-002
Ornography landed in East London after riding a meteorite from Brussels when they ran out of ambient vinyls. This tech-hoe will inspire their avant-garde selection of synth wave, post punk, dub, experimental, drums, club and bass music for your gorgeous ears. Listen up and listen hard. Welcome to the Orn Hub.
– Flotsam Jetsam
https://www.mixcloud.com/199Radio/050718-flotsamjetsam
Esoteric ambient bangers from the fringes of the electronic underground.
—————-
SET Dalston
27 Dalston Lane, London, E8 3DF
https://goo.gl/maps/PHBcNK2RhN32
£5 on the door | www.threadsradio.com
---
Back to home.