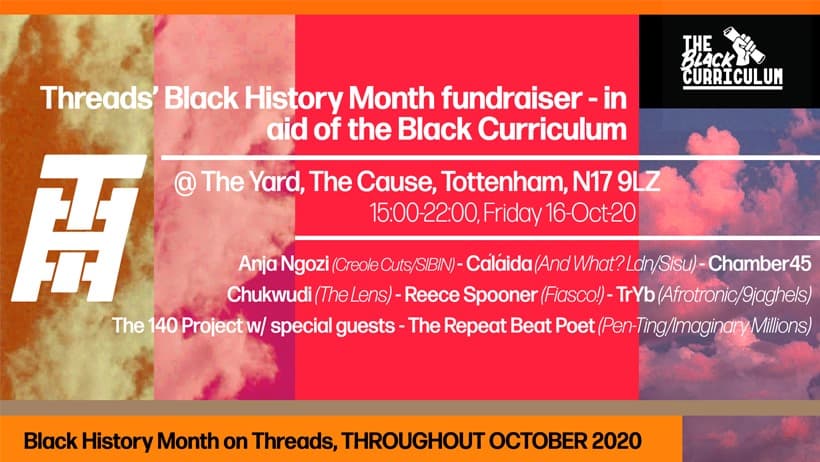 Threads Black History Month Fundraiser Event in aid of the Black Curriculum – 16-Oct-20
For Black History Month 2020, Threads is excited to announce that on Friday 16th October, on our home turf, we are hosting a special fundraiser event – filled with an incredible line-up of artists to celebrate the importance of Black History in all its diversity.
The event will be raising money for The Black Curriculum. This organisation have had an incredible year, gaining momentum and getting well deserved and widespread recognition. The Black Curriculum is a social enterprise, founded in 2019 by young people to address the lack of Black British history in the UK Curriculum. They provide arts-focused Black history programmes as well as teacher training and campaigning through mobilising young people. Find out more about the work they do in the link below. All profits raised will be given directly to this organisation.
https://theblackcurriculum.com
Artwork by Trav Wardle @backdowntrav
As well as this event, Threads will be bringing you a whole month of shows that centre on racial equality, discrimination, story telling, resource sharing and much more.
---
LINE-UP:
16:00 – 16:20 The Repeat Beat Poet
16:20 – 17:10 Anja Ngozi
17:10 – 18:00 Calaida
18:00 – 18:50 Chukwudi
18:40 – 19:40 TrYB
19:40 – 20:30 Reece Spooner
20:30 – 21:40 The 140 Project + Special Guests + Chamber45 B2B
---
Back to home.