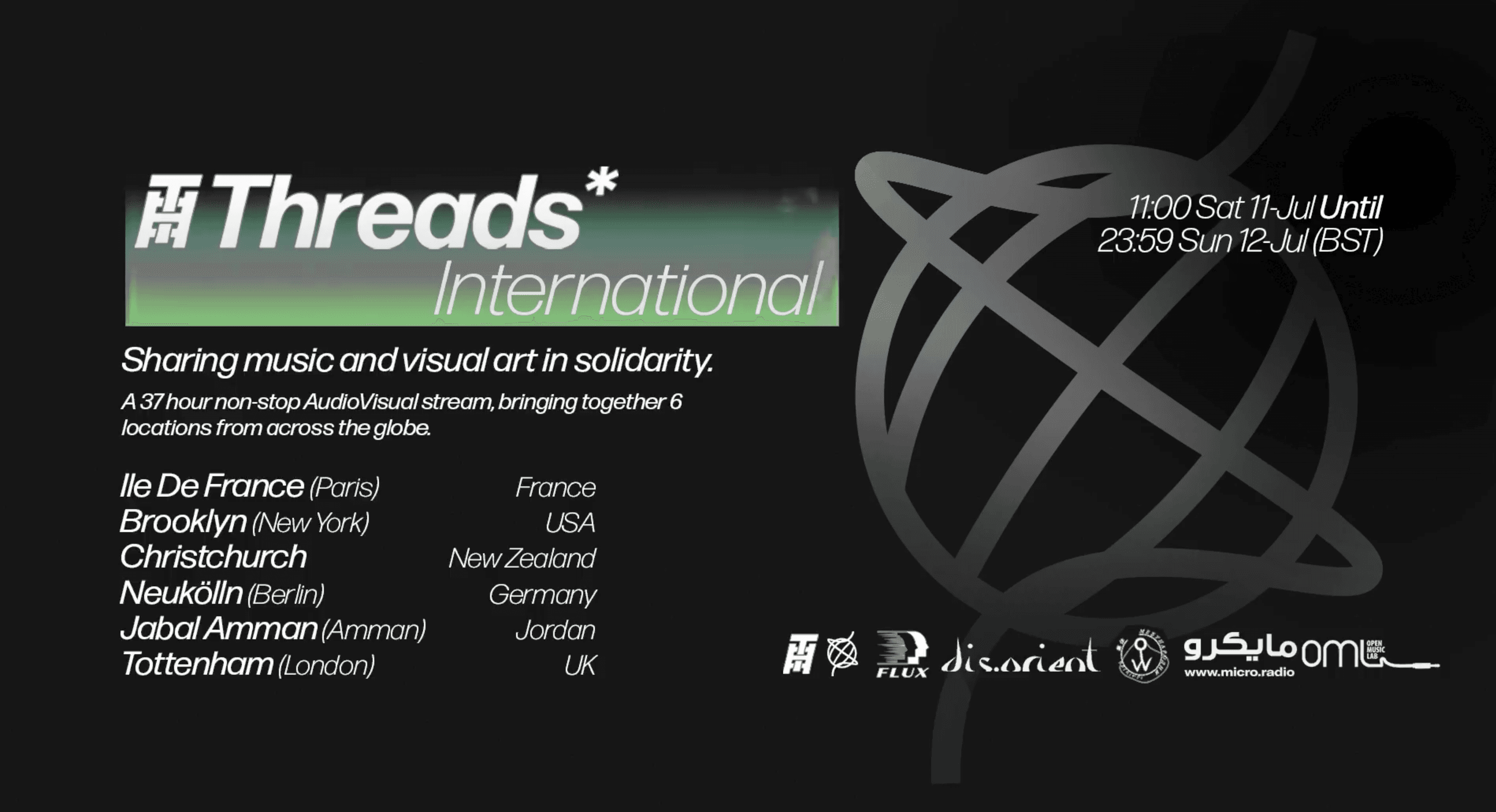 Threads* International – 11/12-Jul-20
A 37 hour non-stop AudioVisual stream bringing together 6 locations from across the globe.
Sharing music and visual art in solidarity.
Expect visual artists pairing with local musicians, left-of-centre sounds accompanied by extraterrestrial sightings, and immersive audiovisual streaming…from lush city panoramas through to forward-thinking live responsive visuals.
A local experience set in the context of the global, platforming regional artists to each corner of the globe, whilst also highlighting important local cause(s) and community projects, chosen by the curators from each location.
Stay tuned for some exciting lineup announcements!
—
Sat 11-Jul:
11:00 – 23:00 (BST): Ile de France (Paris) – France
23:00 – 04:00 (BST) Brooklyn (New York City) – USA
Sun 12-Jul:
04:00 – 09:00 (BST): Christchurch – New Zealand
09:00 – 14:00 (BST): Neukölln (Berlin) – Germany
14:00 – 19:00 (BST): Jabal Amman (Amman) – Jordan
19:00 – 23:59 (BST): Tottenham (London) – UK
—
Audio stream – live on threadsradio.com (Threads*)
AudioVisual streams, alternating between:
– YouTube: www.youtube.com/threadsradio
– FB: www.facebook.com/threadsradio
– Mixcloud: www.mixcloud.com/live/threadsradio
—
Artwork by Jasper Golding.
---
Back to home.