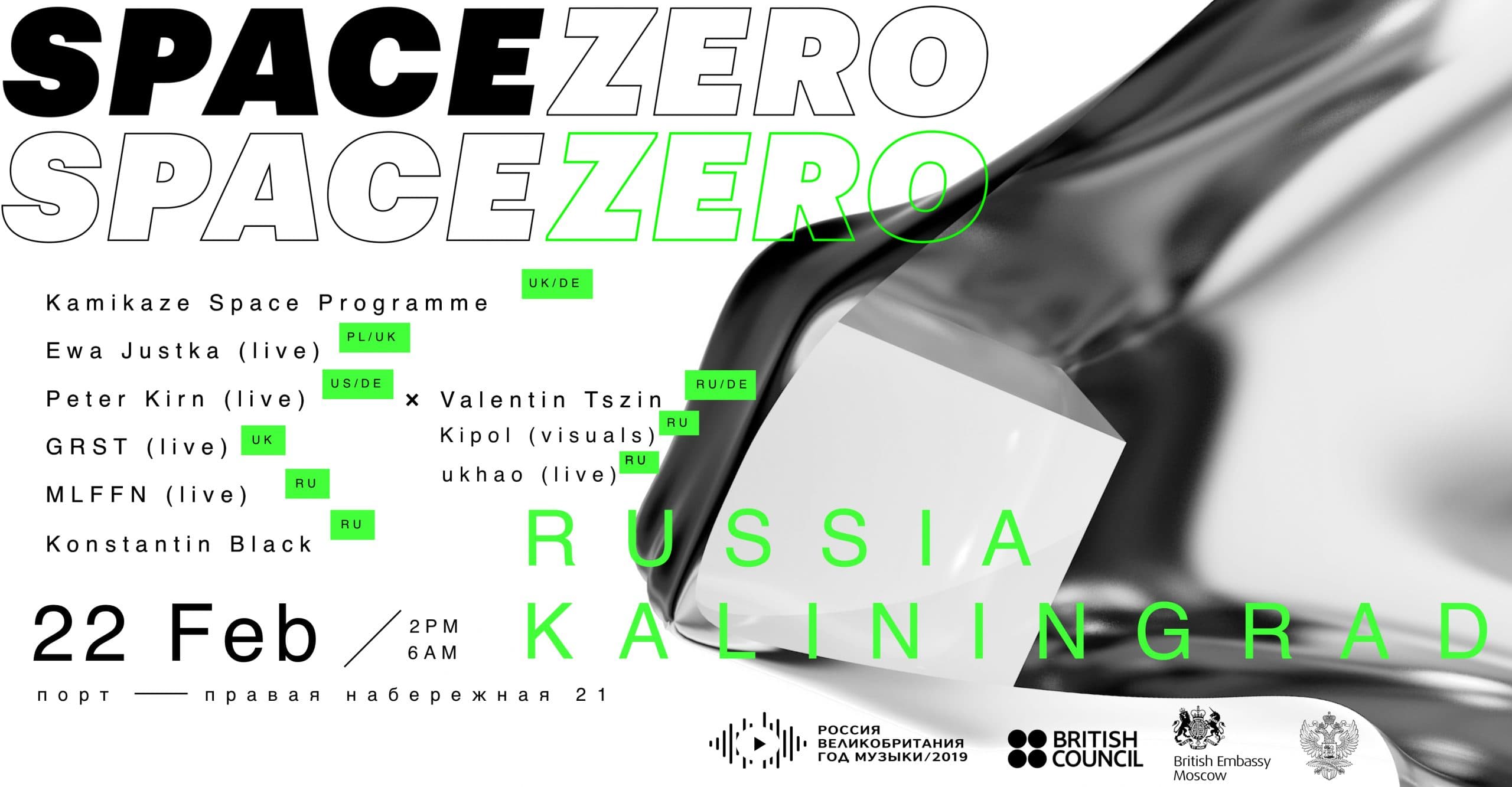 Threads* is excited to broadcast 'SPACE.ZERO' (live) on 22/02/20
Threads* is excited to broadcast a ground-breaking international program in Kaliningrad live

A new international collaboration between artistic and curatorial teams from Berlin, Bradford, London, Kaliningrad, and Tallinn will take over a cavernous industrial space on the port of Kaliningrad. Combining educational programs and exchange by day with a dense electronic night program, SPACE.ZERO is a marathon environment for artistic development and immersive musical experience.

Headliner Kamikaze Space Programme makes a triumphant return to Kaliningrad with his deep, brutal music, and a resume that includes work on Luke Slater's Mote Evolver, Osiris, Mord, Eotrax, and more, plus the likes of the BBC Radiophonic Workshop and appearances at venues like Berghain, Dommune and Berlin Atonal.
Polish-native, Glasgow-based Ewa Justka's violent live industrial sets are made possible by her unique original engineering and handmade instruments. They join new experimental dance performance and live music from the pairing of Valentin Tszin with Peter Kirn, plus live electro-acoustics from GRST.
Representing the up-and-coming sound of Kaliningrad, ukhao [Olga Milovanova], Konstantin Black, and MLLFFN to heat up the dance floor.

The program involves new partnerships between countries: from the UK, Fuse Art Space and curator / artist Lukas Hornby, from Berlin, journalist / artist / curator Peter Kirn and multi-disciplinary artistic collective 7585 (headed by Kaliningrad native Alla Lepnina), from Estonia, curator Iti Teder of Powerplant, and from Kaliningrad, arts organization Art-Vorota and curator Dmitriy Selin.

TIMETABLE (GMT+2)

22:00 GRST LIVE (UK) – 20:00 GMT
23:00 MLLFFN LIVE (RU) – 21:00 GMT
00:00 ukhao LIVE (RU) – 22:00 GMT
01:00 PETER KIRN LIVE (US/DE) feat. VALENTIN TSZIN DANCE (RU/DE) – 23:00 GMT
02:00 EWA JUSTKA LIVE (PL/UK) – 00:00 GMT
03:00 KAMIKAZE SPACE PROGRAMME (UK/DE) – 01:00 GMT
05:00 KONSTANTIN BLACK (RU) – 03:00 GMT
END

SPACE.ZERO is part of the UK-Russia Year of Music programme conducted by the British Embassy in Moscow with the support of the British Council.
For information please contact:
[email protected] [for Russian language]
[email protected] +4917631175441 [for English]
Listen live on Threads* (Stream 2) on www.threadsradio.com
---
Back to home.