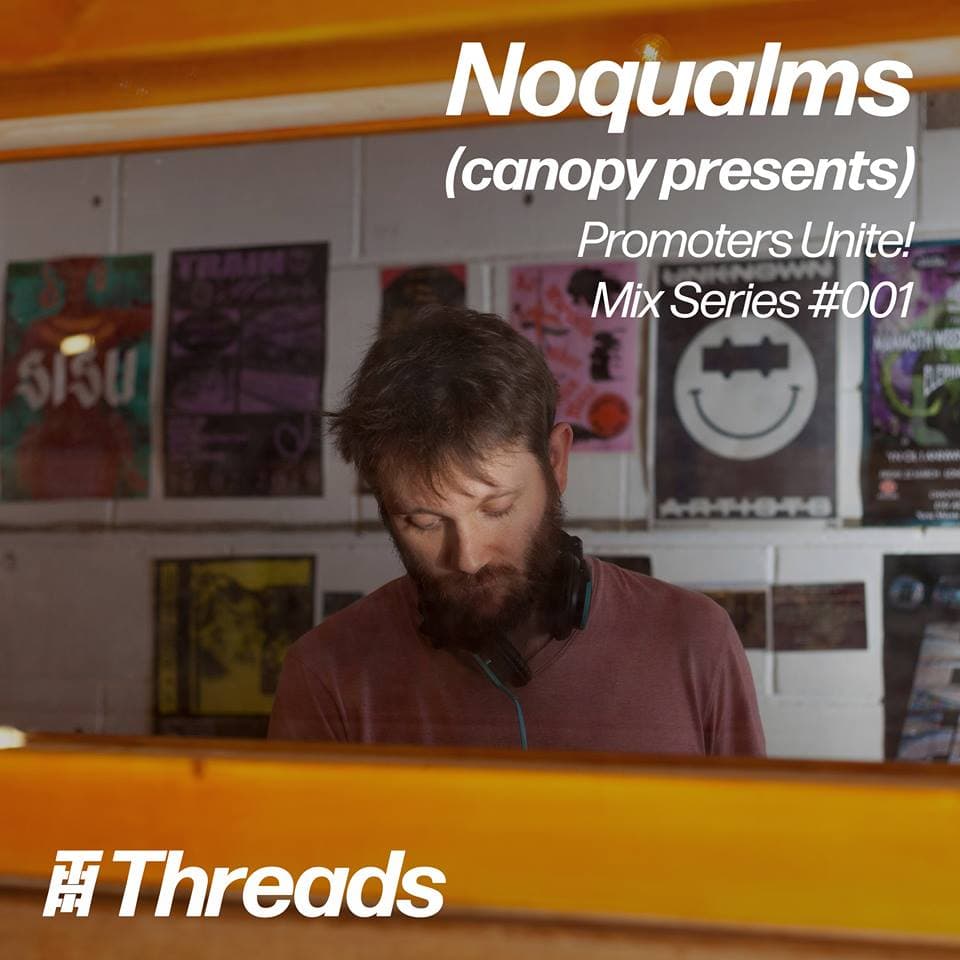 Threads Promoters Unite Easter Sunday Rave: Pre-party mix series (Canopy Presents: Noqualms)
What are you doing on Easter Sunday?
Artwork by Stephen McLaughlin
This week we saw a Black Hole for the first time, however we are beckoning you to join us in a hole of a very different kind. Time will slow down, things may seem different to what they appear, you may not be the same person leaving as you were when you arrived, things may get bendy and I'm not just talking about the outrageous shapes that will be thrown. To put it bluntly, shit is going to go down… You can check out the event on Resident Advisor or Facebook but let's tell you a bit more about it.
For those of you who don't know, something seriously exciting is happening with Threads. On Sunday 21st April 11pm – 6am (free before 12/£5 afterwards) we will be hosting our first promoter's link up party featuring fifteen crews/promoters/hosts from the station. This is going to be a serious party and a great chance to experience some of the people who make up the Threads family. We are taking over The Cause (our home) with three rooms of music with seven hours of curated  extremities. Here is the menu for the evening's entertainment:
Room 1: Club Bangers (Fourth World, All Colours, Resonate, No Rewinds, Tremors) Sending signals from the frontiers of UK dance music. Representing we have Brighton/London Crew Fourth World bringing the heavier side of their collective record bags alongside No Rewinds rolling through with some house and UKG dancefloor melters. All colours bring their breaks infused take on 140 side by side with the audio-visual insanity of Tremors. Finally we have Acid House originators Resonate brining it home with some sideways heat.
Room 2: Rave Cave (Botox Rave Kru, Sisu, Das Booty, Dazed & Confuzed) Das Booty bring their inimitable eclectic rave bangerz selection, alongside Dazed & Confused's dark and heavy techno, with Sisu residents Malissa and Lauryn showcasing the harder sound of their all female party brand/DJ school, finished off with wildcards Botox Rave Kru bringing the weirdo banging vibes.
Room 3: The Iguana Lounge (Loose Lips, Row G Departure, Extreme Fetish Club, Wavejumping, First Transmission, Canopy Presents) The Iguana Lounge is your place for fun, cocktails, neon panties and serious shape throwing. Put your fear of good times, smiling & laughter aside and come on an eclectic adventure through Disco, Hip Hop, Synthwave, House, Funk, World Music and Serious Bangers. Featuring music from Loose Lips, Row G Departure, Extreme Fetish Club, Canopy Presents & FirstTransmission.
To get things going we are dropping mixes every other day until the party. Our first offering is from Noqualms of Canopy Presents.
To help you get to know our crew a little better we've been asking them the same short questions to go along with the mix-drops, isn't that lovely? Of course it is! We should all know each other better, over to Noqualms:
Who are you?
We do a mix of UK Funky, Baile funk, Tribal, Afrobeats, Reggaeton, Kwaito, Gqom depending on the night and the mood.
Where can we find your stuff?
All the Canopy Presents shows are on a playlist on the Threads radio mixcloud
Why did you get involved in the event?
We got involved through the radio as we've been involved with them for pretty much a year now and some of our number produce and do work for the station as well as hosting a monthly show.
Tell us about your mix!
Noqualms' mini-mix is a mashup of Bailefunk, UK Funky and Bass music including a bunch of releases from Man Recoridngs. Bouncy rhythm's permeate the whole 25 minutes. The mix is a taster of what Noqualms will be playing on the night. Catch him and Kat Mafia repping Canopy Presents this Easter Sunday in Iguana Lounge.
Check out the mix from Noqualms
---
Back to home.