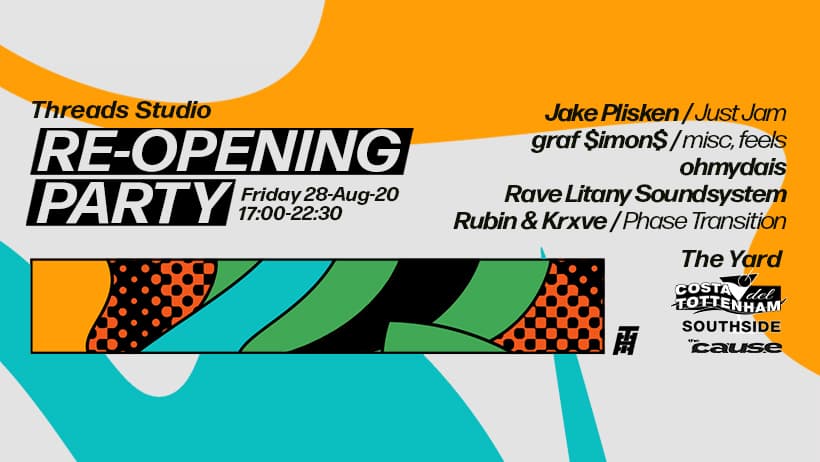 Threads Studio Re-Opening Party – 28-Aug-20
In the middle of March, the Threads base in London paused its operations due to Covid-19. The station's operations didn't stop though – in the 5 months since, our community has spread out into 100s of pop-up studios, broadcasting and recording from home to keep the community listening and connected!
After all the positives and struggles of this period, we're now delighted to be opening our full-time studio in Tottenham again, enabling more of those wonderful moments that epitomise our love for radio, offering a common and safe space to represent more innovative and under-represented voices.
There's no better place to celebrate than in the venue that houses us. The Cause have been a bastion for bringing people together in challenging times.
We'll be taking over the intimate backyard for 5+ hours of Threads DJs and MCs, spanning roots to rave. Come and join us, more details on how to buy tickets below!
---
LINE-UP:
Jake Plisken / Just Jam
https://www.mixcloud.com/ThreadsRadio/just-jam-w-jake-plisken-haki-bags-18-mar-20/
graf $imon$ / misc, feels
https://www.mixcloud.com/ThreadsRadio/misc-feels-w-moonchile-21-feb-20/
ohmydais
https://soundcloud.com/threadsradio/ohmydais-w-stratton-08-aug-20
Rave Litany Soundsystem (more details TBC!)
https://www.mixcloud.com/ThreadsRadio/rave-litany-w-wgwn-yazzus
Rubin & Krxve / Phase Transition
https://soundcloud.com/threadsradio/phase-transition-debut-show-03-apr-20
---
Street food: Club Mexicana & People's burger
Drinks: Pint sized cocktails, frozen margaritas, Pirate's Grog Rum, craft beer & more
Costa Del Tottenham
The Yard, #Southside at The Cause
BOOKING INFO
In line with current COVID rules all bookings will be designated with a set table/area in groups of 2,4 6, 7, 8 or 12 people for your social bubbles.
The cover for this is £10 per head assuming your table is full and includes entry, a welcome cocktail if you arrive on time (£8 value), your reserved space, DJ and access to our various bars and food traders.
Please aim to arrive at the beginning of your booked session.
costadeltottenham.co.uk
supportthecause.co.uk
---
---
Back to home.