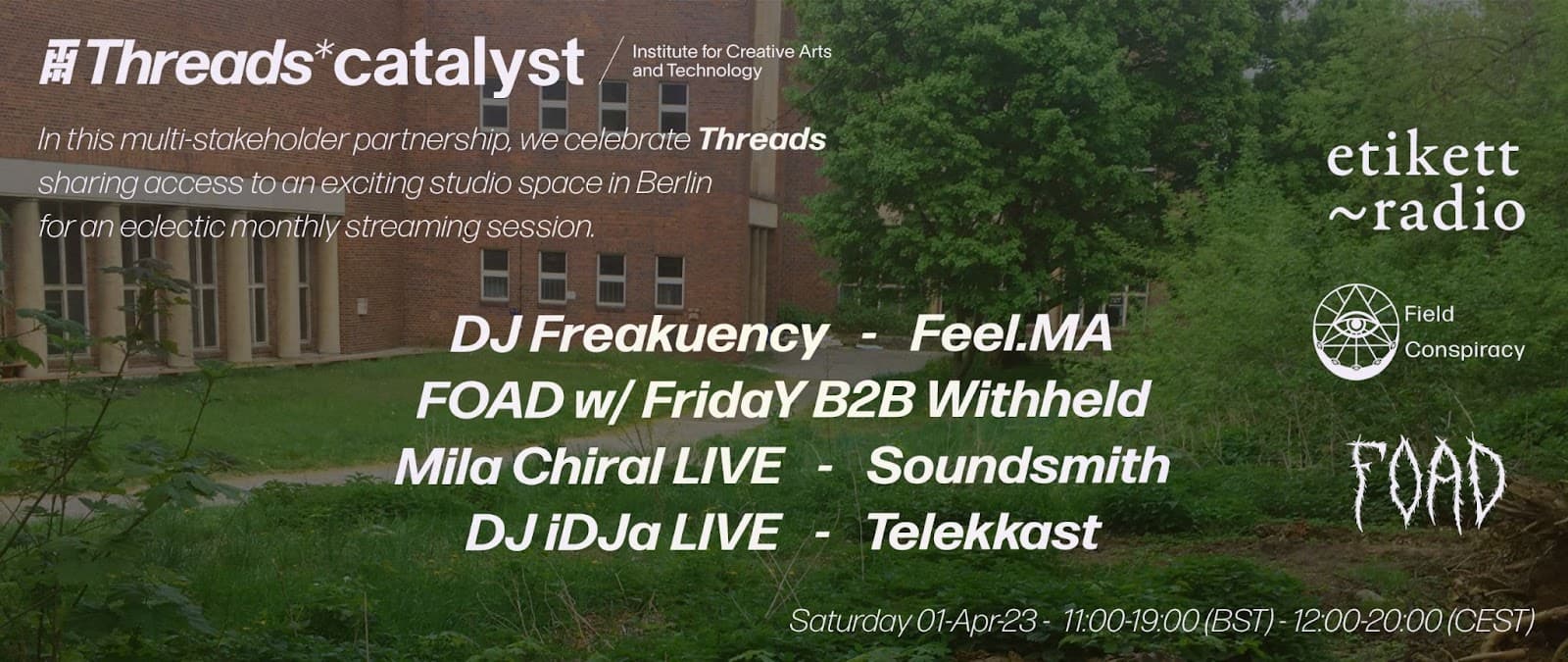 THREADS X Catalyst Berlin Takeover – April 2023 Edition
Tune in on Saturday April 1st 11-19 GMT / 12-20 CET for our collaborative takeover between THREADS, Berlin's electronic music school Catalyst Music and its Etikett Radio, and two independent music collectives, Field Conspiracy and FOAD. As usual, we'll be streaming live from Funkhaus all Saturday afternoon, showcasing electronic music artists and DJs from ambient and niche electronics to disco, breaks, italo, house and techno. We're excited to announce that this time we will welcome several artists performing live sets, therefore the whole showcase will also be video streamed via Etikett's Twitch channel. Certainly an afternoon to remember!
TIMETABLE (CEST)
12:00-13:00 DJ iDJa LIVE
13:00-14:00 Feel .MA
14:00-15:00 Mila Chiral LIVE
15:00-16:00 Telekkast
16:00-18:00 FOAD w/ FridaY B2B Withheld
18:00-19:00 Soundsmith
19:00-20:00 DJ Freakuency
Event on Facebook: https://www.facebook.com/events/5868852236558992/ 
Lock in via https://threadsradio.com/, https://www.etikett-radio.com/ and https://www.twitch.tv/etikett_radio.
Catalyst's own DJ iDJa, a Norwegian DJ, producer and sound designer who draws inspiration from his indigenous roots as a Sámi. For this occasion, he prepared a special hybrid live/DJ-set, combining ambient soundscapes with home-patched drones, synths and field recordings. You don't want to miss this one!
Links:
https://www.instagram.com/dj_idja/
https://www.tiktok.com/@dj_idja
https://www.facebook.com/sapmidj
Meet Feel .MA from Field Conspiracy, an Italian DJ and producer who found his passion for music as a teenager, using it as an escape from the small village he grew up in. He started exploring club culture and eventually shifted his focus to production, teaching himself the basics of electronic composing and creating a unique sound that blends house, techno and electro. Get ready to experience a pulsing atmosphere that takes you on a journey through hypnotic rhythms.
https://www.instagram.com/feel.ma_bln/
https://www.instagram.com/feel.ma_bln/
Mila Chiral is a Berlin-based dancer-choreographer, electronic musician and DJ, who works in composing sounds as well as bodies and movements in time and space. Following the rise of electronic music in the early 90s, she started collaborating with (electronic) musicians for her choreographies and made her first steps into electronic music production in 1995.
Her works of art are colourful, multi-layered and four-dimensional and she is choreographing sounds like bodies in time and space. Educated in dance and classical music since childhood, the influences of her youth include classical music, minimal music, early electronic music, new and dark wave, new romantics, NDW and the music of Prince and his collaborators. For this collaboration, Mila will be playing live, choreographing various sounds and samples with her own musical material.
Links:
https://www.facebook.com/milachiral/
https://www.instagram.com/milachiral/
https://milachiral.bandcamp.com
Telekkast (real name Arjun Subhash) is a DJ and electronic music producer from India currently based in Berlin, Germany, skillfully combining techno, house and electro into groovy, atmospheric and lush tunes. Tune into Telekkast and tune out the rest of the world!
Links:
https://www.instagram.com/telekkast.de/
The FOAD co-founder FridaY is a bass&breaks DJ, experimental producer and a semi-professional goblin, while the British Berlin-based producer and DJ Withheld releases an annoying amount of very sick music under the umbrella of "miscellaneous electronic jams." The feline duo involved in THREADS since years will be sharing new musical findings and goldie oldies across genres, mainly focused on the UK sound from DnB and bass to house, breaks and beyond. Meow twice if you're locked in!
https://www.instagram.com/friday_musik/
https://www.instagram.com/_withheld_/
https://www.instagram.com/foadldnberlin/
Soundsmith has been gracing London's and nowadays Berlin's dance floors for years with a hot combo of disco and all things groovy. In his show Journeytime, he will take you on a voyage through a musical landscape, starting slow with deep solid grooves and progressing to a high energy cosmic crescendo with heavy hitters galore.
Links:
https://www.instagram.com/soundsmith_/
Moscow-born, now Berlin-based DJ Freakuency has shaped his sound into the upper echelons of innovativeness, running the renowned record label Scumklub, organising parties to stimulate socio-political awareness of marginalised communities and using art, fashion, film and music to cut through other art forms. DJ Freakuency's power is output via memorable dancefloor moments, positive energy and stellar aesthetic. His performances feel special, yet unpredictable, oscillating between house, minimal, deep-house, tech-house and other forms of dance music.
Links:
https://www.scumklub.com/artists
https://www.instagram.com/djfreakuency/
https://www.facebook.com/djfreakuencydj/
About Catalyst Berlin:
Catalyst is a creative arts and technology learning institute based at the extraordinary Funkhaus in Berlin. Our courses span electronic music production and performance, audio and music production, sound engineering, film production, filmmaking, visual effects and acting. They range from 4 week summer courses for beginners through to bachelor and master degree level courses validated by our UK university partner.
https://www.facebook.com/CatalystMusicBerlin/
About FOAD:
FOAD is a music platform founded in 2021 by FridaY (Berlin) and de.index (UK). We do a genreless mix series presenting global talent, together with Withheld we do a radio show on THREADS and Etikett radio, inviting artists to talk about their musical journey and playing B2B, and organise parties in Berlin.
https://www.instagram.com/foadldnberlin/
https://www.facebook.com/groups/1790090941162477
About Field Conspiracy:
Field Conspiracy is a co-operative label and a musical social experiment where like-minded musicians have come together to realize a vision of a self-sustainable artist collective that nurtures community and creativity. It is creating a playground of creative space for musicians, where the inspiration and courage to be free in a community are leading the life we want to live – so that we can live the life we want to lead.
https://www.fieldconspiracy.com/
https://www.facebook.com/FieldConspiracy
https://www.instagram.com/fieldconspiracy/
---
Back to home.