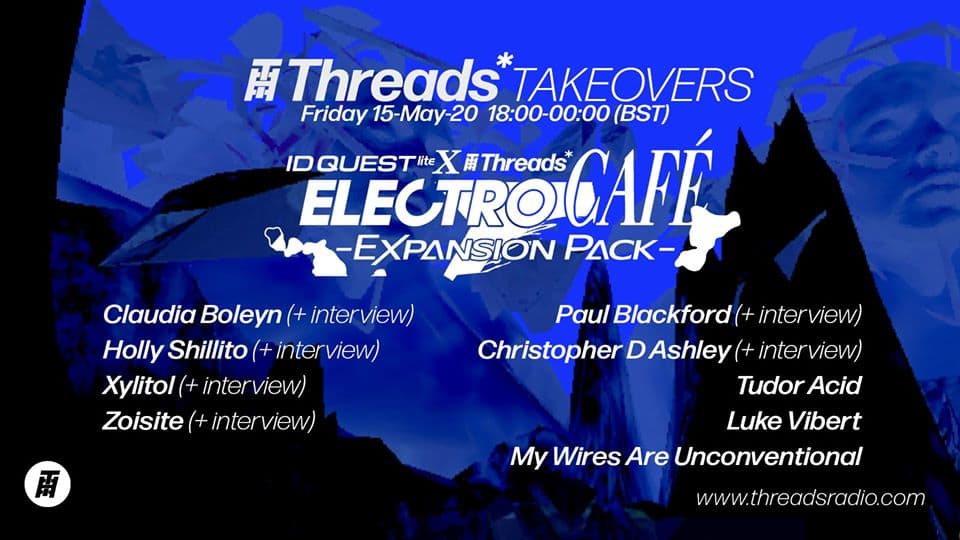 Threads x ID Quest Virtual Rave: Electro Cafe Takeover – 15-May-20
DOWNLOAD GAME —-> https://fredidquest.wixsite.com/id-quest
Fancy being a randomly generated character, exploring a virtual world, heading to a Threads rave, this Friday night!?
THIS FRIDAY night, we have an extra special Threads Takeover for you, curated by Tudor Acid's brainchild, Electro Cafe. Join us from 18:00 to step into the magical world of I.D Quest – meet friends virtually and explore the ruins of an undiscovered eerie landscape. Look out for Olon-6, a setting like no other, to listen live to exclusive sets and interviews from 9 incredible artists.
If you've ever dreamt of being at a rave, hearing the likes of Luke Vibert & Paul Blackford play in a remote dilapidated castle, as far away from civilisation that you can possibly get…then this is for you…lockdown doesn't get much better than this!
Set times:
18:00 – Claudia Boleyn (+ interview)
18:20 – Holly Shillito Music (+ interview)
18:35 – Xylitol (+ interview)
19:00 – Zoisite (+ interview)
19:35 – Paul Blackford (+ interview)
20:50 – Christopher D Ashley (+ interview)
21:30 – Tudor Acid (Tudor Beats)
22:00 – Luke Vibert Producer
23:30 – My Wires Are Unconventional
How to get involved? You'll be able to download the game here, from Friday afternoon – https://fredidquest.wixsite.com/id-quest
---
Back to home.