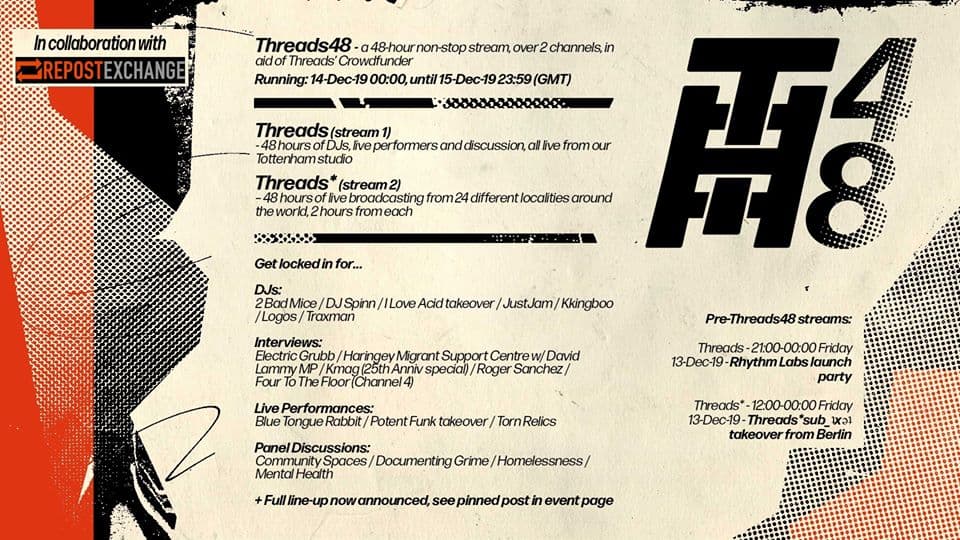 Threads48 – 48 Hour Stream – Crowdfunder Closer 14/12/19
We're delighted to announce Threads48!

Our Crowdfunder culminates this weekend with a 48 hour non-stop broadcast, over 2 channels, to celebrate and epitomise what Threads is all about – a global, diverse and conscious weekend of engaging radio and video streams.

https://www.gofundme.com/f/go-fund-threads-radio

First wave of of the line-up announced on artwork here. Full line-up TBA later this week.

Tune in @ www.threadsradio.com / on Facebook for all live video streams.

—

We're delighted to be collaborating on this event with RepostExchange – a unique platform that helps artists to organically increase their following and engagement on SoundCloud. The platform enables like minded creators to trade reposts in order to reach more active, targeted, fans with their music. The RepostExchange web platform and mobile app are now used by over 200,000 artists, labels and channels, covering all genres.

Check out more at repostexchange.com or search 'RepostExchange' in the App or Play store.

Make sure to tune in at 17:45 on stream 1, on both Saturday & Sunday, to learn more about what they do and who they support.

—

Thanks to Jasper Golding for the artwork.
---
Back to home.