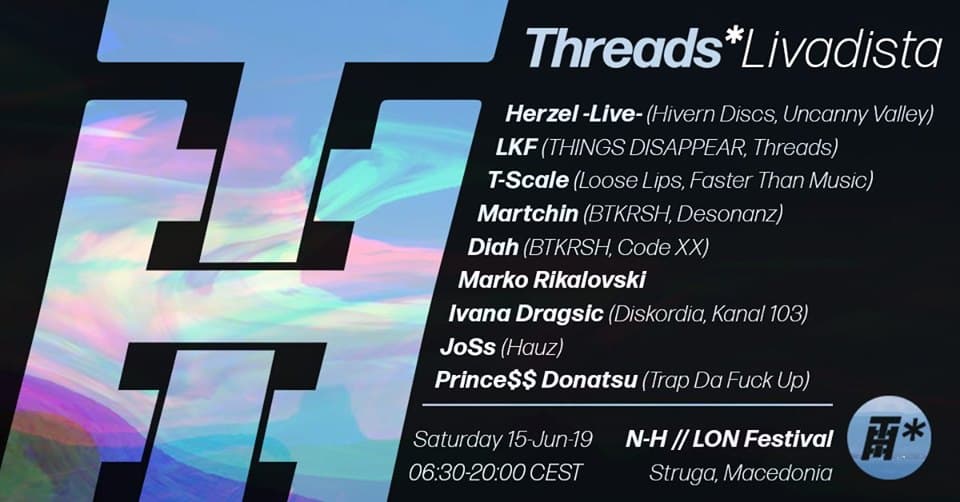 Threads*Livadista at N-H // LON Festival, Struga (15/06/19)
We're travelling again to Macedonia!
This 15th of June, Threads Radio will host the after party stage of N-H // LON Festival Struga 2019 on the beautiful beach of Livadista in Struga, Macedonia!
Streaming from 6:30 to 20:00 at www.threadsradio.com with 2 of our residents as well as local DJs and acts.
————-
– Herzel -Live- (Hivern Discs, Uncanny Valley)
– LKF (THINGS DISAPPEAR, Threads)
– T-Scale ( Loose Lips , Faster Than Music, Threads)
– Martchin (Btkrsh, Desonanz Festival)
– Diah (Btkrsh, Code XX)
– Marko Rikaloski
– Ivana Dragsic (Дiskorдia, Kanal 103)
– JoSs (HAUZ)
– Prince$$ Donatsu (TRAP DA FUCK UP)
Healthy snacks and refreshments by Center – Lounge & Fresh Bar.
Threads is a community focused station, curating a unique selection of music, whilst also providing a platform for a range of socially, politically & comedic talk-based content. Threads* hosts content from their Berlin sister studio as well as regional shows from partner city districts around the World.
Listen at www.threadsradio.com
---
Back to home.