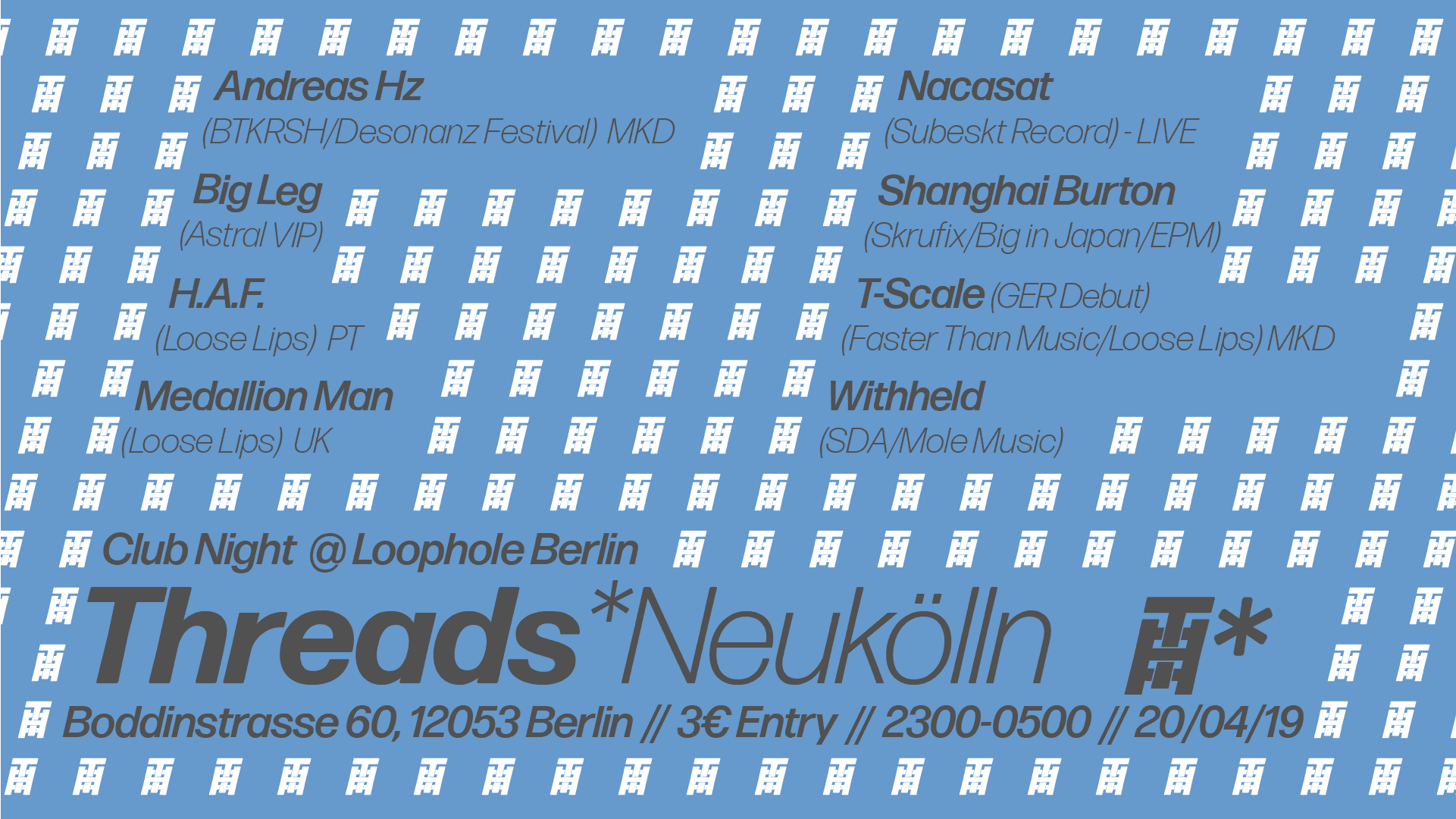 Threads*Neukölln Pop-Up – Club Night (20/04/19)
Threads*Neukölln – Club Night
23:00-05:00 (CET)
Loophole, Boddinstrasse 60, 12053 Berlin
3 euros OTD
———
Threads Radio hosts its second ever club night in Berlin, this time heading to the amazing DIY space in Neukölln that is Loophole – bringing together DJs and live performers from Berlin, Macedonia and the UK.
Expect some serious (and less serious) derivatives of techno, UK bass, afrobeat, jungle, electro and whatever else you might call it…
The party leads on from our 10 hour all-day stream that same day, at ZK/U in Moabit, the new studio home for Threads* – https://www.facebook.com/events/572815333213234.
———
Threads is a radio station that launched in Jan 2019, bringing together individuals and communities from around the globe, curating a unique and diverse selection of music, alongside providing a platform for a range of social, political and comedic talk-based content.
The main studio is based in Tottenham, London, with a sister-studio in Berlin, Threads*ZK/U, and pop-ups taking place in various other exciting locations.
———
CLUB NIGHT LINE-UP:
– Andreas HZ (BTKRSH/Desonanz Festival) (MKD)
https://soundcloud.com/andreas-hz
– Big Leg (Astral VIP)
https://soundcloud.com/djbigleg
– H.A.F (Loose Lips)
https://www.residentadvisor.net/dj/haf
– Medallion Man (Loose Lips) (UK)
https://www.facebook.com/medallionmanmusic
– Nacasat (Subeskt Record) – LIVE
https://soundcloud.com/nacasat
– Shanghai Burton (Skrufix/Big In Japan)
https://soundcloud.com/shanghai-burton
– T-Scale (Faster Than Music)
https://soundcloud.com/jef-t-scale
– Withheld (b0ld/SDA/Mole Music)
https://soundcloud.com/withheld-uk
———
---
Back to home.