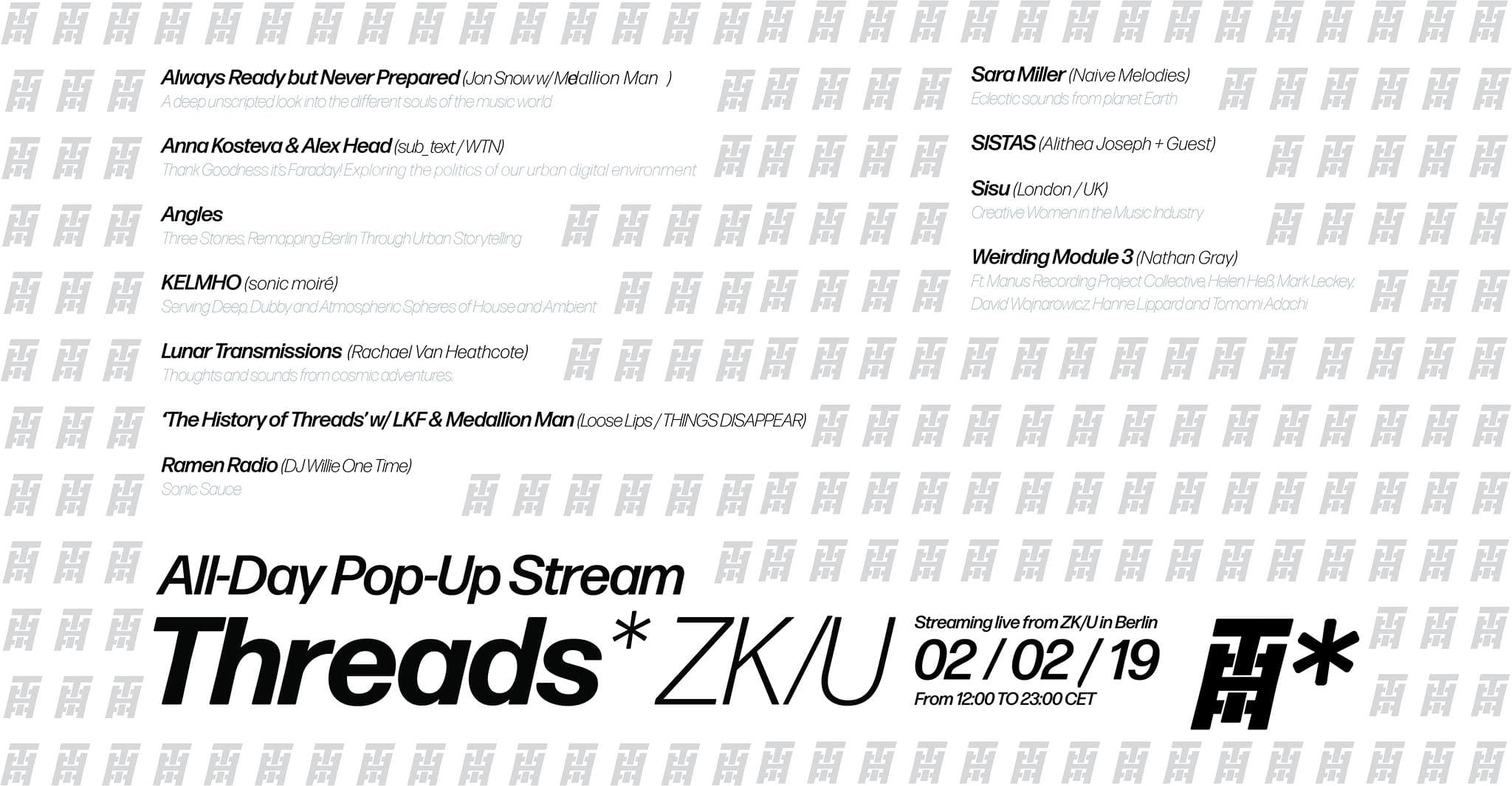 Threads*ZK/U Pop Up – All-Day Stream (02/02/19)
Threads*ZK/U is a sister-studio of radio station, Threads (London). It builds on the dynamic interconnectivity of the ZK/U Berlin echoing its drive towards meaning-creation and disruption in the urban sphere.
Threads is a new radio station based in Tottenham, London, curating a unique and diverse selection of music, alongside providing a platform for a range of social, political and comedic talk-based content.
Make sure to tune into this, the first ever all-day stream, 12:00-23:00 (CET) – https://threadsradio.com.
It'll be followed by Threads' first ever rave-up in Berlin as well, down in Kreuzberg – https://www.facebook.com/events/2062390644021643.
———
Threads*ZK/U ist das Partnerstudio von Threads Radio (London). Es baut auf der dynamischen Vernetzung des ZK/U Berlin auf und spiegelt sein Streben nach Bedeutungsbildung und Störungen im urbanen Bereich wieder.
Threads ist ein neuer Radiosender mit Sitz in Tottenham, London, der eine einzigartige Auswahl an neuer, innovativer Musik kuratieren wird und gleichzeitig eine Plattform für eine Reihe von sozial und politisch fokussierten gesprächsbasierten Inhalten bietet.
Daytime Line Up:
12.00 – Ramen Radio – Dj Willie One Time
13.00 – SISTAS w Guest
14.00 – Weirding Module 3 – Nathan Gray
15.00 – Anna Kostreva/Alex Head – sub_ʇxǝʇ/WTN
16.00 – Always Ready But Never Prepared – Jon Snow w/ Medallion Man
17.00 – Sisu – UK Collective
18.00 – Angles – Live Workshop Reportage!
19.00 – KELMHO – sonic moiré
20.00 – The History of Threads
21.00 – Lunar Transmissions – Rachael Van Heathcote
22.00 – Sara Miller – Naive Melodies
---
Back to home.